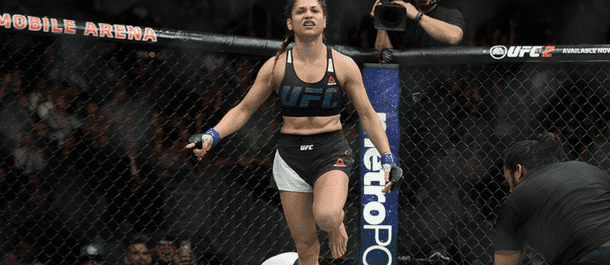 UFC Fight Night 113 – Main Card Preview
Joanne Calderwood vs. Cynthia Calvillo
UFC Fight Night 113 Main Card – UFC Women's Strawweight Bout
Joanne Calderwood will feature in the co-main event of UFC Fight Night 113 in front of her home fans in Glasgow, Scotland. Calderwood is an effective Muay-Thai style striker who just had a two-fight win streak snapped by Jessica Andrade at UFC 203. Calderwood's striking has carried her to victory against Valerie Letourneau and Cortney Casey in the UFC and will be a key component in this fight with Cynthia Calvillo.
Cynthia Calvillo's professional mixed martial arts career is perfect at 5-0 with wins in both Legacy Fighting Alliance and now two consecutive wins in the UFC. Calvillo is quickly becoming a new poster-girl for the UFC and has featured in both the UFC 209 and UFC 210 pay-per-views. Her most recent fight was an impressive submission victory against Pearl Gonzalez at UFC 210.
The Breakdown
It's a simple striker vs. grappler matchup, much like Calderwood's last fight with Jessica Andrade. Calvillo has said that she feels confident that she can beat Calderwood in a striking contest, but surely she won't try to do this. Her success will come on the ground in which she can tie up Calderwood and turn this fight into a brawl. Calvillo is an extremely talented grappler and could very well be one of the best in the division.
If she can't get it to the mat, however, Calderwood is likely to bust her up. Calderwood has all sorts of nasty striking and Calvillo will be playing a dangerous game if she chooses to trade with her.
Prediction and Betting Strategy
I've got Cynthia Calvillo storming past Joanne Calderwood and putting herself right in the rankings in the women's strawweight division.
Calvillo by Submission – Round 2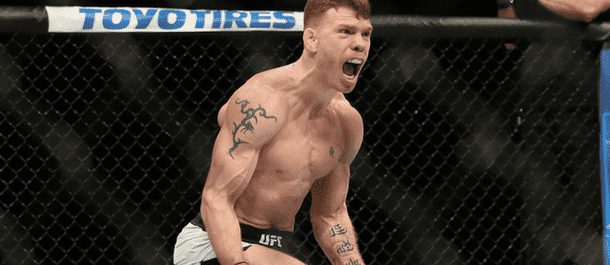 Stevie Ray vs. Paul Felder
UFC Fight Night 113 Main Card – UFC Lightweight Bout
Stevie Ray scored a fight in Scotland after picking up a majority decision against Joe Lauzon just three months ago. Lauzon dominated Ray in the first round but expended too much energy trying to finish his opponent. Ray took advantage of the situation and worked the body of an already fatiguing Lauzon before bumping his record in the UFC to 5-1.
Paul Felder has been competing in the UFC since 2014 but hasn't managed any significant progress due to losses against Edson Barboza, Ross Pearson and Francisco Trinaldo. Felder enters this one on the back of a KO/TKO victory against Alex Ricci in February.
The Breakdown
Paul Felder's striking was on full display in his last bout with Alex Ricci. He showed versatility, power and a balance of composure and aggression. He timed a beautiful intercepting upward elbow to the nose of Ricci that shattered his face and forced a TKO stoppage. It's this type of striking versatitlity that could cause troubles for Stevie Ray.
Stevie Ray has effective lateral footwork, something that could frustrate Felder's usual 'stand in front of you' approach. If he sticks to his guns and pumps some strikes at distance, he has every chance of outscoring Paul Felder across three rounds.
Prediction and Betting Strategy
Felder is simply too dangerous. I've got him finishing Stevie Ray by KO/TKO in round two. There are no extended markets for this bout as yet, but I'm more than happy with betting on Paul Felder to Win.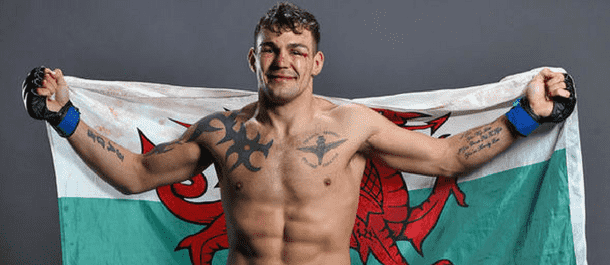 Jack Marshman vs. Ryan Janes
UFC Fight Night 113 Main Card – UFC Middleweight Bout
Jack Marshman enters this one after being on the receiving end of a spinning wheel kick knockout from Thiago Santos just four months ago. The loss took him to 1-1 in the UFC and despite ultimately losing against Santos, he did look good in parts, especially when he dropped Santos with a huge right hand in round one.
Ryan Janes is also 1-1 in the UFC after being submitted by Gerald Meerschaert in February at UFC Fight Night 105. Janes won his debut fight in the UFC against Keith Berish back at UFC Fight Night 102.
The Breakdown
Ryan Janes is extremely vulnerable to punches. Keith Berish managed to tag Janes over and over with power punches, but wasn't able to put Janes away.
Enter Jack Marshman, a talented boxer with extremely powerful striking. I don't know if Janes can hold up to the striking of Marshman and it could very well be a short night for Janes and a slide to 1-2.
Prediction and Betting Strategy
Marshman knocks out Ryan Janes with a heavy right hand in the first round.
Jack Marshman by KO/TKO – Round 1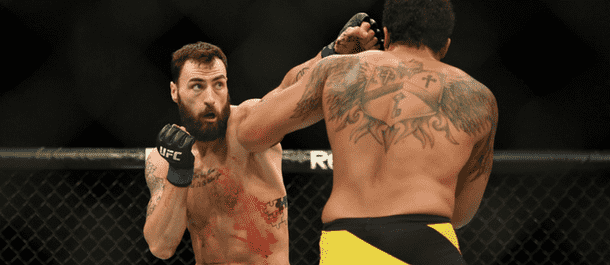 Khalil Rountree Jr. vs. Paul Craig
UFC Fight Night 113 Main Card – UFC Light Heavyweight Bout
Paul Craig looked to be the best new kid on the block at light heavyweight after he stunned Luis Henrique da Silva in his debut performance at UFC on FOX 22. The dream run ended almost as soon as it begun as his professional mixed martial arts record moved to 9-1 after losing to Tyson Pedro via way of TKO stoppage at UFC 209.
Khalil Rountree featured on The Ultimate Fighter 23 and instantly became a fan-favorite as one of the more entertaining fighters in the TUF house. Rountree managed his way into TUF 23 season final against Andrew Sanchez but ended up losing a unanimous decision in the co-main event. Sanchez's grappling was too much for Rountree who found himself with his back on the mat for the entire three rounds.
The Breakdown
This isn't the best of matchups for Rountree. Khalil is extremely dangerous when he can stand and trade with an opponent. He has the capability of knocking most guys out in the division. Paul Craig isn't going to stand toe-to-toe with Rountree if he is smart, though.
Craig is an excellent grappler and is a crafty submission expert. I expect him to take Rountree down to the mat and apply heavy top pressure much like Andrew Sanchez did before tiring Rountree and going after a submission.
Craig is also so dangerous on the ground that if Rountree stuns him and knocks him down, it will be too dangerous to engage with him on the mat.
Prediction and Betting Strategy
I'll be going for Paul Craig by submission

James Mulheron vs. Justin Willis
UFC Fight Night 113 Main Card – UFC Heavyweight Bout
Well, this fight got weird all of a sudden. Originally, Justin Willis was supposed to face Mark Godbeer, but Godbeer has been replaced by James Mulheron.
Both Mulheron and Willis will be making their UFC debuts this weekend at UFC Fight Night 113 in Glasgow, Scotland. Mulheron has managed an impressive 11-1 record. Willis has put together a record of 4-1 as a professional.
Willis was originally scheduled to debut at UFC 208 against Marcin Tybura but had complications when trying to cut down to the 265-pound heavyweight limit.
The Breakdown
This is a battle between two BIG dudes. They are two of the biggest heavyweight's we will see in the octagon. Willis trains at American Kickboxing Academy and has a fairly aggressive approach with his grappling. He has some heavy hands but also can ground and pound if he gets on top of an opponent.
James Mulheron is quite agile for his size. He has a nice toolbox of kicks and well-timed head movement keeps him out of danger. His striking is classy and he has fairly good cardio, too.
Prediction and Betting Strategy
I think Mulheron hangs on through the early stages and wins this one in round two via KO/TKO. Willis will start to get sloppy while Mulheron will carry his technical striking as the fight progresses.
James Mulheron by KO/TKO – Round 2
Best Bets
Joanne Calderwood vs. Cynthia Calvillo
Cynthia Calvillo to win by Submission
Sunday 16th July – 5:00 pm (ET) / 9:00pm GMT
Odds: 2.36Bet €100 to win €23634/25Bet £100 to win £236+136Bet $100 to win $2361.36Bet HK$100 to win HK$2361.36Bet Rp100 to win Rp236-0.7353Bet RM100 to win RM236 – Ladbrokes
Stevie Ray vs. Paul Felder
Paul Felder to win
Sunday 16th July – 4:30 pm (ET) / 8:30pm GMT
Odds: 2.14Bet €100 to win €21457/50Bet £100 to win £214+114Bet $100 to win $2141.14Bet HK$100 to win HK$2141.14Bet Rp100 to win Rp214-0.8772Bet RM100 to win RM214 – Marathon
Jack Marshman vs. Ryan Janes
Jack Marshman to win by KO/TKO in Round One
Sunday 16th July – 4:00 pm (ET) / 8:00pm GMT
Odds: 2.63Bet €100 to win €263163/100Bet £100 to win £263+163Bet $100 to win $2631.63Bet HK$100 to win HK$2631.63Bet Rp100 to win Rp263-0.6135Bet RM100 to win RM263 – BetVictor
Khalil Rountree Jr. vs. Paul Craig
Paul Craig to Win
Sunday 16th July – 3:30 pm (ET) / 7:30pm GMT
Odds: 2.75Bet €100 to win €2757/4Bet £100 to win £275+175Bet $100 to win $2751.75Bet HK$100 to win HK$2751.75Bet Rp100 to win Rp275-0.5714Bet RM100 to win RM275 – Stan James
James Mulheron vs. Justin Willis
James Mulheron to win by KO/TKO
Sunday 16th July – 3:00 pm (ET) / 7:00pm GMT
Odds: 4.50Bet €100 to win €4507/2Bet £100 to win £450+350Bet $100 to win $4503.50Bet HK$100 to win HK$4503.50Bet Rp100 to win Rp450-0.2857Bet RM100 to win RM450 – Paddy Power
MMA
UFC
UFC Fight Night 113