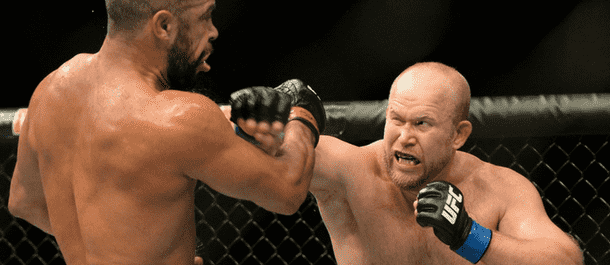 UFC Fight Night 112 – Main Card Betting Preview
Tim Boetsch vs. Johny Hendricks
Tim Boetsch and Johny Hendricks feature in the co-main event for UFC Fight Night 112. Boetsch, who has competed at light heavyweight in the past, has since moved down to middleweight and now rides a 2-1 record in his last three bouts. Hendricks had always fought at welterweight but started to have some troubles making weight. As a result, Hendricks has now moved up a weight class and defeated Hector Lombard in his middleweight debut back in February.
The Breakdown
While both of these fighters are likely past the best stages of their respective careers, this fight could very well be one of the greatest of the night.
Hendricks brings a ferocious pace and often forces his opponents into a defensive gameplan. Hendricks moved around the octagon quite well in his middleweight debut against Hector Lombard and seemingly didn't have any problems with the higher weight class.
Tim Boetsch will be determined to erase the Jacare Souza fight from his memory. Souza immediately took Boetsch down to the ground and began working his jiu-jitsu. Boetsch can't allow for this to happen again, and this time will be looking to utilise his striking from a distance and keep Hendricks uncomfortable.
Betting Strategy
It's interesting to see the bookmakers release Hendricks at 1.50Bet €100 to win €1501/2Bet £100 to win £150-200Bet $100 to win $1500.50Bet HK$100 to win HK$150-2.00Bet Rp100 to win Rp1500.5000Bet RM100 to win RM150 and Boetsch at 2.90Bet €100 to win €29019/10Bet £100 to win £290+190Bet $100 to win $2901.90Bet HK$100 to win HK$2901.90Bet Rp100 to win Rp290-0.5263Bet RM100 to win RM290. This one looks like a fairly even matchup, and I was leaning towards Boetsch. Easy to recommend betting on Boetsch to win at these odds with BetVictor.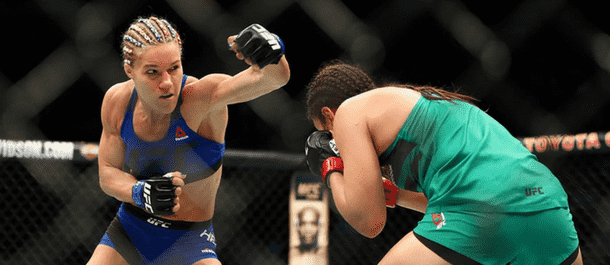 Felice Herrig vs. Justine Kish
Felice Herrig (12-6) looked excellent in her last fight. She shut down the rise of the up-and-coming female strawweight, Alexa Grasso. Herrig made life difficult for Grasso by making the fight a striking battle from the outside. She won the Grasso battle on the back of effective striking combinations and volume, compared to Grasso's one-and-done approach.
Justine Kish (6-0) looks to continue her undefeated record as a professional mixed martial artist this weekend. Kish recently defeated Ashley Yoder via unanimous decision. Yoder entered the fight on late notice for her UFC debut, in a back-and-forth fight.
The Breakdown
Justine Kish is all offence. She moves forward relentlessly and lands 4.1 significant strikes per minute, compared to the 2.7 of Felice Herrig. While Kish has success finding a home for her strikes, she is often careless and seemingly has no defensive awareness.
Herrig, despite being the more patient striker of the two, could control the fight by using effective distance management. She employed this strategy successfully against Grasso by keeping just outside of Grasso's kicking range, but inside range to land her punches.
It's going to be difficult for Herrig to win this one in the eyes of the judge's, as Kish often brings plenty of volume. Despite the difference in output, I think that Herrig's composure and experience will carry her through this fight and she will land the more damaging shots.
Betting Strategy
The bookmakers released this one with Herrig the marginal favourite at 1.92Bet €100 to win €19223/25Bet £100 to win £192-109Bet $100 to win $1920.92Bet HK$100 to win HK$192-1.09Bet Rp100 to win Rp1920.9200Bet RM100 to win RM192 and Kish at 1.00Bet €100 to win €1000/1Bet £100 to win £100-INFBet $100 to win $1000.00Bet HK$100 to win HK$100infBet Rp100 to win Rp1000.0000Bet RM100 to win RM100 . I recommend taking Herrig to win by decision at boosted odds of 2.63Bet €100 to win €263163/100Bet £100 to win £263+163Bet $100 to win $2631.63Bet HK$100 to win HK$2631.63Bet Rp100 to win Rp263-0.6135Bet RM100 to win RM263 at BetVictor.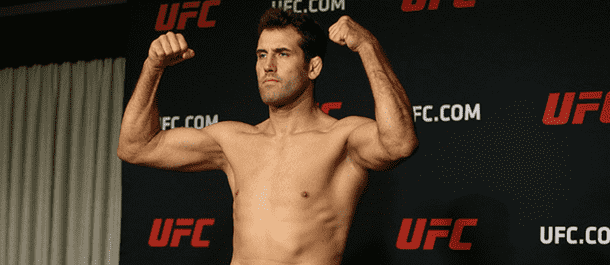 Joachim Christensen vs. Dominick Reyes
Dominick Reyes (6-0) will jump right into the spotlight for his UFC debut with a feature fight on the UFC Fight Night 112 main card. Reyes has competed in four different promotions through his short career. Reyes rose to internet fame after knocking out Jordan Powell with a brutal head kick at Legacy Fighting Alliance 13. It's easy to see why the UFC rate Reyes highly, considering that he has picked up five first-round finishes and three of these coming in less than a minute.
Joachim Christensen's (14-5) beginning in the UFC hasn't been ideal. He's now 1-2 in the organisation after losing via submission to Gadzhimurad Antigulov at UFC 211. Christensen has no real strength, wihch is a compliment to his versatility on both the mat and standing up.
The Breakdown
It's always tough to break down a fighter who doesn't usually make it out of the first round and hasn't competed against top talent just yet. However, from what we've seen of Reyes, we can start putting together the pieces to the puzzle. Reyes fights with lots of energy and tries to smother his opponents with striking and pressure.
Christensen is almost the complete opposite. He brings a calculated and measured approach to his striking, fighting behind his jab and attempting to time his opponent as they move forward into his range. Despite this method, he still often gets tagged by big shots from his opponent's.
Betting Strategy
The bookmakers think that Dominick Reyes is the big favourite heading into this fight at 1.33Bet €100 to win €13333/100Bet £100 to win £133-303Bet $100 to win $1330.33Bet HK$100 to win HK$133-3.03Bet Rp100 to win Rp1330.3300Bet RM100 to win RM133 . I don't agree. Christensen is a crafty veteran and will find a way to win in this one. You can find 4.00Bet €100 to win €4003/1Bet £100 to win £400+300Bet $100 to win $4003.00Bet HK$100 to win HK$4003.00Bet Rp100 to win Rp400-0.3333Bet RM100 to win RM400 odds at Betway.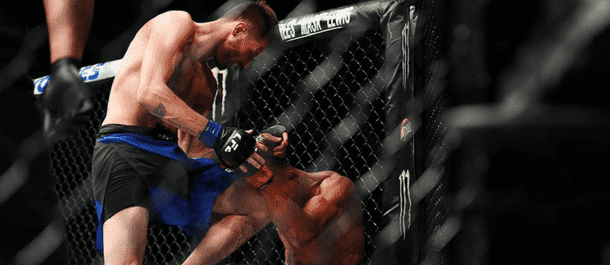 Tim Means vs. Alex Garcia
Tim Means' (26-8-1) career is finished with the rollercoaster that was consecutive fights and controversy with Alex Oliveira. Means was dominating Alex Oliveira at UFC 207 before he landed knees to the head of Oliveira when he was classified as a downed opponent. Referee Dan Miragliotta called the fight a no-contest, deciding that the knees were accidental. The two rematched three months later, but this time Alex Oliveira controlled Means with wrestling and in the clinch before submitting Means in the second round.
Alex Garcia (14-3) returned to winning ways with an impressive one-punch knockout at UFC 207. Garcia was awarded 'Performance of the Night' after stopping Mike Pyle in just over three minutes. Garcia is a powerful striker who has now collected nine first round wins in his career.
The Breakdown
Garcia usually starts the fight with a frenetic pace. If he can't find a home for his heavy right hand, he'll look for the takedown. He's one of the best takedown artists in the welterweight division, averaging 4.7 takedowns at an accuracy of 62%.
The wrestling may be a problem for Means, who showed against Oliveira that he was susceptible to being controlled on the mat for extended periods of time. Although, this was never a problem in the past for Means, who usually looks bigger and stronger than his opponents.
Means also has the diversity in his striking to punish Garcia if he can make it through the initial three or four-minute rush.
Betting Strategy
Let's go for the method of victory betting here in line with our prediction of Tim Means by decision. We've got 2.38Bet €100 to win €23869/50Bet £100 to win £238+138Bet $100 to win $2381.38Bet HK$100 to win HK$2381.38Bet Rp100 to win Rp238-0.7246Bet RM100 to win RM238 with BetVictor.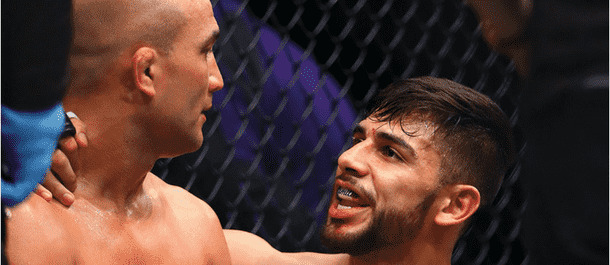 B.J. Penn vs. Dennis Siver
Well, B.J. Penn returns to the octagon yet again this weekend as he takes on Dennis Siver. Penn will be hoping to score a win for his many loyal fans after a beatdown at the hands of Yair Rodriguez back in January. Penn was stopped seconds into the second round after barely surviving through the first round. It's a little crazy to see Penn still competing. He has won just one contest in the last eight years, and that was in 2010 against Matt Hughes.
Penn's opponent will be a fighter in a remarkably similar situation to Penn, Dennis Siver. Siver is 38-years-old and his best days are long gone, yet he will make an interesting opponent for B.J. Penn as the UFC are surely hoping that Penn can manage a win and bring some life back to his career.
The Breakdown
I don't know where to start with this one. Both fighters are well past their respective 'prime'. I think we shouldn't look too far into the Penn vs. Rodriguez fight considering that Penn was matched against one of the UFC's top young talents; much different to this fight against Siver.
As for Siver, he didn't look too bad against Tatsuya Kawajiri in his last outing. He employed his usual power striking stance and looked to throw bombs, but Kawajiri controlled him with wrestling.
You know what? I think B.J. Penn can score a win here in a fight that may be more exciting than many are giving credit.
Betting Strategy
B.J. Penn enters this fight as a moderate underdog. I recommend backing Penn to defeat Dennis Siver as I believe this should be a relatively close fight and we are getting + odds at William Hill.
Best Bets
Tim Boetsch vs. Johny Hendricks
Tim Boetsch to Win
Sunday 25th June, 11:00 pm ET / 3:00 am GMT (Monday 26th June)
Odds: 2.90Bet €100 to win €29019/10Bet £100 to win £290+190Bet $100 to win $2901.90Bet HK$100 to win HK$2901.90Bet Rp100 to win Rp290-0.5263Bet RM100 to win RM290 – BetVictor
Felice Herrig vs. Justine Kish
Felice Herrig to win by Decision
Sunday 25th June, 10:30 pm ET / 2:30 am GMT (Monday 26th June)
Odds: 2.63Bet €100 to win €263163/100Bet £100 to win £263+163Bet $100 to win $2631.63Bet HK$100 to win HK$2631.63Bet Rp100 to win Rp263-0.6135Bet RM100 to win RM263 – BetVictor
Joachim Christensen vs. Dominick Reyes
Joachim Christensen to Win
Sunday 25th June, 10:00 pm ET / 2:00 am GMT (Monday 26th June)
Odds: 4.00Bet €100 to win €4003/1Bet £100 to win £400+300Bet $100 to win $4003.00Bet HK$100 to win HK$4003.00Bet Rp100 to win Rp400-0.3333Bet RM100 to win RM400 – Betway
Tim Means vs. Alex Garcia
Tim Means to win by Decision
Sunday 25th June, 9:30 pm ET / 1:30 am GMT (Monday 26th June)
Odds: 4.50Bet €100 to win €4507/2Bet £100 to win £450+350Bet $100 to win $4503.50Bet HK$100 to win HK$4503.50Bet Rp100 to win Rp450-0.2857Bet RM100 to win RM450 – BetVictor
B.J. Penn vs. Dennis Siver
B.J. Penn to Win
Sunday 25th June, 9:00 pm ET / 1:00 am GMT (Monday 26th June)
Odds: 2.90Bet €100 to win €29019/10Bet £100 to win £290+190Bet $100 to win $2901.90Bet HK$100 to win HK$2901.90Bet Rp100 to win Rp290-0.5263Bet RM100 to win RM290 – William Hill
MMA
UFC
UFC Fight Night 112