UFC Fight Night 112 – Prelims Betting Preview
Jared Gordon vs. Michel Quinones
Jared Gordon (12-1) and Michel Quinones (8-1) were originally pencilled in to throw down at UFC 211 back in May, but Gordon was forced to withdraw due to food poisoning. The UFC opted to reschedule the fight and since moved it to UFC Fight Night 112.
Both Jared Gordon and Michel Quinones are powerful strikers with knockout power. Gordon was spotted in the UFC's reality TV show 'Dana White: Lookin' For a Fight' and will make his UFC debut in the UFC Fight Night 112 prelims.
Michel Quinones is also making his UFC debut at UFC Fight Night 112 in Oklahoma. Despite both of these guys making their first appearance in the organisation, more attention may be drawn to Gordon simply because of his appearance on the TV show.
The Breakdown
Michel Quinones likes to sit back and wait for opponents to move forward into his range before launching an attack. He's comfortable standing flat-footed to lure an opponent.
On the other hand, Jared Gordon is usually the aggressor and brings a ferocious pace. His style is frenetic and aims to take his opponent down to the mat and start the ground and pound process.
I believe that Quinones will have a major advantage in the stand-up battle here and that Gordon will be looking for an early takedown. I've got Quinones as the victor in this fight and wiping Dana White's other newcomer, Jared Gordon, from the hype train.
Betting Strategy
Quinones enters this one as a slight underdog. Instead of looking at the method of victory markets, I'll be recommending Quinones to win as the value is there and the featherweight division isn't known for packing consistent KO/TKO heat, despite the history of these two fighters. You can find 2.20Bet €100 to win €2206/5Bet £100 to win £220+120Bet $100 to win $2201.20Bet HK$100 to win HK$2201.20Bet Rp100 to win Rp220-0.8333Bet RM100 to win RM220 odds with BetVictor.

Tony Martin vs. Johnny Case
Tony Martin (11-3) has rehashed his career after starting 1-3 in the UFC. He's now managed two consecutive victories after scoring a submission win against Felipe Oliveira in January 2016 and a unanimous decision victory against Alex White in January 2017. Now, Martin gets a chance to fight a guy that he has been calling out for the last four years, Johnny Case.
Johnny Case (22-5) was one of the hottest prospects in the UFC after beginning his time in the organisation with four consecutive victories, including two by stoppage. The train was derailed in March 2016 when Case lost to Jake Matthews via submission in the third round.
The Breakdown
Tony Martin is vastly improving every time we see him, and there's no doubting he will be better than ever this weekend at UFC Fight Night 112. He continues to learn the depths of mixed martial arts at a rapid pace considering he is only relatively new to training martial arts. He fights long and tries to fight behind his jab. He is at his best, though, when the fight hits the mat.
Case has a fairly 'loose' stand-up game and kind of floats around the cage while timing kicks to the body of his opponents and countering their shots, too. Case will need to survive against Martin's relentless pursuit for a takedown, and if he can, he'll likely be able to control the fight when this one is battled toe-to-toe.
Betting Strategy
A very close fight, but I can see Case edging a decision victory against Johnny Case after winning rounds two and three. I'll be taking Johnny Case to win at 2.25Bet €100 to win €2255/4Bet £100 to win £225+125Bet $100 to win $2251.25Bet HK$100 to win HK$2251.25Bet Rp100 to win Rp225-0.8000Bet RM100 to win RM225 with Skybet.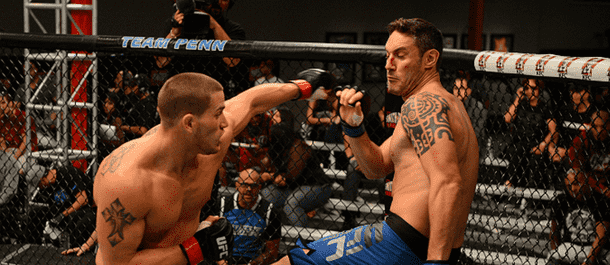 Josh Stansbury vs. Jeremy Kimball
Josh Stansbury (8-4) starred on The Ultimate Fighter Season 23 and made his way to a feature bout with Cory Hendricks on the TUF 23 Finale card in Las Vegas. Stansbury went on to defeat Cory Hendricks after taking him to the mat and grinding out a majority decision. After winning his UFC debut, he was matched up against Devin Clark, a fight that he went on to lose by unanimous decision in December 2016.
Jeremy Kimball made a short-notice UFC debut against Marcos Rogerio De Lima at UFC on FOX 23 in January this year. Kimball ended up losing his debut against De Lima via first-round TKO.
The Breakdown
Stansbury has consistently shown that he struggles in a simple stand-up affair and will be aiming to get this one down to the mat as soon as possible against Jeremy Kimball.
Jeremy Kimball is renowned for being a powerful striker with real stopping power. If he can connect on the chin of Stansbury, I have no doubts that he can put Stansbury away and finish the fight. It's going to be a matter of whether he can stuff the repeated takedowns of Stansbury.
Betting Strategy
Stansbury is released as a slight favourite in this bout at 1.57Bet €100 to win €15757/100Bet £100 to win £157-175Bet $100 to win $1570.57Bet HK$100 to win HK$157-1.75Bet Rp100 to win Rp1570.5700Bet RM100 to win RM157 . I think that both of these guys are capable of finding a way to finish the fight early and will instead be looking at taking the under 1.5 rounds selection at 2.40Bet €100 to win €2407/5Bet £100 to win £240+140Bet $100 to win $2401.40Bet HK$100 to win HK$2401.40Bet Rp100 to win Rp240-0.7143Bet RM100 to win RM240 with Bet365.
Best Bets
Jared Gordon vs. Michel Quinones
Michel Quinones to Win
Sunday 25th June, 7:00 pm ET / 11:00 pm GMT
Odds: 2.20Bet €100 to win €2206/5Bet £100 to win £220+120Bet $100 to win $2201.20Bet HK$100 to win HK$2201.20Bet Rp100 to win Rp220-0.8333Bet RM100 to win RM220 – BetVictor
Tony Martin vs. Johnny Case
Johnny Case to Win
Sunday 25th June, 6:30 pm ET / 10:30 pm GMT
Odds: 2.25Bet €100 to win €2255/4Bet £100 to win £225+125Bet $100 to win $2251.25Bet HK$100 to win HK$2251.25Bet Rp100 to win Rp225-0.8000Bet RM100 to win RM225 – SkyBet
Josh Stansbury vs. Jeremy Kimball
Total Rounds – Under 1.5
Sunday 25th June, 6:00 pm ET / 10:00 pm GMT
Odds: 2.40Bet €100 to win €2407/5Bet £100 to win £240+140Bet $100 to win $2401.40Bet HK$100 to win HK$2401.40Bet Rp100 to win Rp240-0.7143Bet RM100 to win RM240 – Bet365
MMA
UFC
UFC Fight Night 112