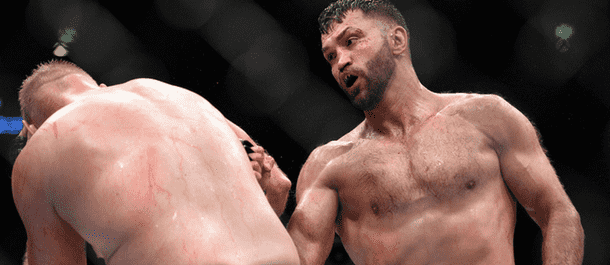 Andrei Arlovski vs. Marcin Tybura
Andrei Arlovski (#8) gets a chance to take out rising heavyweight Marcin Tybura (#13) before he finishes up with the UFC in the near future.
Andrei Arlovski
Record: 25-14
Height: 6'3″ (191cm)
Reach: 77.0″ (196cm)
Gym: Jackson Wink MMA
If you're a fan of Andrei Arlovski, I can only imagine it has been a heartbreaking eighteen months. After being stopped by Stipe Miocic back at UFC 195, he has since gone on to be stopped by Alistair Overeem, Josh Barnett and Francis N'Gannou as well. Prior to this losing streak, Arlovski had managed a four-win streak in the UFC with wins over Brendan Schaub, Antonio Silva, Travis Browne and Frank Mir.
Marcin Tybura
Record: 15-2
Height: 6'3″ (191cm)
Reach: 78.0″ (198cm)
Gym: United Gym
Marcin Tybura is turning heads. He's now knocked out his last two opponents, Luis Henrique and Viktor Pesta, and now looks to climb the rankings even further. Tybura has an interesting arsenal of weapons for a big guy, including a swift lead left leg and somewhat of a karate chop for his right hand.
The Breakdown
This is a very well matched fight; respect to the UFC for this one. It's perfect for Andrei Arlovski because if he loses here, he really should consider hanging up the gloves. It's also an excellent opportunity for us to see how Marcin Tybura goes with a renowned opponent.
I don't believe that Tybura is as scary of a prospect as Francis N'Gannou is, who finished Arlovski in just 93 seconds. Yes, Tybura has some powerful and fast kicks, but Arlovski is a very capable stand-up fighter.
It was long ago, but Arlovski smashed Travis Browne who fights in a reasonably similar style to Tybura. Arlovski found the perfect opportunity to counter over the top of a Browne kick with a punch that changed the course of the fight.
While it's likely that one hard shot from Tybura puts Arlovski away for good, I can also see Arlovski taking this one the distance against the 31-year-old Polish fighter.
Betting Strategy
Andrei Arlovski understandably opened up as a moderate underdog in this contest as bettors will surely shy away from the older and declining veteran in favour of the rising heavyweight athlete.
Can see this one going either way and will be taking the value with Arlovski to win.

Dong Hyun Kim vs. Colby Covington
Colby Covington's wish is granted and he is given an opportunity against a top-10 opponent in the welterweight division, Dong Hyun Kim. These two will battle it out in Singapore for UFC Fight Night 111.
Dong Hyun Kim
Record: 22-3-1
Height: 6'2″ (188cm)
Reach: 76.0″ (193cm)
Gym: Busan Team MAD
'Stun Gun' Dong Hyun Kim is currently enjoying a three-win streak in the UFC and a win here against Covington could potentially move him closer to securing a fight with a big name in the welterweight division. Kim's last loss was to Tyron Woodley back in 2014 but has since defeated Josh Burkman, Dominic Waters and Tarec Saffiedine.
Colby Covington
Record: 11-1-0
Height: 5'11" (180cm)
Reach: 72.0″ (183cm)
Gym: American Top Team
Colby Covington wanted to be the one to welcome Rafael dos Anjos to the welterweight division, but couldn't make any progress. In the end, he was struggling to get any fight at all after defeating Bryan Barberana on the way to his third consecutive victory. Covington took matters into his own hands and held up a sign on the side of the street begging for a fight. He has picked up the fight against Dong Hyun Kim and is already planning his shot at champion Tyron Woodley if he manages to defeat Kim in Singapore.
The Breakdown

Dong Hyun Kim is a fairly wild fighter. He comes forward with lunging strikes that would normally leave a fighter exposed. Kim is excellent at moving his head off the center line when striking as to avoid any natural counter shots. In the clinch and against the cage, Kim is at his best when using his judoka experience and tripping or throwing opponents to the mat. By round three, Kim is often heavily fatigued and really starts to slow down.
Covington is a very capable wrestler and I'm excited to see how his grappling skills matchup against Dong Hyun Kim. Covington was able to take Barberena down to the mat repeatedly but had trouble keeping him there. Despite wrestling for the majority of his fights, Covington manages to keep a high pace through all fifteen minutes.
Dong Hyun Kim's wild striking will leave plenty of opportunities for Colby to duck underneath and shoot for double-leg takedowns. I can see him out-wrestling Kim for the three rounds.
Betting Strategy
*16 June update*
The betting odds for this fight have swung wildly in favour of Colby Covington. Since release, Covington has reduced in price by 35% and Dong Hyun Kim increased by 47%.
While my prediction remains that Covington can grind out a decision victory, these odds are ridiculous and Kim shouldn't be this disregarded.
I highly recommend backing Dong Hyun Kim to win by KO/TKO now that the line has moved. You can find 14.00Bet €100 to win €140013/1Bet £100 to win £1400+1300Bet $100 to win $140013.00Bet HK$100 to win HK$140013.00Bet Rp100 to win Rp1400-0.0769Bet RM100 to win RM1400 at BetVictor.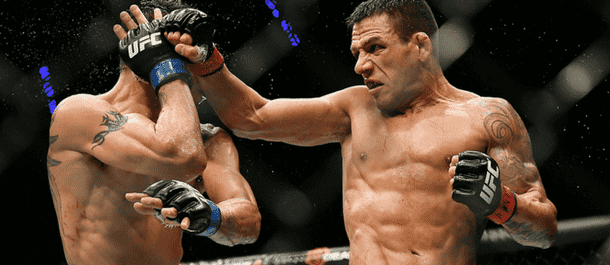 Tarec Saffiedine vs. Rafael dos Anjos
Tarec Saffiedine (#11) welcomes Rafael dos Anjos, a former UFC lightweight champion, to the welterweight division at UFC Fight Night 111 in Singapore.
Tarec Saffiedine
Record: 16-6
Height: 5'10" (178cm)
Reach: 70.5″ (179cm)
Gym: Tristar Gym
Tarec Saffiedine, previously a Strikeforce welterweight champion, has been on the losing side of his last two contests in the UFC. Saffiedine lost a close split decision against Dong Hyun Kim at UFC 207, in which one judge scored all three rounds in favour of Saffiedine. Prior to Kim, Saffiedine lost against Rick Story in May 2016 via unanimous decision.
Rafael Dos Anjos
Record: 25-9
Height: 5'9″ (175cm)
Reach: 71.0″ (180cm)
Gym: Evolve MMA
Unfortunately for dos Anjos, his career took a steep fall after losing to Eddie Alvarez at UFC Fight Night 90. Dos Anjos was caught by a wild sweeping hook of Alvarez and wasn't able to recover while Alvarez poured on the damage. It didn't get any easier for dos Anjos who was then scheduled against Tony Ferguson in a five-round main event. Dos Anjos went on to lose a unanimous decision against Ferguson, although clearly winning rounds one and three.
The Breakdown
Rafael dos Anjos' near-death weight cutting experience before the Eddie Alvarez fight was well publicised. I make the safe assumption that fighting at welterweight is the best thing for dos Anjos and that we will see a much more comfortable and composed version of the fighter.
For Rafael dos Anjos, he needs to push the pace and control the center of the octagon. He's at his best when he does this and looked superb against Tony Ferguson when controlling the flow of the fight.
Tarec Saffiedine is at his best when at range and has room to operate. He's too often found his back against the cage in recent fights against Kim and Story. Most importantly, he needs to counter Rafael dos Anjos early and often. Ferguson controlled the fight when he punished dos Anjos with counter strikes.
I'm still a firm believer that Rafael dos Anjos is one of the best out there right now and can make a serious run for the welterweight title. I see dos Anjos scoring a decision victory against Saffiedine at UFC Fight Night 111 in Singapore.
Betting Strategy
RDA opened as a serious favourite. We'll boost our odds by taking Rafael dos Anjos to win by decision.
Best Bets
Andrei Arlovski vs. Marcin Tybura
Andrei Arlovski to Win
Saturday 17th June, 14:00 GMT
Odds: 3.12Bet €100 to win €31253/25Bet £100 to win £312+212Bet $100 to win $3122.12Bet HK$100 to win HK$3122.12Bet Rp100 to win Rp312-0.4717Bet RM100 to win RM312 – Marathon
Dong Hyun Kim vs. Colby Covington
Dong Hyun Kim to win by KO/TKO (16 June update)
Saturday 17th June, 13:30 GMT
Odds: 13.00Bet €100 to win €130012/1Bet £100 to win £1300+1200Bet $100 to win $130012.00Bet HK$100 to win HK$130012.00Bet Rp100 to win Rp1300-0.0833Bet RM100 to win RM1300 – BetVictor
Tarec Saffiedine vs. Rafael dos Anjos
Rafael dos Anjos to win by Decision
Saturday 17th June, 13:00 GMT
Odds: 1.95Bet €100 to win €19519/20Bet £100 to win £195-105Bet $100 to win $1950.95Bet HK$100 to win HK$195-1.05Bet Rp100 to win Rp1950.9500Bet RM100 to win RM195 – Bet365
MMA
UFC
UFC Fight Night 111