Takanori Gomi vs. Jon Tuck
Takanori Gomi gets a chance to bounce back to winning ways in front of fans in South-East Asia against Jon Tuck.
Takanori Gomi
Record: 35-12
Height: 5'8″ (173cm)
Reach: 70.0″ (178cm)
Gym: Kugayama Rascal Gym
Takanori Gomi is a superstar of mixed martial arts, having previously dominated the PRIDE competition in Japan. Since moving to the UFC back in 2010, he's been up-and-down with a number of big wins dragged down by his recent three-fight losing streak. He's now been stopped by KO/TKO in the first round in his last three bouts.
Jon Tuck
Record: 9-4
Height: 5'11" (181cm)
Reach: 73.0″ (185cm)
Gym: Alliance MMA
Jon Tuck has managed a 3-5 record in the UFC since joining in 2012. Recently, he's lost his last two outings by split decision against both Damien Brown and Josh Emmett after entering both of these fights as a betting favourite. Tuck is a talented jiu-jitsu fighter with some pretty nasty strikes mixed into his game as well.
The Breakdown
While it's easy to jump on the Takanori Gomi to lose by KO/TKO bandwagon, it's noteworthy that Jon Tuck is probably the easiest competition he has faced in some years. His last three losses came against Myles Jury, Joe Lauzon and Jim Miller.
Gomi has got himself into trouble by lunging in behind his power punches and leaving himself exposed. Tuck recently caught Damien Brown with a well-timed right hand that dropped him to the mat in his last fight and can see him dropping Gomi to the mat but instead of finishing up with strikes like Gomi's opponents before him, Tuck may look to submit his opponent.
Betting Strategy
Jon Tuck is a moderate favourite in this one, opening at 1.46Bet €100 to win €14623/50Bet £100 to win £146-217Bet $100 to win $1460.46Bet HK$100 to win HK$146-2.17Bet Rp100 to win Rp1460.4600Bet RM100 to win RM146 .
I recommend boosting our odds with this one and while many will lean towards another KO/TKO loss for Gomi, Tuck may end up relying on his submission ability if he drops Gomi to the mat.
I'll take the heavily increased odds for Tuck to win by submission.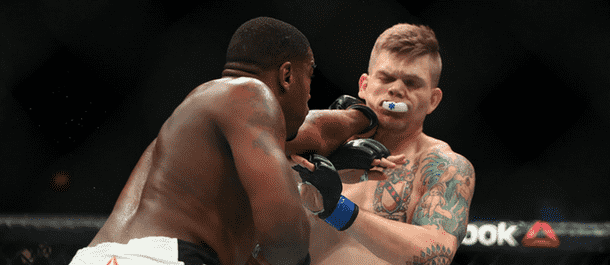 Cyril Asker vs. Walt Harris
A showdown between two heavyweight sluggers will feature on the UFC Singapore main card when Cyril Asker throws down with Walt Harris.
Cyril Asker
Record: 8-2
Height: 6'2″ (188cm)
Reach: 74.0″ (188cm)
Gym: Bushido Academie
Cyril Asker's UFC debut didn't go as planned when he was knocked out by Jared Cannonier in April 2016. Asker redeemed himself with a win over Dmitry Smolyakov this January and now gets a chance to score consecutive wins with a defeat over Walt Harris.
Walt Harris
Record: 9-5
Height: 6'4″ (194cm)
Reach: 81.0″ (206cm)
Gym: American Top Team
'The Big Ticket' Walt Harris crossed over to mixed martial arts after a career in basketball. His athleticism is duly noted and can cause tremendous difficulties for his opponents. Just ask Chase Sherman, who Harris knocked out clean in the second round back in January 2017.
The Breakdown
Cyril Asker is a brown belt in jiu-jitsu and the fight could get interesting if it heads to the mat. If it doesn't, however, 'The Big Ticket' should be able to light up Asker all night long and get rid of him quite easily. While touted as a boxer, Asker's hands are fairly slow and Harris should be able to whoop him in any form of stand-and-trade.
I can't see Asker getting Harris to the mat, solely because of his crazy athleticism, so I can see Harris stopping this one in the second round behind a patient and calculated striking approach.
Betting Strategy
I recommend taking Walt Harris to win in round two. Harris by KO/TKO is only 1.62Bet €100 to win €16231/50Bet £100 to win £162-161Bet $100 to win $1620.62Bet HK$100 to win HK$162-1.61Bet Rp100 to win Rp1620.6200Bet RM100 to win RM162 , and I believe that Asker slow the fight enough to maek it to round two.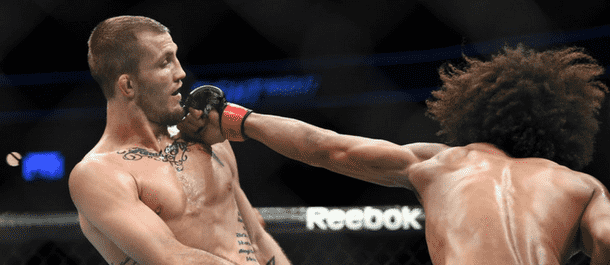 Alex Caceres vs. Rolando Dy
Alex Caceres
Record: 12-10
Height: 5'10" (178cm)
Reach: 73.5″ (187cm)
Gym: MMA Lab
After earning himself a ticket to the main event against Yair Rodriguez back at UFC Fight Night 92 Caceres has since gone on to lose that bout by split decision and then also lose by submission to the up-and-coming Jason Knight in January this year, too. Caceres now has the chance to get back in the winner's column against a UFC debutant in Singapore.
Rolando Dy
Record: 8-4
Height: 5'9″ (175cm)
Reach: Unknown
Gym: Biagtan Muay Thai
Before Manny Pacquiao, there was Rolando Navarette. Navarette, fighting out of the Philippines, was dominating the boxing scene and now his son Rolando Dy has made it to the big-time in mixed martial arts after being signed to the UFC. Rolando Dy has managed an 8-4 record as a professional but is slowly crafting his way forward behind his heavy hands.
The Breakdown
Alex Caceres is a crafty veteran who loves to put on a show for the fans. His showcase of kicks and long-range boxing always causes opponents to gameplan intensely for him. He was having success against Jason Knight early in their fight before Knight managed to get him to the mat and sink in the choke.
Rolando Dy fights behind a blend of Muay-Thai striking and western boxing. If he catches Caceres at any point of the fight, he could put him down to the mat and end his night right there.
It's tough not to back Caceres in this one who needs to get back on track and should do so against Rolando Dy.
Betting Strategy
My prediction is Caceres to win by decision against the tough Rolando Dy. I've been tempted by Dy by KO/TKO, but I think Caceres stays upright and picks apart Dy for three rounds.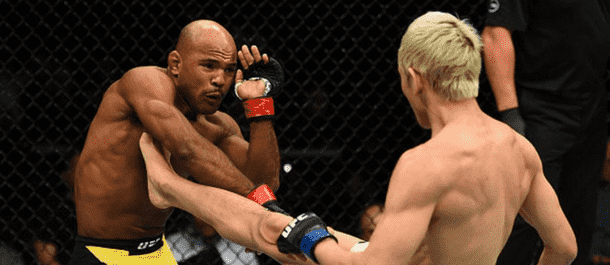 Justin Scoggins vs. Ulka Sasaki
Justin Scoggins
Record: 11-3
Height: 5'7″ (170cm)
Reach: 66.0″ (168cm)
Justin Scoggins had a nightmare against Pedro Munhoz back at UFC Fight Night 100. Scoggins looked to be controlling the fight before slipping on the mat while attempting a kick. Munhoz took full advantage and locked in a tight guillotine, forcing Scoggins to tap. Looking past this for a moment, his other two most recent outings were a win against rumoured title challenger Ray Borg and Josh Sampo.
Ulka Sasaki
Record: 19-4-2
Height: 5'11" (180cm)
Reach: 71.0″ (180cm)
Gym: Wajutsu Keishukai Suruga Dojo
Ulka Sasaki has one of the strangest builds I've ever seen in the flyweight division. Despite the weight limit of 125lbs (56kg), Sasaki enters the cage at 5'11" (180cm)! He towers over his opponents and literally crouches down to be at the same level as them and to maximise his reach. He was having success on the feet against Wilson Reis in his UFC debut but was controlled on the mat by Reis' superb Brazilian Jiu-Jitsu. Sasaki went on to lose by unanimous decision to Reis.
The Breakdown
A tough one to break down. Scoggins is absolutely incredible to watch and almost mirrors Stephen Thompson, which is no surprise considering they had the same striking coach growing up. Scoggins also has experience in wrestling which helps him to stuff takedowns and avoid the fight getting to the mat.
Sasaki's length can cause significant problems for opponents. In my opinion, however, Sasaki's most dangerous weapon is his ability to aggressively look for submissions on the mat from all positions. Don't rest for a second on the mat with Sasaki or you could find yourself asleep.
Betting Strategy
Scoggins opens up as a huge favourite, as expected. I won't be backing him at those odds, and instead, I like the idea of betting on Sasaki to win by submission.
Best Bets
Takanori Gomi vs. Jon Tuck
Jon Tuck to win by Submission
Saturday 17th June, 12:30 GMT
Odds: 4.33Bet €100 to win €433333/100Bet £100 to win £433+333Bet $100 to win $4333.33Bet HK$100 to win HK$4333.33Bet Rp100 to win Rp433-0.3003Bet RM100 to win RM433 – BetVictor
Cyril Asker vs. Walt Harris
Walt Harris to win in Round 2
Saturday 17th June, 12:00 GMT
Odds: 7.00Bet €100 to win €7006/1Bet £100 to win £700+600Bet $100 to win $7006.00Bet HK$100 to win HK$7006.00Bet Rp100 to win Rp700-0.1667Bet RM100 to win RM700 – William Hill
Alex Caceres vs. Rolando Dy
Alex Caceres to win by Decision
Saturday 17th June, 11:30 GMT
Odds: 2.75Bet €100 to win €2757/4Bet £100 to win £275+175Bet $100 to win $2751.75Bet HK$100 to win HK$2751.75Bet Rp100 to win Rp275-0.5714Bet RM100 to win RM275 – SkyBet
Justin Scoggins vs. Ulka Sasaki
Ulka Sasaki to win by Submission
Saturday 17th June, 11:00 GMT
Odds: 10.00Bet €100 to win €10009/1Bet £100 to win £1000+900Bet $100 to win $10009.00Bet HK$100 to win HK$10009.00Bet Rp100 to win Rp1000-0.1111Bet RM100 to win RM1000 – Betway
MMA
UFC
UFC Fight Night 111