Li Jingliang vs. Frank Camacho
Frank Camacho steps in to make his UFC debut on late notice, replacing Jonathan Meunier, to challenge Li Jingliang in Singapore.
Li Jingliang
Record: 12-4-0
Height: 6'0″ (183cm)
Reach: 72.0″ (183cm)
Gym: China Top Team
Li 'The Leech' Jingliang probably hasn't got the reputation within the UFC that he deserves for being one of the more powerful strikers in the welterweight division. Jingliang knocked out Anton Zafir in July 2016 before finishing Bobby Nash in round two of their bout in January, as well.
Frank Camacho
Record: 20-4
Height: 5'9″ (175cm)
Reach: Unknown
Gym: Trench Tech
Frank Camacho finally gets his shot in the UFC after a video of him submitting Gun Hwan Park at Rites of Passage 21: Throwdown was doing the rounds on the internet. Camacho and Gun Hwan Park went back-and-forth for before Camacho sunk the arm-triangle choke in round two.
The Breakdown
Frank Camacho's heart and determination will need to be on full display in Singapore to stand a chance against heavy-hitter Li Jingliang. Camacho is a tough fighter, don't get me wrong, but I don't think he should be standing toe-to-toe with Li.
As for Li, he'll likely get his way. He's a machine who just moves forward and forward. He was rocked by Bobby Nash a couple of times before managing to finish him in the second round.
I've got Li scoring another knockout and making it three consecutive wins.
Betting Strategy
Run with the prediction here, Li to win by KO/TKO.

Kwan Ho Kwak vs. Russell Doane
South Korean prospect Kwan Ho Kwak experienced his first professional loss when he debuted in the UFC. He now gets a chance to redeem himself against Russell Doane in Singapore.
Kwan Ho Kwak
Record: 9-1
Height: 5'7″ (170cm)
Reach: 70.0″ (178cm)
Gym: Korean Top Team
Kwan Ho Kwak debuted in the UFC against Brett Johns and at the time both fighters were undefeated prospects. Brett Johns was the better man on the night and went on to dominate Kwan Ho Kwak by controlling him in the grappling exchanges. Ho Kwak will be hoping for a less smothering performance from his opponent in Singapore.
Russell Doane
Record: 14-7
Height: 5'7″ (170cm)
Reach: 69.5″ (177cm)
Gym: 808 Fight Factory
Russell Doane has lost his last four bouts, and the UFC are throwing him into the octagon for one more time against one of their South Korean prospects. Doane has been submitted in his last two matches against Mirsad Bektic and Pedro Munhoz.
The Breakdown
Kwan Ho Kwak has an excellent taekwondo base when at range, but we've seen how easy it is to neutralise by shortening the distance and forcing a grappling matchup. Unfortunately for Ho Kwak, Doane likes to push the pace and turn the fight into a wrestling match.
Before the UFC, I had been impressed by Ho Kwak's takedown defence and ability to keep the fight standing. I'm not sure how much we can read into his takedown defence from the Brett Johns contest, considering Johns' expert judoka skills.
On the feet, Kwak will have no respect for Doane's stand-up and will light him up every second it stays standing. Doane needs this one on the mat. Doane may get desperate with his takedown attempts if Kwak stuffs the first couple and we could be on the way to an early finish.
Betting Strategy
I recommend betting on Kwan Ho Kwak to win by KO/TKO and hand Russell Doane his first KO/TKO loss.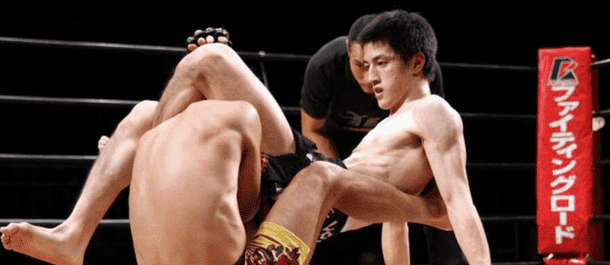 Naoki Inoue vs. Carls John De Tomas
This fight between two undefeated prospects is for the hardcore MMA fans! 19-year-old Naoki Inoue faces 20-year-old Carls John De Tomas in their debut UFC appearances.
Naoki Inoue
Record: 10-0
Height: 5'8″ (173cm)
Reach: Unknown
Gym: Hakushinkai Karate
Naoki Inoue will be the youngest Japanese mixed martial artist to debut in the UFC. At just 19-years-old, he has a thin frame but uses it to his advantage when grappling and by keeping his opponents away with his jab. Inoue has competed in DEEP his entire career, one of Japan's top MMA organisations.
Carls John De Tomas
Record: 8-0
Height: 5'7″ (170cm)
Reach: 69.0″ (175cm)
Gym: De Tomas Muay Thai and MMA Training Center
CJ De Tomas is the current URCC flyweight champion and will be dropping the title to compete in the UFC. DJ De Tomas is a tough 20-year-old who fights like a real veteran with years of experience.
The Breakdown
It's a matchup between submission grappler vs. wrestler. Inoue is extremely crafty on the mat and uses his no-gi submission skills to aggressively go after all types of submissions from his back, mount or side control; practically anywhere.
CJ De Tomas hunts takedown after takedown and wants to drag opponents to the mat and grind the fight out down there. He's comfortable standing up, too, but often gets by on the back of 'ride time' by neutralising his opponents on the way to a decision.
Either CJ De Tomas rides and neutralises Inoue for the entire fifteen minutes or manages to ground and pound his way to a win. Alternatively, Inoue catches CJ De Tomas sleeping on the ground and locks a submission.
Betting Strategy
While I appreciate the submission game of Inoue, I think he may have his hands full at times. CJ De Tomas by KO/TKO seems like an extremely good value bet if he can ground and pound Inoue or catch him while standing, too.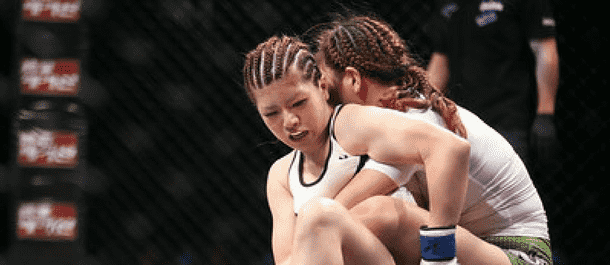 Kim Ji-Yeon vs. Lucie Pudilova
Exciting Japanese mixed martial artist Kim Ji-Yeon debuts against somewhat crazy and intense striker, Lucie Pudilova.
Kim Ji-Yeon
Record: 6-0-2
Height: 5'6″ (168cm)
Reach: Unknown
Gym: So-Missions Jiu Jitsu
Kim Ji-Yeon is viewed as one of the best female mixed martial artists in Japan, if not the best. Ji-Yeon's UFC debut is well overdue, and she'll be excited to make it relatively close to home in Singapore.
Lucie Pudilova
Record: 6-2
Height: 5'11" (180cm)
Reach: 67.5″ (171cm)
Gym: KBC Příbram
Lucie Pudilova debuted in the UFC in March against Lina Lansberg in one of the better fights of UFC Fight Night 107. While Lansberg set the pace early, Pudilova took control in the later stages and busted up the face of Lansberg by the end of it. Despite losing to Lansberg by unanimous decision, Pudilova impressed many that night and will look to impress again in Singapore.
The Breakdown
Kim Ji-Yeon is at her best when the fight hits the mat, relying on her jiu-jitsu to defeat her opponents. She has semi-awkward stand-up which seems relatively static until she occasionally throws out a monster right hand.
Lucie Pudilova is a striker who can do all sorts of damage from all kinds of angles. She took it to Lina Lansberg who is an accomplished striker and was unlucky to lose.
While Pudilova showed that her takedown defence is quite good against Lansberg, her kicks are a little slow, and I feel that Kim Ji-Yeon can catch these and take the fight to the mat and put the fight on her terms. Kim Ji-Yeon by submission.
Betting Strategy
Backing the total rounds market makes the most sense here. I recommend under 2.5 rounds.
Best Bets
Li Jingliang vs. Frank Camacho
Li Jingliang to win by KO/TKO
Saturday 17th June, 10:30 GMT
Odds: 2.20Bet €100 to win €2206/5Bet £100 to win £220+120Bet $100 to win $2201.20Bet HK$100 to win HK$2201.20Bet Rp100 to win Rp220-0.8333Bet RM100 to win RM220 – SkyBet
Kwan Ho Kwak vs. Russell Doane
Kwan Ho Kwak to win by KO/TKO
Saturday 17th June, 10:00 GMT
Odds: 4.30Bet €100 to win €43033/10Bet £100 to win £430+330Bet $100 to win $4303.30Bet HK$100 to win HK$4303.30Bet Rp100 to win Rp430-0.3030Bet RM100 to win RM430 – Paddy Power
Naoki Inoue vs. Carls John De Tomas
Carls John De Tomas by KO/TKO
Saturday 17th June, 09:30 GMT
Odds: 11.00Bet €100 to win €110010/1Bet £100 to win £1100+1000Bet $100 to win $110010.00Bet HK$100 to win HK$110010.00Bet Rp100 to win Rp1100-0.1000Bet RM100 to win RM1100 – Paddy Power
Kim Ji-Yeon vs. Lucie Pudilova
Total Rounds – Under 2.5
Saturday 17th June, 09:00 GMT
Odds: 2.75Bet €100 to win €2757/4Bet £100 to win £275+175Bet $100 to win $2751.75Bet HK$100 to win HK$2751.75Bet Rp100 to win Rp275-0.5714Bet RM100 to win RM275 – Paddy Power
MMA
UFC
UFC Fight Night 111