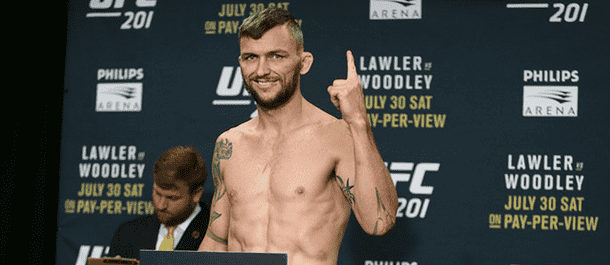 Damien Brown vs. Vinc Pichel
Damien Brown
Record: 17-9
Height: 5'10" (178cm)
Reach: 68.5″ (174cm)
Gym: Integrated MMA

Damien Brown's start in the UFC didn't go as planned when he lost a unanimous decision to Alan Patrick in front of Australian fans. However, he rebounded fast and scored nice wins against Cesar Arzamendia and Jon Tuck. A fight in New Zealand is almost like a fight in the backyard for the Australian, and he'll look to improve his record to 8-1 in his past nine fights with a win over Vinc Pichel.
Vinc Pichel
Record: 9-1
Height: 5'10" (178cm)
Reach: 72.0″ (183cm)
Gym: Big John McCarthy's Ultimate Training Academy
Vinc Pichel returns to the octagon for the first time in three years this weekend in New Zealand. After winning two consecutive bouts by decision, Pichel went missing after undertaking eye surgery and many thought he had permanently retired. But here he is, returning to the cage again and looking to move up the lightweight rankings.
The Breakdown
A well-matched fight. Damien Brown isn't particularly technical or explosive but just gets through fights on the back of his heart, as shown in the fight against Jon Tuck in which he was bloodied in the first round.
Pichel is excellent at turning technical fights into scrappy slugfests. He practically ragdolled Anthony Njokuani, a superb technical Muay-Thai striker, for three rounds and neutralised his striking.
In this matchup, however, Damien Brown welcomes a scrap. In fact, the scrap probably plays into his hands more as he is a submission artist on the mat and has great takedown defence when required, too.
I've got this one going the distance, with a slight lean towards Damien Brown.
Betting Strategy
The round betting seems to be the best market for this fight. I recommend taking the Total Rounds – Over 2.5 selection.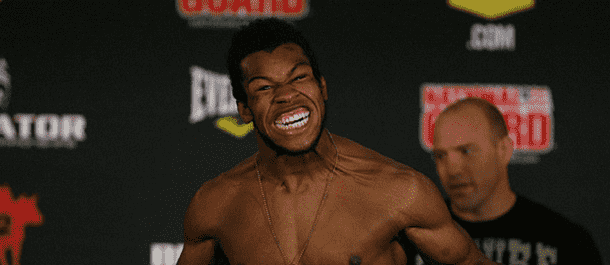 Luke Jumeau vs. Dominique Steele
Luke Jumeau
Record: 11-3
Height: 5'11" (180cm)
Reach: Unknown
Gym: Phuket Top Team
Luke Jumeau's dream of landing in the UFC has come true after accepting a four-fight contract with the promotion. Even better, he gets to do so in front of his New Zealand fans. Jumeau is a black-belt in taekwondo and holds a purple belt in Brazilian Jiu-Jitsu, which is a nice entry point for any fighter making their debut. Jumeau enters this fight on the back of a six-win streak across a range of promotions in Australia and Asia. All six wins came via the way of stoppage in the first or second round.
Dominique Steele
Record: 14-8
Height: 5'10" (178cm)
Reach: 74.0″ (188cm)
Gym: Aron Thomas Jiu Jitsu
Dominique Steele is in desperate territory right now. He's managed to lose three of his four fights in the UFC and is treading an extremely thin line with an organisation who are usually relentless with cutting athletes who underperform. Steele has largely been carried through this adversity by the 'Performance of the Night' bonus when he slammed Dong Hyun Kim into the mat back in 2015.
The Breakdown
Luke Jumeau isn't going to be a top contender in the UFC, let's put it that way. He's got the potential to maybe go 2-2 in his four fights with the promotion but is probably facing a non-renewal at the end of four fights. He's got some skills that could put away fighters such as Dominque Steele though, especially his straight right hand which can catch Steele as he comes forward.
Dominque Steele does occasionally rush forward, although he does quite a good job of hiding it behind a series of punches. While it didn't look pretty, his strikes managed to land on Court McGee fairly often and packed a fair bit of heat behind them too.
What's important in this one is Luke Jumeau's tendency to be flat-footed and get caught with a double leg takedown. Steele could take him down to the mat fairly quickly and hold him there for the majority of the fight, and as we know, this is hugely significant in a three round fight.
Betting Strategy
I recommend selecting Steele to win by decision.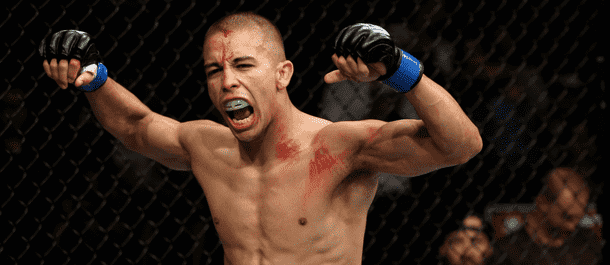 John Moraga vs. Ashkan Mokhtarian
John Moraga will want to escape the depths of his three-fight losing streak when he takes on debutant Ashkan Mokhtarian in New Zealand.
John Moraga
Record: 16-6
Height: 5'6″ (168cm)
Reach: 66.0″ (168cm)
Gym: MMA Lab
Moraga has not recorded a win since 2014 in which he submitted Willie Gates at UFC on FOX 13. Previously, John Moraga had been near the top of the flyweight division and challenged DeMetrious Johnson for the title before losing in the final round via submission. Since then, he has also lost to John Dodson, Joseph Benavidez and Sergio Pettis, all elite competition in the division.
Ashkan Mokhtarian
Record: 13-1
Height: 5'6″ (168cm)
Reach: Unknown
Gym: Australian Top Team
Ashkan Mokhtarian is another exciting fighter making his debut in New Zealand at UFC Fight Night 110. Mokhtarian, who is Australian, has put together a five-win streak after losing in the Nitro MMA promotion back in October 2014. Just one of Mokhtarian's thirteen wins have come by way of decision.
The Breakdown
Mokhtarian will come to brawl. There's a huge possibility of an 'adrenaline rush' here as Mokhtarian could rush out of the gates and try and swarm Moraga. Moraga is often slick enough to avoid getting into such exchanges but lately, he has been relatively hesitant with his striking and this could mean that Mokhtarian slips through his guard and enters the pocket with him.
At a distance, Moraga controls this one with ease. He should be able to rip the calves and thigh of Mokhtarian with his leg kicks. If it goes the distance, Moraga will have this one in the bag. It's just a matter of making it there.
Betting Strategy
I'll be playing John Moraga to win this one by decision.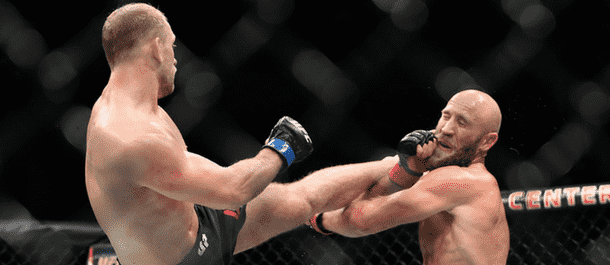 Kiichi Kunimoto vs. Zak Ottow
Zak Ottow replaces the injured Warlley Alves in a bout against Kiichi Kunimoto at UFC Fight Night 110.
Kiichi Kunimoto
Record: 18-6-2
Height: 5'10" (178cm)
Reach: 73.0″ (185cm)
Gym: Cobra Kai MMA Dojo
Kiichi Kunimoto started his UFC career with a three-win streak before losing a fight against Neil Magny in February 2015. Kunimoto has been out of action since the Magny fight, which snapped a streak of six wins across all promotions.
Zak Ottow
Record: 14-4-0
Height: 5'11" (180cm)
Reach: 73.5″ (187cm)
Gym: Pura Vida BJJ/MMA
Ottow has won five of his last six and will be hoping to crank up another win streak after losing to Sergio Moraes at UFC Fight Night 100. Ottow has now managed a 1-1 record in the UFC after defeating Josh Burkman in his promotion debut in October 2016.
The Breakdown
Kunimoto wants this one to hit the mat. If they tie up in a clinch, Kunimoto will aggressively be hunting the takedown. Once it's there, he'll be on a path to securing a submission against Zak Ottow.
Zak Ottow is a grappler, but arguably has a better stand-up game than Kunimoto. His last fight was a similar style to this one, against Sergio Moraes a pure jiu-jitsu fighter.
It's tough to get a read on a fighter who hasn't competed in over two years. Kunimoto's fundamentals may have completely changed, or he may have added a whole new aspect to their game. I'm counting on not much changing for Kunimoto because that's really the only fair assumption we can make.
Betting Strategy
The markets opened with Kunimoto as a heavy underdog. I like the idea of playing that, but am also liking the idea of taking a shot at Kunimoto to win by submission, boosting our odds even further.
Best Bets
Damien Brown vs. Vinc Pichel
Total Rounds – Over 2.5
Sunday 12th June, 01:00 GMT
Odds: 8/11 – BetVictor
Luke Jumeau vs. Dominique Steele
Dominique Steele to win by Decision
Sunday 12th June, 0:30 GMT
Odds: 3/2 – SkyBet
John Moraga vs. Ashkan Mokhtarian
John Moraga to win by Decision
Sunday 12th June, 0:00 GMT
Odds: 15/8 – SkyBet
Kiichi Kunimoto vs. Zak Ottow
Kiichi Kunimoto to win by Submission
Saturday 11th June, 11:30 GMT
Odds: 15/2 – BetVictor
MMA
UFC
UFC Fight Night 110