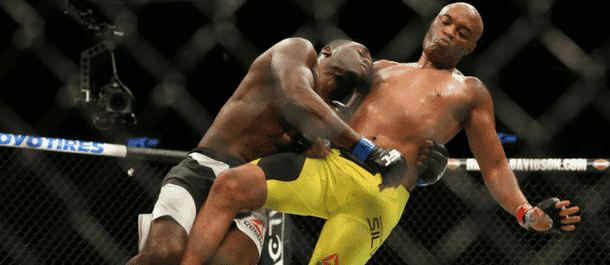 Derek Brunson vs. Daniel Kelly
Derek Brunson looks to break a two-fight losing streak by putting an end to the impressive four-win streak of Daniel Kelly.
Derek Brunson
Record: 16-5
Height: 6'1″ (186cm)
Reach: 78.0″ (198cm)
Gym: Jackson Wink MMA
Derek Brunson has been unfortunate of late. After being stopped by Robert Whittaker in Melbourne, Australia, Brunson went on to lose a controversial decision against Anderson Silva at UFC 209. All three judges believed that Silva had done enough for the victory. However, MMA Decisions reported that just four of twenty-four submitted scores by the media were in favour of Anderson Silva. Derek Brunson believes that the win was 'taken from him' and will look to rebound this weekend at UFC Fight Night 110.
Daniel Kelly
Record: 13-1
Height: 6'0″ (183cm)
Reach: 70.5″ (179cm)
Daniel Kelly is currently riding a four-win streak in the UFC and has put together a 6-1 record since joining the organisation. Kelly, 39-years-old, represented Australia in the Olympics four times for judo. He's seemingly always the underdog when entering the octagon and this time is no different against heavy-hitting Derek Brunson.
The Breakdown
I'm a believer of Daniel Kelly and I feel that he could compete with most in the #8-#15 range of the rankings, but this matchup against Derek Brunson is a tough one for him. Kelly showed against Sam Alvey that he is vulnerable to big strikers and went down very early in the first round.
Brunson employed a more calculated approach against Anderson Silva that we had seen in the past and was able to land some big shots during the fight.
I think Brunson has what it takes to put an end to Daniel Kelly's streak and finish him by KO/TKO in the first round.
Betting Strategy
Let's run with our prediction and play Derek Brunson to win in Round One at Ladbrokes, with odds of 3.80Bet €100 to win €38014/5Bet £100 to win £380+280Bet $100 to win $3802.80Bet HK$100 to win HK$3802.80Bet Rp100 to win Rp380-0.3571Bet RM100 to win RM380 .

Ross Pearson vs. Daniel Hooker
The experienced Ross Pearson will be tested by Daniel Hooker who will be buoyed by his home fans in New Zealand at UFC Fight Night 110.
Ross Pearson
Record: 19-13
Height: 5'8″ (173cm)
Reach: 69.0″ (175cm)
Gym: Alliance MMA
Ross Pearson is a crafty veteran who is in unusual territory, a string of three consecutive losses. Pearson lost two fights against tough competition in Will Brooks and Jorge Masvidal in 2016 before losing a relatively close matchup against Stevie Ray in November. Pearson has made it to the judges scorecards in all of his last seven matchups.
Daniel Hooker
Record: 13-7
Height: 6'0″ (183cm)
Reach: 75.5″ (192cm)
Gym: Tiger Muay Thai & MMA
Besides Mark Hunt, Daniel Hooker is one of the biggest draws for the New Zealand fanbase right now. Hooker will be competing at lightweight for the first time since August 2013, having previously appeared in the UFC at featherweight. Hooker's last appearance inside the octagon was a decision loss to rising star Jason Knight back at UFC Fight Night 101.
The Breakdown
Daniel Hooker has what it takes to move Ross Pearson's losing streak to four in New Zealand. Pearson struggled against the height and range of Jorge Masvidal last year and Daniel Hooker's reach is his biggest weapon. Even against Jason Knight, Hooker was able to land his shots by choosing to stick and move in the early stages of the fight.
Considering Pearson's durability and Hooker point-fighting approach, I'll be backing Hooker to win this won via decision.
Betting Strategy
I'll be betting exactly in line with the prediction; Daniel Hooker to win by decision.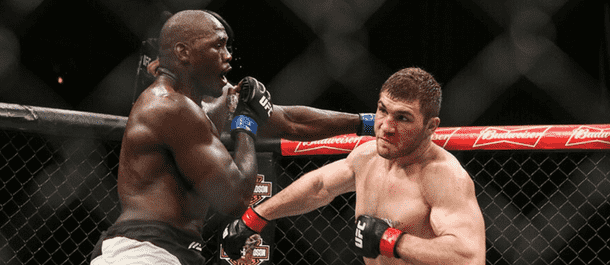 Luis Henrique da Silva vs. Ion Cutelaba
This battle between two heavy-hitting light heavyweight prospects was supposed to take place back at UFC Fight Night 106 before a Cutelaba injury delayed the fight.
Now, it's "Frankenstein" (da Silva) vs. "The Hulk" (Cutelaba) in New Zealand and it's going to be epic.
Luis Henrique da Silva
Record: 12-2
Height: 6'4″ (193cm)
Reach: 76.5″ (194cm)
Gym: Hard Fight
Luis Henrique da Silva was on fire, racking up twelve straight wins to start his career as a professional mixed martial artist. However, it all came to a sudden ending when he met Paul Craig at UFC on FOX 22 in December, who submitted him with an armbar. Da Silva returned to the octagon in January, just one month later, and lost a unanimous decision to Jordan Johnson.
Ion Cutelaba
Record: 12-3
Height: 6'1″ (185cm)
Reach: 75.0″ (191cm)
Gym: CSA Moldova
Ion Cutelaba's last appearance was a loss to Jared Cannonier back in December 2016 that was awarded 'Fight of the Night' honours. Before the fight against Cannonier, Cutelaba had defeated Jonathan Wilson and lost a close fight with Misha Cirkunov who took all that Cutelaba could throw his way.
The Breakdown
Luis Henrique da Silva has shown weaknesses in his prior two outings, but most especially is that he fatigues pretty quickly as a result of his all-out assault. Da Silva is especially good in the clinch and has a pretty heavy top-game when he manages to get there, too.
Cutelaba is an absolute bomber. He throws punches with vicious intent and not many can remain standing after taking shots from the 23-year-old from Moldova. Cutelaba is at his best when he cuts the cage, instead of following his opponent, and throwing sequences of combinations.
I've got Cutelaba tagging da Silva in this one and putting him flat on the canvas.
Betting Strategy
Again, I recommend sticking with the prediction here and playing Cutelaba to win by KO/TKO.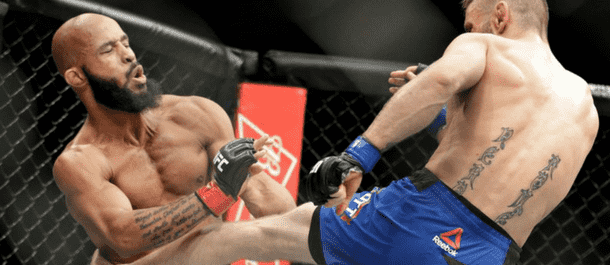 Tim Elliott vs. Ben Nguyen
Tim Elliott steps in to replace Joseph Benavidez, who suffered an ACL injury, in a matchup against promising flyweight, Ben Nguyen.
Tim Elliott
Record: 14-7-1
Height: 5'7″ (170cm)
Reach: 67.0″ (170cm)
Gym: Glory MMA and Fitness
Is there a bigger breakout fighter than Tim Elliott over the course of the last twelve months? Elliott won The Ultimate Fighter Season 24 and earned his shot at DeMetrious Johnson before pushing him to the limits for five rounds. Elliott even won the first round against one of the greatest fighters in the history of the organisation. He quickly started working his way back to another shot at the champion with a win over Louis Smolka at UFC on FOX 24.
Ben Nguyen
Record: 16-6
Height: 5'5″ (166cm)
Reach: 65.0″ (165cm)
Gym: Tiger Muay Thai & MMA
Ben Nguyen is coming off a very impressive, well-rounded performance against Geane Herrara back at UFC Fight Night 101 in November. Nguyen displayed advanced footwork, combined with seamless stance switching, and looked very comfortable inside the octagon. It was a much needed win for Ben Nguyen, who was on the end of a brutal beatdown from Louis Smolka just prior.
The Breakdown
Although Nguyen looked uber-impressive in his last outing and showed that he has what it takes to eventually become a potential contender with those near the top of the division, I don't think he has what it takes to hang there right now.
Tim Elliott is top-class and would give the truly elite a run for their money on any given day, due to his naturally awkward fighting style combined with persistence and determination.
Tim Elliott is too slippery for Ben Nguyen and will be levels above when it hits the ground, as well, if we are to judge from their respective outings against capable submission grappler Louis Smolka.
I'm predicting that Tim Elliott gets a stoppage here and moves himself further up the rankings.
Betting Strategy
Tim Elliot by KO/TKO is paying big-time odds, I recommend placing your money there this weekend.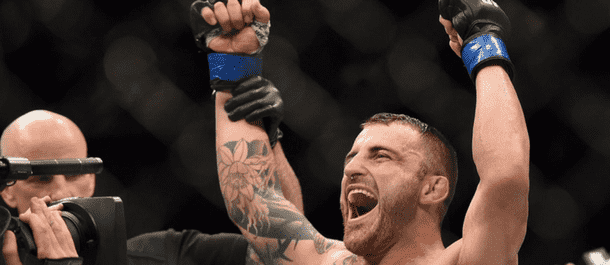 Alexander Volkanovski vs. Mizuto Hirota
Two fighters who made impressive UFC debuts will go toe-to-toe in a showcase battle to open up the main card of UFC Fight Night 110.
Alexander Volkanovski
Record: 14-1
Height: 5'5″ (165cm)
Reach: 64.5″ (164cm)
Gym: Tiger Muay Thai & MMA
Alexander Volkanovski is an Australian fighter with an impressive eleven fight win streak. All but one of these eleven fights ended in a stoppage victory, with six coming in the first round. Volkanovski made his UFC debut at UFC Fight Night 101 back in November 2016 and defeated Yusuke Kasuya via second-round KO/TKO.
Mizuto Hirota
Record: 18-7-2
Height: 5'7″ (171cm)
Reach: 67.0″ (170cm)
Gym: CAVE
Mizuto Hirota was featured in the 'Road to UFC: Japan' tournament and made it all the way to the final, in which a winner would be given a shot with the UFC. Weirdly enough, the final, a fight against Teruto Ishihara, ended in a split draw. Dana White gave contracts to both fighters as a result and Mizuto Hirota ended up winning his promotional debut against Cole Miller back in December.
The Breakdown
This one is an extremely interesting matchup. Alexander Volkanovski is known for getting opponents out of the cage quickly, where as Mizuto Hirota is durable and stays in fights.
Vovlkanovski has an excellent jiu-jitsu and wrestling game, but Hirota is crafty and strong enough to keep his opponent from working any advantages.
I can't predict a winner in this one and believe it will be a very close affair.
Betting Strategy
So, the bookmakers released this one with Mizuto Hirota as a heavy underdog. I recommend taking Mizuto Hirota to win at UFC Fight Night 110.
Best Bets
Derek Brunson vs. Daniel Kelly
Derek Brunson to Win in Round One
Sunday 12th June, 03:30 GMT
Odds: 3.80Bet €100 to win €38014/5Bet £100 to win £380+280Bet $100 to win $3802.80Bet HK$100 to win HK$3802.80Bet Rp100 to win Rp380-0.3571Bet RM100 to win RM380 – Ladbrokes
Ross Pearson vs. Daniel Hooker
Daniel Hooker to win by Decision
Sunday 12th June, 03:00 GMT
Odds: 3.25Bet €100 to win €3259/4Bet £100 to win £325+225Bet $100 to win $3252.25Bet HK$100 to win HK$3252.25Bet Rp100 to win Rp325-0.4444Bet RM100 to win RM325 – Betway
Luis Henrique da Silva vs. Ion Cutelaba
Ion Cutelaba to win by KO/TKO
Sunday 12th June, 02:30 GMT
Odds: 1.91Bet €100 to win €19191/100Bet £100 to win £191-110Bet $100 to win $1910.91Bet HK$100 to win HK$191-1.10Bet Rp100 to win Rp1910.9100Bet RM100 to win RM191 – Bet365
Tim Elliott vs. Ben Nguyen
Tim Elliott to win by KO/TKO
Sunday 12th June, 02:00 GMT
Odds: 7.00Bet €100 to win €7006/1Bet £100 to win £700+600Bet $100 to win $7006.00Bet HK$100 to win HK$7006.00Bet Rp100 to win Rp700-0.1667Bet RM100 to win RM700 – Betway
Alexander Volkanovski vs. Mizuto Hirota
Mizuto Hirota to Win
Sunday 12th June, 01:30 GMT
Odds: 5.00Bet €100 to win €5004/1Bet £100 to win £500+400Bet $100 to win $5004.00Bet HK$100 to win HK$5004.00Bet Rp100 to win Rp500-0.2500Bet RM100 to win RM500 – Marathon
MMA
UFC
UFC Fight Night 110