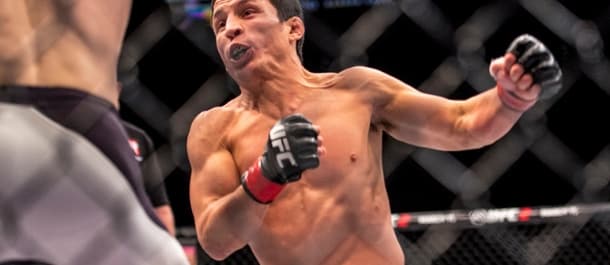 While the main event of UFC on ESPN 3 is destined to be the one that gains all of the attention heading into the weekend, the rest of the main card and the preliminary card promises to be just as entertaining.
The co-main event of the evening is a #1 contender bout in the flyweight division. Jussier Formiga and Joseph Benavidez will go toe-to-toe with the winner likely to come out and be next in line to face current champion Henry Cejudo.
The rest of the main card is filled with athletes who have either been regarded as contenders once in their career or trying to break through and gain that recognition now.
As always, we're here to break down all of these fights and bring you the best odds for every selection. We'll also share our recommended betting advice as we enter the weekend.
You'll find all of the best MMA odds at BetOnline, Bovada, and Mybookie ahead of this weekend's card.
Jussier Formiga vs. Joseph Benavidez
Saturday, June 29 – 11:00 pm (ET) / 3:00am (GMT)
Jussier Formiga vs. Joseph Benavidez is a high-stakes 125-pound bout that will get the crowd more than ready for the main event of the evening.
Formiga steps into this one after winning four consecutive victories dating back to early 2017. His most recent two wins have been by way of unanimous decision against Sergio Pettis and Deiveson Figueiredo. Before then, he managed to end Ben Nguyen and Ulka Sasaki's night with a rear-naked choke. A win here puts him in with a great chance at meeting Henry Cejudo in a title fight next.
Joseph Benavidez is in the rare circumstance of having recently earned a split decision win over the current champion. That win over Cejudo came back in December 2016 but he managed to slip in his next fight against Sergio Pettis, losing a split decision. He's now won his last two fights and much like Formiga is in range of a shot at the title yet again.
The odds here are a little wider than we had initially expected. Formiga's on the rise and has looked great in his last couple of fights, whereas Benavidez is showing signs of decline.
Formiga's wrestling threat and submission offense means that even while standing, Formiga is able to remain competitive because his opponent is fearful of the incoming takedown attempts.
Benavidez's defensive wrestling capability is top-level and there's a chance that he may even be able to keep this fight upright at all times considering his excellent scrambling ability, as well. However, even if he does, he'll be defensively-minded for the entirety of the fight and that will allow Formiga to get ahead on the scorecards.
At these odds, Formiga makes for a great bet because this is a fight that seems much closer to 50/50.
Bet on Jussier Formiga to win: 2.45Bet €100 to win €24529/20Bet £100 to win £245+145Bet $100 to win $2451.45Bet HK$100 to win HK$2451.45Bet Rp100 to win Rp245-0.6897Bet RM100 to win RM245 at Bovada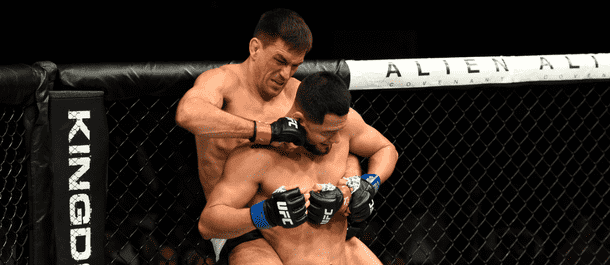 Demian Maia vs. Anthony Rocco Martin
Saturday, June 29 – 10:30 pm (ET) / 2:30am (GMT)
Demian Maia's difficult stretch of fights against the very best in the welterweight division has come to an end. After losing unanimous decision fights to Tyron Woodley, Colby Covington, and Kamaru Usman, Maia bounced back with a classic first-round rear-naked choke victory against Lyman Good in Brazil.
Maia's still as dangerous as ever but will need to score multiple wins in succession in order to reclimb the 170-pound ladder.
Anthony Rocco Martin is the man against Maia this weekend. Since sliding up to the welterweight division, Martin has remained undefeated in four fights. His most recent win came against Sergio Moraes in March this year. He's also managed to defeat Jake Matthews, Ryan LaFlare and Keita Nakamura. There's no doubting that Demian Maia is the most difficult test so far in Martin's career, but it's one that Martin clearly wanted after he has been on record noting that the UFC has not given him many opportunities.
The simplest of takes before this fight is that even one takedown could spell immediate trouble for Rocco Martin. Maia is world-class when it comes to the mat and he's consistently struggled to get elite-level MMA wrestlers down to the ground in Woodley, Usman, and Covington. Martin doesn't have the same defensive wrestling ability as these fighters do and is likely to be taken down at one stage.
Martin is capable on the mat, as well, but is unlikely to return to his feet. The more likely outcome is that he'll defend the position and ultimately lose the round.
Maia's a big chance to win by submission in this fight and there's a small chance he can win by decision if he doesn't slow down too much late in the fight.
The odds here are good for a Demian Maia win.
Bet on Demian Maia to win: 1.57Bet €100 to win €15757/100Bet £100 to win £157-175Bet $100 to win $1570.57Bet HK$100 to win HK$157-1.75Bet Rp100 to win Rp1570.5700Bet RM100 to win RM157 at BetOnline
Roosevelt Roberts vs. Vinc Pichel
Saturday, June 29 – 10:00 pm (ET) / 2:00am (GMT)
Roosevelt Roberts is a product of the entertaining Dana White's Tuesday Night Contender Series. Roberts submitted Garrett Gross in 2018 and found himself competing in the UFC in his very next fight. Roberts submitted Darrell Horcher with a standing guillotine choke in November and then backed it up with a unanimous decision victory against Thomas Gifford.
Vinc Pichel's four-fight winning streak came to an end against surging lightweight prospect Gregor Gillespie in June last year. Before then, Pichel had managed four consecutive wins over the span of four years. After his fight with Gillespie, Pichel was involved in a serious motorcycle incident and is now returning to fighting for the first time since.
This line is a lot wider than we had anticipated. Vinc Pichel has mixed it up with some top contenders over the years and losses to Gregor Gillespie and Khabilov shouldn't downgrade our outlook on his ability.
Roberts is still new to the UFC and ultimately hasn't competed against the same quality of contenders that Pichel has. In saying this, there seems to be a lot of unnecessary inflation in Roberts' odds and that makes us side with taking the underdog in this lightweight fight.
Bet on Vinc Pichel to win: 3.20Bet €100 to win €32011/5Bet £100 to win £320+220Bet $100 to win $3202.20Bet HK$100 to win HK$3202.20Bet Rp100 to win Rp320-0.4545Bet RM100 to win RM320 at Mybookie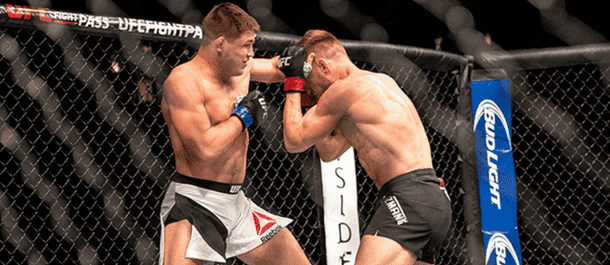 Drew Dober vs. Polo Reyes
Saturday, June 29 – 9:30 pm (ET) / 1:30am (GMT)
Drew Dober is yet another fighter who is set to try and recover from having his winning streak ended in his most recent fight. Dober looked to be on the way up after wins against Josh Burkman, Frank Camacho, and Jon Tuck, but a second-round armbar defeat against Beneil Dariush has sent him falling back down the line at lightweight.
Polo Reyes is known for being an exciting fighter in the lightweight division but not much more than that. He's traded wins and losses in his last four fights and will enter the cage after a recent defeat to Damir Hadzovic in February.
Dober has all of the advantages heading into this one. Polo Reyes is going to want to heap the pressure on his opponent and smother him – partly why he's been involved in so many exciting fights in the past. However, Dober has the ability to punish Reyes for his forward movement and keep this fight at a safe distance.
Reyes' chin seems to be deteriorating over time, as well, and a couple of heavy shots from Dober could send him home early.
Drew Dober to win: 1.29Bet €100 to win €12929/100Bet £100 to win £129-345Bet $100 to win $1290.29Bet HK$100 to win HK$129-3.45Bet Rp100 to win Rp1290.2900Bet RM100 to win RM129 at Bovada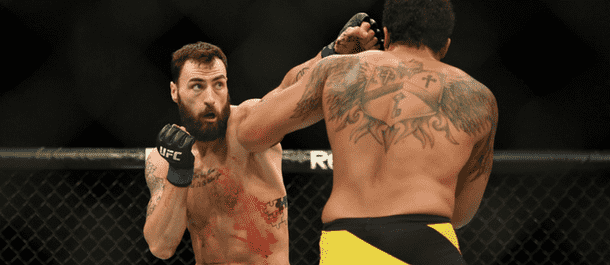 Alonzo Menifield vs. Paul Craig
Saturday, June 29 – 9:00 pm (ET) / 1:00am (GMT)
Alonzo Menifield looks to keep his undefeated record alive when he enters the UFC's Octagon for the second time this weekend. Menifield impressed on Dana White's Contender Series with a stunning eight-second knockout win against Dashawn Boatwright in June last year. He since debuted successfully in the promotion with a first-round win against Vinicius Moreira.
Paul Craig is one of the most bizarre cases in the UFC today. He's won three of his six fights with the promotion since joining in December 2016 and has either been finished by his opponent or finished his opponent. His finishes have been memorable for the fact that they consistently come late in the fight and against all odds. His most recent win was against Kennedy Nzechukwu at UFC on ESPN 2.
Craig's an incredibly binary fighter. At his best, he'll submit his opponent. At his worst, he'll get finished with ease. Unlike many other submission-focused fighters such as Demian Maia, Craig hasn't shown the ability to win rounds and earn a decision if it makes it that far, either.
He's quite durable and can withstand being beaten through early stages of the fight. Two of his most recent submission wins came after being dominated for the vast majority of the fight before then.
It's likely that this fight will play out similarly to that narrative. Menifield is strong and powerful and is likely to run through Craig early. If he can't put him away, though, there's always the risk of a late submission victory for Craig.
Bet on Paul Craig to win: 3.50Bet €100 to win €3505/2Bet £100 to win £350+250Bet $100 to win $3502.50Bet HK$100 to win HK$3502.50Bet Rp100 to win Rp350-0.4000Bet RM100 to win RM350 at BetOnline
Best Bets for UFC on ESPN 3
Joseph Benavidez
Jussier Formiga
UFC on ESPN 3