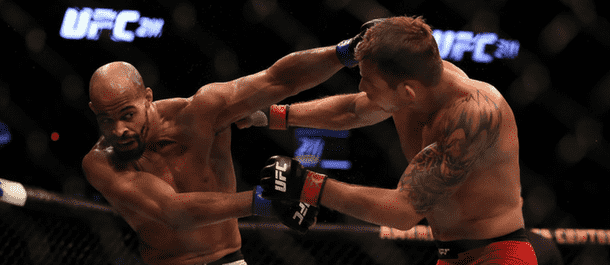 The UFC on ESPN 2 fight card might not be the most stacked of the entire weekend, but it does lay claim to what could be a couple of the best fights in the coming days.
At the top of the card, Edson Barboza will battle with Justin Gaethje in a matchup that packs 1,000+ fire emojis of heat. Both fighters are incredibly violent, and that should be an odds-on favorite to win 'Fight of the Night' when the UFC travels to Philadelphia. We've already broken down that main event bout and you can find our Barboza vs. Gaethje betting guide here.
Besides that, the main card is packed with promising fights. And from a betting perspective, it's even better.
Let's get started.
David Branch vs. Jack Hermansson
Saturday, March 30 – 11:00 pm (ET) / 3:00am (GMT)
David Branch returns to action for the first time since his shocking defeat to Jared Cannonier in November last year. After defeating Thiago Santos in April 2018, Branch looked to have finally got the ball rolling in the UFC, especially with the recent news that Thiago Santos is facing Jon Jones for the light heavyweight title next.
Branch entered the UFC after an excellent stint with World Series of Fighting where he held two titles. He's never reached the same pinnacle with the UFC, but a win here puts him on the right track to start building forward and upward.
He'll be facing Jack Hermansson this weekend in a middleweight bout. Hermansson is a former Cage Warriors champion and is now 5-2 in the UFC since joining in 2016. Most recently, he's threaded two wins together after defeating Gerald Meerschaert and Thales Leites.
David Branch is quite a well-rounded fighter and has excellent jiu-jitsu ability on the mat to go with serviceable striking ability. On a good night, Branch is almost unstoppable and powers through his opponent, but when he senses danger or starts getting behind in a fight, he fights worse. This happened against Jared Cannonier most recently, and it also happened against Luke Rockhold when Branch gave up an incredibly easy pass that allowed Rockhold to maintain top control and rain down some heavy strikes.
If Branch is allowed to sit back and control the flow of the fight, it might be an easy night for him against Hermansson. However, if Hermansson can push forward and provide some adversity for Branch, it might lead to the creation of some easy takedown opportunities where Hermansson can use his brilliant top game and ground and pound to secure a victory.
This fight is a close one. On release, Hermansson was an underdog but has now shifted into position as the favorite. For now, we'll take Branch at the generous underdog odds and hope that he can stay in front for the three rounds.
Bet on David Branch to win: 2.05Bet €100 to win €20521/20Bet £100 to win £205+105Bet $100 to win $2051.05Bet HK$100 to win HK$2051.05Bet Rp100 to win Rp205-0.9524Bet RM100 to win RM205 at BetOnline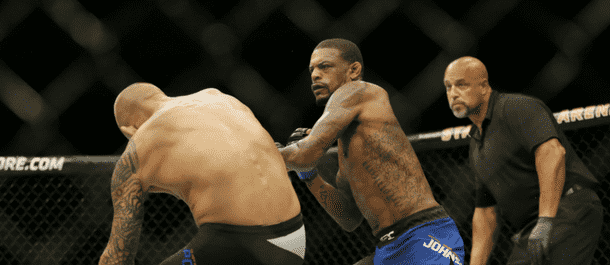 Josh Emmett vs. Michael Johnson
Saturday, March 30 – 10:30 pm (ET) / 2:30am (GMT)
Josh Emmett vs. Michael Johnson is one of the very best fights this weekend. Emmett is returning to the cage for the first time since losing to Jeremy Stephens in February last year. Emmett had risen through the ranks by defeating Ricardo Lamas and Felipe Arantes in back-to-back fights but was stopped by Stephens in the second round.
Michael Johnson is one of the most exciting featherweight fighters in the UFC and steps into this fight night after wins against Artem Lobov and Andre Fili. Before then, Johnson had lost two consecutive fights that he appeared to be on track to win. He was smoking Darren Elkins before eventually being overrun in the second round, and he was doing well against Gaethje until being left in the dust, too.
Michael Johnson is a massively underrated striker who has fast hands and packs power in his punches. It wasn't all that long ago when he floored Dustin Poirier inside the first 95 seconds, a man who is now fighting for the interim lightweight title at UFC 236.
Josh Emmett himself is a decent striker and uses his short and stocky frame to launch all kinds of powerful strikes to the head of his opponent. His most obvious pathway to victory in this fight is to take Johnson down to the mat and control him there – something we've realized to be a super effective strategy against Johnson. With Emmett's wrestling ability, that'd be a brilliant gameplan and something that could allow him to take less damage than usual, which may be on his mind after being knocked out in his last fight.
However, we rarely ever see Emmett use his wrestling, and he finds himself exchanging in the pocket more often than not. Against Johnson, that's a dangerous proposition and could lead to a brutal finish.
Expect Johnson to control the striking from all distances, and if Emmett doesn't shoot for a takedown, he should be in trouble.
Bet on Michael Johnson to win: 1.90Bet €100 to win €1909/10Bet £100 to win £190-111Bet $100 to win $1900.90Bet HK$100 to win HK$190-1.11Bet Rp100 to win Rp1900.9000Bet RM100 to win RM190 at BetOnline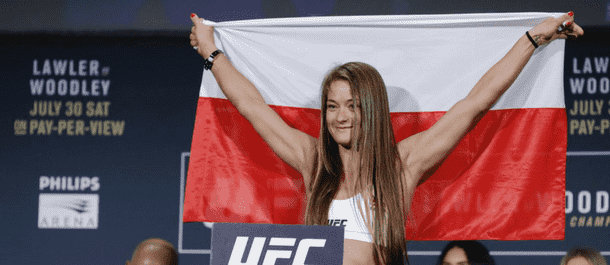 Karolina Kowalkiewicz vs. Michelle Waterson
Saturday, March 30 – 10:00 pm (ET) / 2:00am (GMT)
Karolina Kowalkiewicz meets Michelle Waterson at UFC on ESPN 2 this weekend in what should be a brilliant women's strawweight bout.
Kowalkiewicz is at a point in her career in which she has previously defeated the current champion, Rose Namajunas, but failed to secure wins against other highly-ranked opponents such as Jessica Andrade, Claudia Gadelha, and Joanna Jedrzejczyk. She enters this fight after a disappointing first-round knockout defeat against Andrade.
Waterson's on a roll right now, having won her last two fights against Felice Herrig and Cortney Casey. Waterson has never been considered a top contender in the division, but a win against Kowalkiewicz will put her right into the mix near the top of the category.
Karolina Kowalkiewicz is a dangerous striker but has fallen short against top-tier opposition. For a moment there, she looked to be getting the better of Joanna Jedrzecjczyk in a title fight but that was just a small takeaway from what was otherwise a relatively easy decision win for Jedrzejczyk.
Kowalkiewicz is particularly excellent at high-volume striking, where she'll often launch combinations of two or three strikes at a time. While throwing these strikes, she does leave her chin up and is open for a knockout blow (as Jessica Andrade found), but this is something that won't be of concern against Waterson.
Rather, she'll be looking to keep this fight standing against "The Karate Hottie," because of Waterson's brilliant jiu-jitsu ability. Waterson is especially strong from close range, particularly in the clinch, where can she use her array of trips and throws to get her opponent to the mat.
Look for Kowalkiewicz to push off and maintain a safe distance throughout this fight, where she can sit back and outwork Waterson for a decision win.
Bet on Karolina Kowalkiewicz to win: 1.68Bet €100 to win €16817/25Bet £100 to win £168-147Bet $100 to win $1680.68Bet HK$100 to win HK$168-1.47Bet Rp100 to win Rp1680.6800Bet RM100 to win RM168 at BetOnline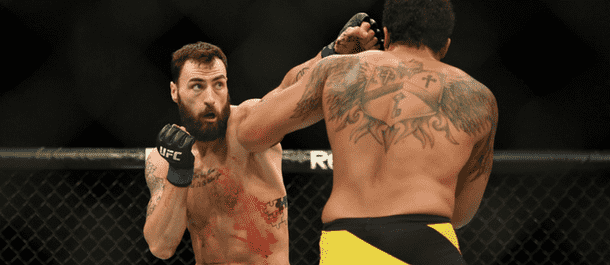 Kennedy Nzechukwu vs. Paul Craig
Saturday, March 30 – 9:30 pm (ET) / 1:30am (GMT)
Kennedy Nzechukwu impressed on Dana White's Tuesday Night Contender Series and gained entry to the UFC last year. It's taken until now for the 26-year-old from Nigeria to make his UFC debut, and he looks to keep his undefeated career record intact in a bout against Paul Craig.
Paul Craig is now 2-3 in the UFC since joining in December 2016. Most recently, he was defeated by Jimmy Crute by way of kimura submission late last year. Before then, Craig snatched a brilliant last-second submission win over Magomed Ankalaev at UFC Fight Night 127. With ten wins to his name in his professional career, Craig has finished nine of those by way of submission and won one by KO/TKO.
When it comes to Paul Craig, he's essentially reliant on securing a submission victory. He's not the best round-winner and has never really shown an ability to win periods of a fight. Instead, he's most dangerous for his opportunistic submissions.
So, this fight all comes down to whether he can get Nzechukwu to the mat and finish him there. There's not much evidence suggesting that Nzechukwu has a decent ground game, and he's never been tested against a formidable opponent. He's large and strong, and that definitely stands for something in mixed martial arts, but a grappler with supreme technique can easily control him if it gets to the mat.
Craig's going to need to be careful of Nzechukwu's striking power, and if he can work his way inside and get this fight to the mat he's looking good for a submission opportunity.
At these odds, you have to play Paul Craig against the prospect.
Bet on Paul Craig to win: 2.75Bet €100 to win €2757/4Bet £100 to win £275+175Bet $100 to win $2751.75Bet HK$100 to win HK$2751.75Bet Rp100 to win Rp275-0.5714Bet RM100 to win RM275 at Bovada
Best Bets for UFC on ESPN 2
David Branch
Josh Emmett
Michael Johnson
UFC on ESPN 2