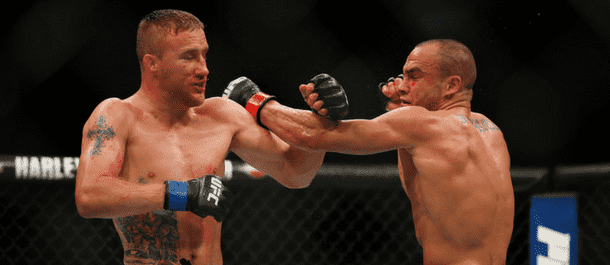 At UFC on ESPN 2 this Saturday, fans around the world will be treated to a fight that has almost impossible levels of promise.
Justin Gaethje vs. Edson Barboza is exactly the type of fight that UFC fans crave. It's the type of fight that we should really be paying for (on pay-per-view), but fortunately, we've been gifted this one on ESPN.
Gaethje vs. Barboza slots into the main event slot of what should be an incredibly entertaining night of fights in Philadelphia. Also on the card, David Branch will battle with Jack Hermansson not long after Josh Emmett returns to action against Michael Johnson. An interesting women's strawweight contest also sits on the card, where Karolina Kowalkiewicz will clash with Michelle Waterson.
But for now, let's take an in-depth look at Gaethje vs. Barboza and work out how to beat the bookmakers on this one.
Justin Gaethje is the definition of violence. The 30-year-old brawler has made a name for himself because of his extremely entertaining fighting style. It's not the smartest or most recommended style of fighting by any means, but it's sure exciting to watch.
Gaethje is now 2-2 in the UFC after a recent win over James Vick. It wasn't just any old win, either, Gaethje crashed a huge punch into Vick's head and sent him toppling in what is now regarded as one of the very best knockout wins of 2018. Before then, Gaethje suffered consecutive defeats against uber-violent competitors Dustin Poirier and Eddie Alvarez. Gaethje can make it two in a row with a win over Barboza this weekend.
Edson Barboza is a fighter who doesn't get as much respect as he deserves in recent years. His three most recent defeats were to the likes of Khabib Nurmagomedov, Tony Ferguson, and Kevin Lee, all highly-rated lightweight fighters. Mixed in there, as well, are impressive victories over the likes of Anthony Pettis, Daniel Hooker, Beneil Dariush, and Gilbert Melendez.
Barboza is as dangerous as they come, and he likely won't need to worry about Gaethje dragging him to the mat in this one.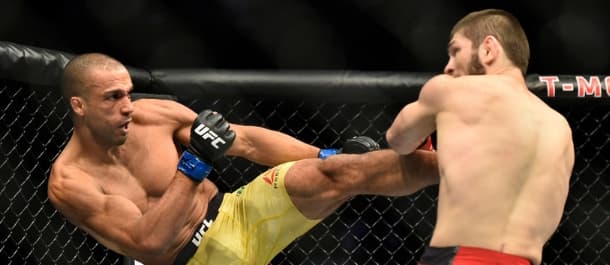 Fight Breakdown
Fans love Justin Gaethje for good reason. His high-pressure style has not only proved effective for the majority of his career, it's also guaranteed to be entertaining. This style of fighting isn't always going to work against the top contenders of the lightweight division in the UFC. For example, a strong counter-puncher might be able to pick Gaethje apart as he comes forward (similarly to how Poirier and Alvarez handled him). But for the most part, Gaethje's style is near impossible to overcome.
His relentless forward pressure means that his opponent's need to bring their A-game to defeat him. He'll cut the cage, continue pressing forward and block incoming shots with his high guard to close the distance. Once there, Gaethje chops his opponent down with devastating leg kicks and incredibly powerful punches to the head. The leg kicks are crucial to Gaethje's success, as he'll often make a lasting impact on his opponent and diminish their ability to move freely around the Octagon.
Interestingly, Edson Barboza is one of the greatest leg kickers in the UFC today. In his last fight, Barboza destroyed Hooker's legs to the point of no return. Cracking the inside and outside with well-timed kicks helps Barboza disrupt the flow of his adversary and give him time to retreat, circle, and maintain optimal fighting distance; which, for Barboza is medium-to-long range.
Much like Gaethje, Barboza is absolutely terrifying when he's allowed to fight his own fight. If he's given time to sit back and whack opponent's with creative kicks and striking techniques, Barboza is pound-for-pound one of the most dangerous fighters in the UFC today. But when pressured and backed up (like against Khabib Nurmagomedov and Kevin Lee), Barboza isn't nearly as good and struggles to plant his feet in order to set up his attacks.
Essentially, the weakest parts of Barboza's game are precisely the parts that Gaethje does well. Barboza crumbles under pressure, and Gaethje pressures like no other.
Expect violence and a bruised and battered Justin Gaethje no matter what, but he has all of the tools to get this one done inside the distance.
Bet on Justin Gaethje to win: 2.20Bet €100 to win €2206/5Bet £100 to win £220+120Bet $100 to win $2201.20Bet HK$100 to win HK$2201.20Bet Rp100 to win Rp220-0.8333Bet RM100 to win RM220 at BetOnline
---
UFC on ESPN 2: Justin Gaethje vs. Edson Barboza
Saturday, March 30 – 11:30 pm (ET) / 3:30am (GMT)
Edson Barboza
Justin Gaethje
UFC on ESPN 2