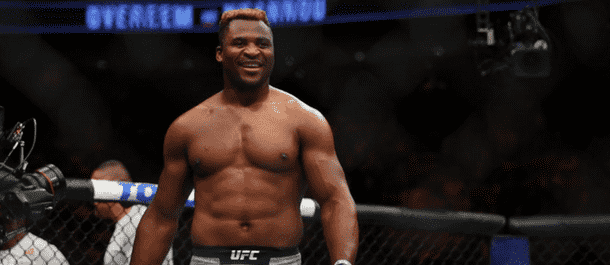 Believe it or not, we're just days away from Cain Velasquez returning to the UFC Octagon.
Just a few months back, it seemed like we would never be seeing the former heavyweight champion compete inside the cage again. But an unexpected – and equally exciting – matchup between Velasquez and Francis Ngannou was announced as the main event of the UFC's first-ever dedicated event on ESPN.
At UFC on ESPN 1, these two heavy-hitting heavyweight fighters will stand toe-to-toe to bring an end to a brilliant fight card that is packed with top-tier talent across many important weight divisions in the promotion.
To get things started, we'll take an in-depth look at this heavyweight main event before bringing you the best odds (and where to find them), together with our recommended bets for UFC on ESPN 1.
Let's get started.
Francis Ngannou vs. Cain Velasquez Odds
Those Mybookie odds on Francis Ngannou sure are tempting!
Remember when Francis Ngannou was being marketed as the heaviest hitting puncher in all of combat sports? If that doesn't seem too long ago, that's because it was in January last year in the build-up to his title fight against Stipe Miocic. Ngannou had nearly knocked the head off of Alistair Overeem's shoulders with a thunderous uppercut, and Dana White and the UFC executives immediately pushed him into title contention. Ngannou was supposed to be the next big thing in the heavyweight division – but then Stipe Miocic embarrassed him. Soundly beaten over five rounds, Ngannou was then thrown into the cage with the super-powerful Derrick Lewis. The result of that fight is one that fight fans would have liked to quickly forget, as there was more staring than actual fighting on that day from the Cameroonian.
But most recently, Ngannou announced that he still needs to be taken seriously as a top contender in the division after he crushed Curtis Blaydes – for the second time – with an otherworldly show of immense power.
And now, Ngannou will be looking to make it two in a row when he meets Cain Velasquez at UFC on ESPN 1.
Velasquez is returning to action for the first time since UFC 200, a milestone event that happened all the way back in July 2016. It was then when he scored a relatively easy first-round win over Travis Browne. But we never saw him again after that. And it was always very depressing for MMA fans of old, who had familiarized themselves with the always-dominant, almost-perfect heavyweight who had ruled over the division for longer than anyone at the time. Of course, Cain Velasquez now has a reputation for being a better fighter at 'sea level' rather than up high in Denver or elsewhere with high altitude. It was his defeat and unsuccessful title defense against Fabricio Werdum in June 2015 that sent his world crashing down.
But he now has a chance to build it back up again.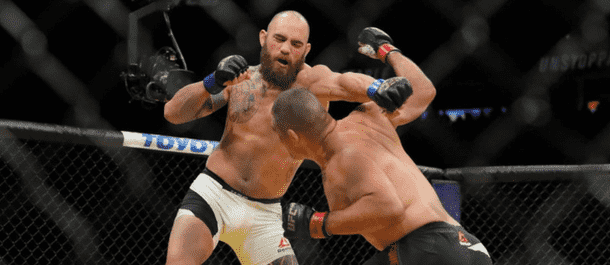 Fight Breakdown
This fight is exceptionally interesting to break down because each fighter has an obvious pathway to victory.
For Francis Ngannou, the powerful knockout artist, he'll be looking to land his hands cleanly on Cain Velasquez as he walks in. Velasquez isn't the most defensively sound striker in the heavyweight division and has a tendency of quickly moving into range without any defensive techniques or awareness. That's exactly the recipe Ngannou's been preparing for victory.
Ngannou's also a dangerous counter striker with fast hands. He's not going to stick Velasquez with a perfect 1-2 down the middle, but rather the former champion will need to be on the lookout for all kinds of unique punches – much like the strange hook/uppercut that caught Overeem. There are going to be plenty of opportunities for Ngannou to connect these punches, and there aren't too many who can take these shots from the former title challenger.
And for Cain Velasquez, the pathway is a relatively simple one as well. Stipe Miocic previously laid out the perfect gameplan for defeating Ngannou – utilize wrestling and grappling to drag the big man to the ground and tire him out. The grappling exchanges fatigue Ngannou's arms, slowing him down while also draining his gas tank. Just a couple of minutes of intense grappling and Ngannou might be walking back to his corner with his hands on his hips.
Fortunately for the returning heavyweight, grappling and cardio is his game. He grinds on people for minutes at a time, fatiguing them and eventually overwhelming them. It's an advantage that he has not just over Ngannou, but a majority of the heavyweight division. His pressure will be vital if he wants to get over the line in this main event.
But, ultimately, his chin will be tested – and that's exactly not what you want for your health and safety when standing across from one of the scariest punchers on the roster.
We're taking Ngannou to win at the excellent underdog odds currently posted over at Mybookie, and he's probably going to win it all in round one.
UFC on ESPN 1: Francis Ngannou vs. Cain Velasquez
Sunday, February 17 – 11:30 pm (ET) / 3:30am (GMT)
Cain Velasquez
Francis Ngannou
UFC on ESPN 1