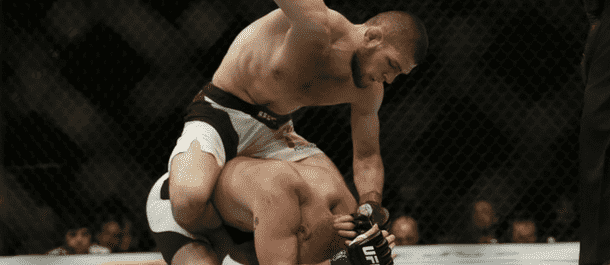 On September 7 in Abu Dhabi, Khabib Nurmagomedov will defend the UFC Lightweight Championship against Dustin Poirier at UFC 242.
For Nurmagomedov, it's his first appearance back in the Octagon following his submission win against Conor McGregor in October. Fans who had been following mixed martial arts for a long time knew and respected Nurmagomedov's outstanding career to date, but now the world realized it as well after they tuned in for one of the most highly-anticipated fights in UFC history.
Nurmagomedov's facing Dustin Poirier, a tough lightweight fighter who has earned his shot at the title after scoring consecutive wins against several of the greatest lightweight fighters in the promotion today.
Let's dive into the details of this UFC 242 main event matchup to bring you the best odds and our pick and prediction for Nurmagomedov vs. Poirier.
Khabib Nurmagomedov vs. Dustin Poirier odds
Undefeated lightweight star Khabib Nurmagomedov isn't regarded as one of the greatest mixed martial artists of all-time just yet, but he's undoubtedly on the right pathway. Since joining the UFC in 2012, Nurmagomedov has won 11 consecutive fights and now reigns over the 155-pound division after he defeated Al Iaquinta at UFC 223. His most recent win over Conor McGregor marked his first title defense and he's now set to defend that title again on September 7.
Although he doesn't quite get the attention that Nurmagomedov does, Dustin Poirier's list of wins is arguably greater than Nurmagomedov's. In his four most recent fights, Poirier has secured wins over former UFC lightweight champion Anthony Pettis, tough lightweight contender Justin Gaethje, former UFC and Bellator champion Eddie Alvarez and the current UFC featherweight champion, Max Holloway. Poirier steps into this fight after stopping his opponent in three of those four most recent fights.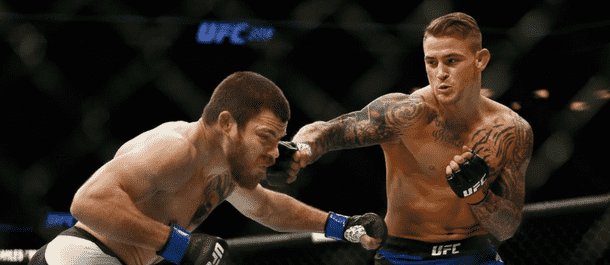 Fight Breakdown
There's nothing quite like breaking down a Khabib Nurmagomedov fight before it happens. The Russian mauler has rarely been troubled in his 27-fight career and the only round that he has officially lost on any scorecard was round three against Conor McGregor at UFC 229.
That round seemed to be Nurmagomedov catching his breath after a wrestling-heavy approach in rounds one and two, yet McGregor still wasn't able to make a major impact because he was fatigued, as well.
The majority of Nurmagomedov's fights are one-way traffic from start to finish.
His gameplan is simply to apply enough pressure that his opponent backs behind the black tape and nears the cage walls. Once there, Nurmagomedov comes forward to close the distance and take down his opponent. Against the cage, Nurmagomedov finishes a high percentage of his takedowns, especially when compared to his relative struggles in the middle of the cage.
In order to march his opponent backward, Nurmagomedov needs to apply effective pressure and control the flow of the fight. Although he lacks traditional techniques that can be used to control pace and pressure such as good feinting and footwork, Nurmagomedov's wrestling threat seems to be more than enough to make his opponent become more cautious than usual.
If at any point Nurmagomedov does lose control of the center, he'll become increasingly reckless and look to push the opposing fighter back with wild strikes or lunging attacks such as flying knee attempts. Interestingly, this has worked for him on almost all occasions so far, as he was able to push back Rafael dos Anjos, Edson Barboza, and Al Iaquinta to the cage before successfully completing his takedowns.
When Nurmagomedov does finish the takedown, it mostly results in extraordinary pressure and control, more so than a direct finishing threat. The Russian does have intense ground and pound and he can use elbows or punches to bust up the face of his opponent, but the more obvious outcome of his grappling dominance is the way it fatigues the other fighter.
By the time the two fighters are standing again, Nurmagomdeov is able to close the otherwise large gap between them when striking and can work his jab and surprisingly powerful punches now that his opponent is unable to defend as well.
The immediate realization here is that Poirier needs to apply effective pressure and disallow Nurmagomedov from controlling the flow of the fight if he wishes to remain ahead. By doing so, he'll increase his chances of defending Nurmagomedov's takedowns, as well as being in a position to punish Nurmagomedov for reckless movements and attacks.
With a brilliant left cross and excellent boxing ability, Poirier has the hand speed and precision to stun Nurmagomedov as he comes forward. But it remains to be seen how those abilities will hold up after defending takedowns for the first two rounds, at least.
When (and if) Nurmagomedov decides to grapple, Poirier has the wrestling and jiu-jitsu ability to defend himself from some attempts. McGregor's never been praised for his wrestling ability, but even "The Notorious" had success stuffing four of Nurmagomedov's seven takedown attempts.
But merely keeping this fight standing may not be enough for Poirier to earn the victory against Nurmagomedov – there's a lot more at play.
While Nurmagomedov's striking has improved fight-after-fight to the point where it's no longer a clear weakness, Nurmagomedov does rely on his opponent becoming fatigued before winning the striking battles. Again, if Poirier is forced to defend takedown after takedown, his knockout power and hand speed will certainly diminish.
At release, there was good value for bettors siding with Nurmagomedov. If the odds had remained at 1.42Bet €100 to win €14221/50Bet £100 to win £142-238Bet $100 to win $1420.42Bet HK$100 to win HK$142-2.38Bet Rp100 to win Rp1420.4200Bet RM100 to win RM142 to this day, that'd be our bet of choice heading into UFC 242.
But with the odds widening in the weeks leading up to the event, the value on Nurmagomedov's side has vanished and betting on Poirier now presents itself as the best option ahead of this event. At odds of 3.95Bet €100 to win €39559/20Bet £100 to win £395+295Bet $100 to win $3952.95Bet HK$100 to win HK$3952.95Bet Rp100 to win Rp395-0.3390Bet RM100 to win RM395 to win at BetOnline, there's simply too much value on Poirier here – who appears to be the toughest opponent that Nurmagomedov has faced to date.
Bet on Dustin Poirier to win: 3.95Bet €100 to win €39559/20Bet £100 to win £395+295Bet $100 to win $3952.95Bet HK$100 to win HK$3952.95Bet Rp100 to win Rp395-0.3390Bet RM100 to win RM395 at BetOnline
UFC 242: Khabib Nurmagomedov vs. Dustin Poirier
Saturday, September 7 – 11:30 pm (ET) / 3:30am (GMT)
Dustin Poirier
Khabib Nurmagomedov
UFC 242