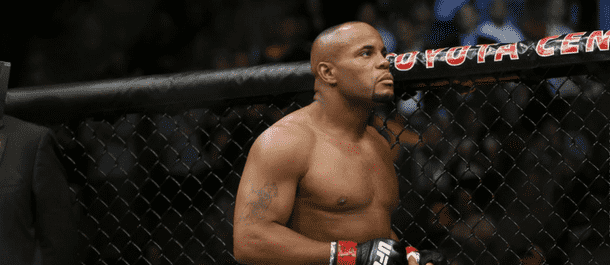 Daniel Cormier and Stipe Miocic are set to collide for a second time. Miocic will challenge for the UFC Heavyweight Championship that he lost to Cormier when the two meet at UFC 241 on August 18.
UFC 241 is set to take place in Anaheim, California, and Cormier vs. Miocic sits as the main event. But that's not the only exciting fight of the evening. Also on the card, Anthony Pettis will battle with Nate Diaz in what should be a brilliant welterweight fight. Yoel Romero will also go head-to-head with Paulo Costa in a middleweight fight.
For now, however, we're going to break down the Cormier vs. Miocic rematch, bringing you the best odds and sharing our insights, analysis, and recommended betting advice.
Daniel Cormier vs. Stipe Miocic
By defeating Stipe Miocic in August 2018, Daniel Cormier was soon talked about as one of the greatest mixed martial artists in the history of the sport. After all, Cormier had (and still has) only ever lost to Jon Jones, a fighter who currently sits at #2 in the UFC's current pound-for-pound rankings.
But it's not like those rankings mean anything, anyway.
In Cormier's most recent fight, he stopped Derrick Lewis in round two at UFC 230. Cormier took the fight on relatively short-notice but was filled with confidence knowing that he had the tools necessary to defeat the larger, more powerful fighter.
When he steps into the cage with Miocic at UFC 241, it'll be Cormier's second attempt at defending the title he won from Miocic in 2018.
To assume that Stipe Miocic is motivated to win his title back is a ridiculous understatement. Miocic feels like he should never have lost his title to Cormier and believes that he's the far superior fighter.
After all, Miocic won the heavyweight title from Fabricio Werdum in 2016 and then set the UFC record for most consecutive title defenses by defeating Alistair Overeem, Junior dos Santos, and then Francis Ngannou.
UFC 241 respresents redemption for Stipe Miocic and there's a good chance he'll be walking away with his title again.
The First Fight
In the lead-up to Daniel Cormier vs. Stipe Miocic I, not many expected Cormier to secure a stoppage win. In fact, the consensus opinion was that it was decision or bust for Cormier; he needed to win the fight on the scorecards if he was to win the fight at all. Odds for Cormier to win were 7.10Bet €100 to win €71061/10Bet £100 to win £710+610Bet $100 to win $7106.10Bet HK$100 to win HK$7106.10Bet Rp100 to win Rp710-0.1639Bet RM100 to win RM710 at most bookmakers.
The result was stunning.
Not only because of the way that many predicted the fight to go but because Cormier seemed to be really up against the odds after the fight had started, as well.
Miocic dictated the pace and position of the fight and used his length to tag Cormier with several hard combinations. For the first couple of minutes, it appeared that Miocic was too strong, technical, and just too good for Cormier.
However, Cormier started to turn the fight in his favor with about two minutes remaining in the round. Miocic appeared to have lost some steam in his punches and was noticeably slowing down. A somewhat convenient eye poke caught Miocic and blinded him temporarily, allowing Cormier to adjust his strategy and start working Miocic over in the clinch. Miocic was no longer the man walking forward; it was now Cormier.
Whereas Miocic was doing work from the outside, Cormier's best punches were from very close range and when tied up in the clinch. He ducked his head and led with powerful uppercuts and also managed to tie up Miocic's arm with an overhook and let go of some strikes, as well.
It was that overhook that ended up helping him secure the victory. As Miocic dug for an underhook late in the round, Cormier trapped Miocic's arm and crushed him with a heavy punch that sent him flying to the mat.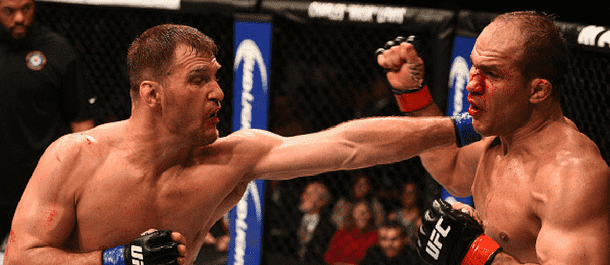 The Rematch
As we approach UFC 241, it seems more than likely that Stipe Miocic has made the required adjustments to his game to defeat Daniel Cormier this time around.
In the opening stages of the first fight, Miocic kept Cormier backing up toward the cage by overloading his mind with feints. Miocic was unpredictable, and this kept Cormier covered up and retreating. He'll need to continue with these feints if he wants to keep Cormier backed up and disallow him from stepping forward into the clinch, where he was most dangerous.
But that's not to say Miocic wasn't good in the clinch, too. At several stages of the first round, Miocic used his long frame to slam knees into the body of Cormier from inside the clinch. That'll be a key factor in this fight, if they get tied up again, too.
One aspect of the fight that won't change is the strength and size advantage of Miocic. The difference between the two fighters was remarkable at UFC 226. Not only did Miocic tower over Cormier, but he was able to keep him pinned against the cage for a good minute in the middle of the round.
Miocic's downfall (besides the eye pokes) was becoming overconfident. As he tagged Cormier with powerful combinations of punches, he grew more confident and began stepping into the pocket, therefore closing the distance for his shorter opponent. This was a mistake. Miocic needs to keep his punches long because at this range all Cormier could do was cover-up and attempt to defend.
Miocic usually is quite solid while fighting in the pocket, but the clinch proved to be a completely different environment for him against Cormier. It was here where Cormier used his dirty boxing techniques to score the win.
This time around, we'll see the fighter who has the greater potential to make significant changes to their gameplan do so, and the result will be different as a result.
Expect Miocic to put an end to Daniel Cormier's reign as UFC heavyweight champion at UFC 241. You'll find the best odds for him to do so at BetOnline.
Stipe Miocic to win by KO/TKO – Round 2
UFC 241: Daniel Cormier vs. Stipe Miocic
Saturday, August 17 – 11:30 pm (ET) / 3:30am (GMT)
Daniel Cormier
Stipe Miocic
UFC 241