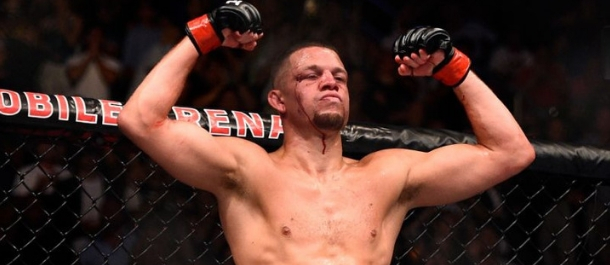 Although it's not the scheduled main event of UFC 241, the welterweight matchup between Nate Diaz vs. Anthony Pettis will likely be referred to as the "the people's main event" in the lead-up to the UFC's next pay-per-view.
On August 18 at the Honda Center in Anaheim, California, Diaz will make his first walk to the cage since August 2016. It was then when his rivalry with Conor McGregor seemingly came to an end — for now.
Diaz is facing off against Pettis, who is hot form since moving up to the welterweight division. The former UFC lightweight champion is coming off a spectacular knockout finish of Stephen Thompson in March this year.
Before reading on to find the best odds and our breakdown and tips for Diaz vs. Pettis, make sure to review our Daniel Cormier vs. Stipe Miocic betting guide first.
Let's get started.
Nate Diaz vs. Anthony Pettis
Nate Diaz rose to new heights when he submitted Conor McGregor at UFC 196 in March 2016. That stunning victory propelled him into a rematch with McGregor that had more than 1,600,000 fans tuning into the pay-per-view event. Diaz came up short against McGregor in the rematch and lost a majority decision after five rounds.
Since then, however, Diaz was nowhere to be seen. The welterweight fighter had been calling for a trilogy bout with McGregor, but that fight never eventuated. It appeared as if he was happy to sit on the sidelines for as long as it takes, so fans were stunned when it became known that he would be facing Anthony Pettis at UFC 241.
In some ways, Pettis is the perfect return opponent for Nate Diaz. A former UFC lightweight champion with a fun and exciting style, Pettis has recently moved up to the welterweight division. In his debut at 170-pounds, he managed to stop former two-time title challenger Stephen "Wonderboy" Thompson in the second round with a brilliant superman punch.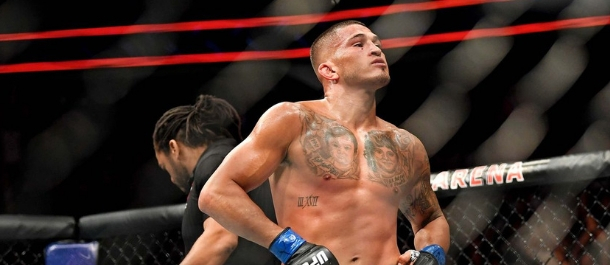 Diaz vs. Pettis Breakdown
At UFC 241, we're betting on Nate Diaz to win at odds of 1.91Bet €100 to win €19191/100Bet £100 to win £191-110Bet $100 to win $1910.91Bet HK$100 to win HK$191-1.10Bet Rp100 to win Rp1910.9100Bet RM100 to win RM191 with BetOnline. Read on to find out why.
Nate Diaz's boxing could be the key in this fight against Anthony Pettis. A skilled boxer from the southpaw stance, Diaz works behind his jab and uses his long limbs to tag his opponent while keeping away from dangerous combinations and powerful counter strikes.
By just the eye test alone, Diaz appears to be somewhat sloppy with his strikes and footwork, and lacks some of the flashiness that other skilled strikers at welterweight have, such as Stephen "Wonderboy" Thompson and Anthony Pettis.
Diaz is very different.
He'll fight at a fast pace and try to overload his opponent with punches. He's not going to sit back and wait for the perfect opportunity to counter an opponent in the same way "Wonderboy" does, but will instead set the pace. One way he attempts to create attacking opportunities is by using his lead hand to move the guard of his opponent.
Diaz's 1-2 is his bread and butter. His jab and straight cross combination is long and surprisingly powerful. If his opponent moves in to close the distance, he'll refrain from using these straight punches and instead start coming around the guard with hooks or his now-famous Stockton slap.
While this description seems to paint Diaz as a fairly simple boxer, that's not the case.
One little nuance to Diaz's game that we'll touch on in this article is his outstanding ability to trick his opponent into believing that they're inside punching range. By leaving his head forward in a vulnerable position, Diaz will quickly move his head back to its usual position just as an opponent attempts a strike. Essentially, he's creating the illusion of being closer to his opponent than he actually is. In that sense, he's not as hittable as he appears to be.
It's also important to note that Diaz is especially talented on the mat. He has great top pressure and a host of submission options that he has relied on from time-to-time. Pettis is equally as dangerous and has a heap of submission victories to his name.
But there's a good chance that either fighter won't need to rely on their grappling ability in this fight.
Pettis, just like Diaz, typically keeps the fight upright. While standing, Pettis fights best at kicking range, where he is able to work the body, legs, and head of his opponent with creative kicking techniques.
Pettis' boxing has improved over the years to the point where he's not going to have immediate trouble against Diaz's punches. He's developed solid counter-punching ability, particularly by using his rear-hand to come back with heavy shots.
The most clear problem for Pettis in this matchup with Diaz is how he will handle the pace and pressure of Diaz.
Like Diaz, Pettis has enough power in his hands to demand respect from his opponent. Whereas it might be Diaz setting the pace early in this one, some solid counters from Pettis could turn the tide. However, even then, it's hard to put a stop to the zombie-like forward movement of Diaz at times.
Diaz's objective should be to close the distance and keep this fight at boxing range for as long as possible. Anything longer than Diaz's boxing range will see Pettis rack up a high number of damaging kicks. At punching range, however, Diaz's boxing ability should shine and the size advantage should be a factor as well.
As Pettis normally begins to crumble in the middle-to-late rounds as a result of damage sustained during a fight — see fights against Tony Ferguson and Dustin Poirier — it's likely that this fight could be heading down that same road.
We are expecting Diaz to overrun Pettis late in this fight.
Prediction: Nate Diaz to win in round three
Bet on Nate Diaz to win: 1.91Bet €100 to win €19191/100Bet £100 to win £191-110Bet $100 to win $1910.91Bet HK$100 to win HK$191-1.10Bet Rp100 to win Rp1910.9100Bet RM100 to win RM191 at BetOnline
UFC 241: Nate Diaz vs. Anthony Pettis
Saturday, August 18 – 11:00 pm (ET) / 3:00am (GMT)
Anthony Pettis
Nate Diaz
UFC 241