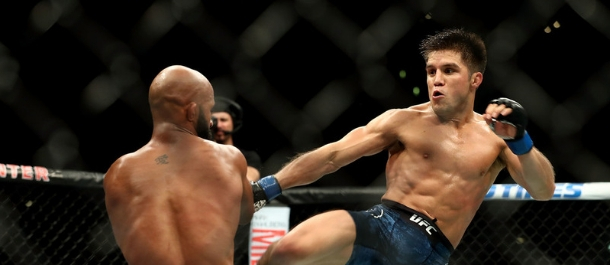 At UFC 238, Henry Cejudo, the UFC flyweight champion, will make the move up to the bantamweight division to challenge Marlon Moraes for the UFC Bantamweight Championship.
Cejudo vs. Moraes will serve as the main event of the evening and occur just after a UFC Women's Flyweight Championship bout that will see Valentina Shevchenko defend her spot against the top contender, Jessica Eye in the co-main event.
The rest of the UFC 238 fight card is packed with high-quality fights, and we're here to break down all of them in the days to come. For now, however, we'll stick to breaking down Cejudo vs. Moraes to bring you the best betting advice ahead of UFC 238 this Saturday, June 8.
Henry Cejudo's rise has been sudden, but that doesn't mean it hasn't been well-deserved or incredible in any way. Cejudo managed to beat one of the greatest fighters to have ever competed in mixed martial arts when he defeated Demetrious Johnson via a close split decision last year.
A win over a pound-for-pound great wasn't the last of Cejudo's impressive feats, however, as he then managed to secure an incredible first-round knockout victory against the bantamweight champion, TJ Dillashaw. It took Cejudo just 32 seconds to finish Dillashaw and defend his title. Now, he'll get the chance to take that bantamweight belt as he moves up to 135-pounds this weekend.
Across from Cejudo is Marlon Moraes, a fighter who has made a statement in his last three fights with the UFC. Moraes is a former World Series of Fighting champion who only made the switch to the UFC in 2017. It was a rough start for Moraes, with a narrow loss to Raphael Assuncao before then defeating John Dodson via split decision. But after those two efforts, Moraes really turned it on with three consecutive stoppage victories against the likes of Aljamain Sterling, Jimmie Rivera, and then Raphael Assuncao.
Moraes is undoubtedly most deserving of a shot at the bantamweight title now TJ Dillashaw's reign came to an end after he tested positive for EPO. He'll just now need to defeat the reigning flyweight champion in order to secure that UFC gold.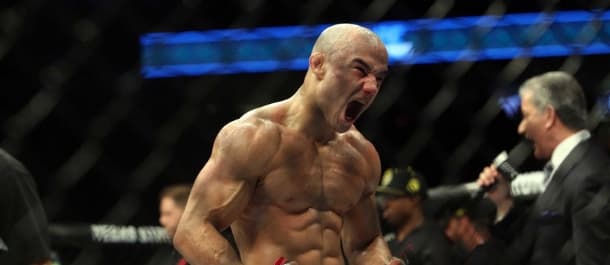 Fight Breakdown
Henry Cejudo takes every opportunity to declare that he's an Olympic gold medallist, but you wouldn't know it just by looking at his in-cage performances alone. Cejudo entered mixed martial arts with an almost unparalleled wrestling background, yet he's never really made a significant impact with his wrestling in the UFC.
Sure, he secured multiple takedowns against Demetrious Johnson in order to claim the UFC Flyweight Championship, but his lack of top control was noticeable and he didn't do a ton of damage from the dominant positions, either. Thankfully for Cejudo, his striking has developed to a point where he hasn't needed to rely on his wrestling to win fights; against TJ Dillashaw in January, Cejudo crushed the bantamweight champion with a head kick and punches to finish the fight in just 32 seconds.
At worst, the threat of the takedown helps him to narrow the gap between him and his opponent's striking differences. And at best, he can use it to mix up the tempo of the fight and win rounds, as he did against "Mighty Mouse."
As we approach the UFC 238 main event this Saturday, June 8, it remains to be seen how much of a factor Cejudo's wrestling will be. Marlon Moraes is yet to be tested by a takedown-focused wrestler so far in the UFC, and he's even managed to showcase some fine submission skills along the way, as well.
It's totally possible that there isn't much of a wrestling/grappling advantage for Cejudo to work with at all, and he may just be up against the odds when needing to stand and strike with the ever-dangerous Moraes.
One notable area that Moraes can choose to attack on Saturday is Cejudo's lead leg. As Cejudo has moved to a wider, karate-style approach with his striking, it has left his lead leg out there for his opponent to chip away at with leg kicks. Demetrious Johnson targeted this lead leg over and over, and Moraes' thunderous leg kicks may have a major impact come UFC 238.
When considering this, and mixing in the knowledge that Cejudo doesn't have a massive edge when it comes to athleticism, it's truly difficult to consider Cejudo as a betting favorite in this main event fight. The odds have Marlon Moraes as a slight favorite at 1.80Bet €100 to win €1804/5Bet £100 to win £180-125Bet $100 to win $1800.80Bet HK$100 to win HK$180-1.25Bet Rp100 to win Rp1800.8000Bet RM100 to win RM180, and we're willing to back him all the way down to 1.71Bet €100 to win €17171/100Bet £100 to win £171-141Bet $100 to win $1710.71Bet HK$100 to win HK$171-1.41Bet Rp100 to win Rp1710.7100Bet RM100 to win RM171.
UFC 238: Henry Cejudo vs. Marlon Moraes
Saturday, June 8 – 11:30 pm (ET) / 3:30am (GMT)
Henry Cejudo
Marlon Moraes
UFC 238