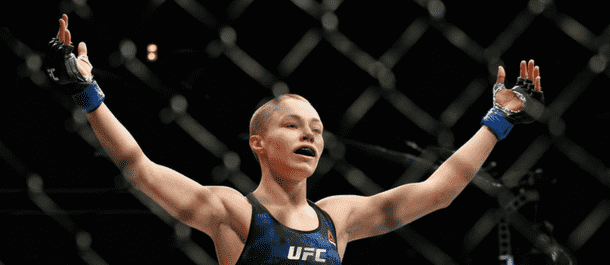 Rose Namajunas and Jessica Andrade are set to clash in the main event of the upcoming UFC 237 pay-per-view event in Rio de Janeiro, Brazil, on Saturday, May 11.
Namajunas will be defending the UFC Women's Strawweight Championship against Andrade, who will be competing for the title for the second time in her career.
This fight is one of several highly-anticipated bouts coming up this weekend, with more to look forward to in the form of Anderson Silva vs. Jared Cannonier and Jose Aldo vs. Alexander Volkanovski also on the main card.
For now, however, we'll run you through what to expect from this main event battle and provide our prediction, tip and pick ahead of UFC 237 so that you can make the best betting choices.
When Rose Namajunas earned a title shot against Joanna Jedrzejczyk in 2017, not many people considered Namajunas as much of a chance against the long-reigning champion. Jedrzejczyk had dominated the division for years and her striking looked almost impossible to handle. However, Namajunas shocked the world with a stunning first-round knockout that helped her claim the UFC Women's Strawweight Championship. She since backed that win up with another dominant effort against Jedrzejczyk, winning a unanimous decision in April 2018. This will be the first time Namajunas steps back into the cage and this time she'll look to make it two consecutive successful title defenses.
Jessica Andrade is a beast of a strawweight fighter in the UFC. With ridiculous strength and power, Andrade has made a successful tear through the 115-pound division since dropping down from 135 pounds in 2016. She's since won six of her seven fights with her only defeat to former champion Jedrzejczyk in 2017. As she enters UFC 237, she does so with a three-fight winning streak behind her against some of the very best names in the division today.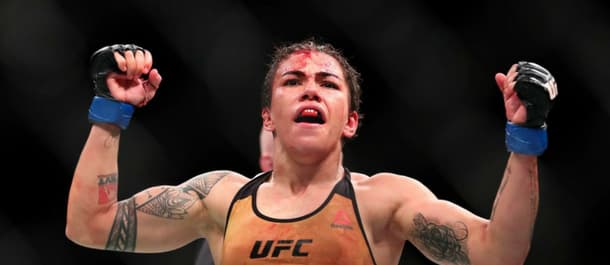 Fight Breakdown
While many fans are calling UFC 237 a relatively underwhelming card overall, this fight is much better than it appears on paper. Namajunas and Andrade match up in a very fascinating way, with Andrade's forward pressure an interesting contrast to Namajunas' style of striking.
Namajunas' desired strategy is to strike and submit. She'll beat up her opponent while standing and then lock in a fight-ending submission when the opportunity presents itself. Although many doubted her potential against Jedrzejczyk beforehand, we've now come to realize that Namajunas packs great power in her punches and has superb angle-management to help her move into punching range and land her power right hand.
Namajunas does lack fundamental distance management techniques such as a stiff, strong jab or elusive lateral footwork. Instead, most of her best work comes when she can move forward. Unlike Andrade, Namajunas doesn't carelessly march forward, she'll instead wait back out of range before skipping in and landing her thudding right or she'll hide it behind a series of left hooks.
Jessica Andrade is somewhat comparable to John Lineker in the sense that she just moves forward with the intention of trapping and destroying her opponent when their back touches the cage. She'll unload a barrage of hooks to the body and head and if her opponent blocks high she'll then shoot underneath and score a relatively easy takedown.
However, this strategy is far from perfect. Andrade doesn't have high-level cage-cutting ability and is often caught just following her opponent around the cage rather than trapping them and doing damage there. This is somewhat made up for by her unbelievable cardio, endurance, and durability that sees her keep coming forward no matter if it's the fourth or fifth round already.
While Namajunas appears to be the smarter, more technically capable fighter, it's hard to bet against Andrade's pressure and how it will affect Namajunas later in the fight. Where Andrade has jaw-crushing power in her hands, Namajunas' power might not be enough to get rid of Andrade early.
Possibly the greatest factor in this fight, however, is that Namajunas is dependent on moving into her opponent's range to land her best shots. As she skips forward into Andrade's range, expect Andrade not to counter by immediately throwing a heavy hook or two in return, she'll actually slide closer to Namajunas, close the distance, and then unload a combination of strikes. This may be the key difference, as Namajunas may land one or two clean shots, but Andrade may land three of four more significant ones.
There's a big chance here that Andrade earns a mid-to-late knockout victory and we're betting accordingly.
Jessica Andrade to win by TKO – Round 4
UFC 237: Rose Namajunas vs. Jessica Andrade
Saturday, May 11 – 11:30 pm (ET) / 3:30am (GMT)
Jessica Andrade
Rose Namajunas
UFC 237