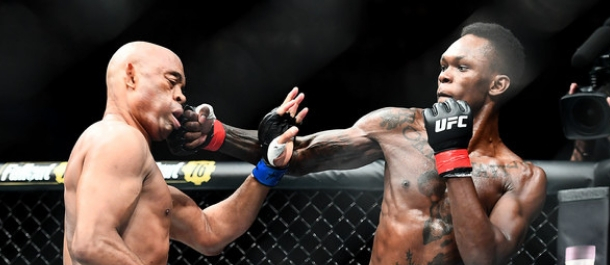 The UFC 236 co-main event is an incredibly exciting interim middleweight title matchup between fast-rising Israel Adesanya and the always-tough Kelvin Gastelum.
Despite this being a highly anticipated fight, it was one that we never thought we'd see so soon.
Gastelum was scheduled to face the current champion, Robert Whittaker, earlier this year in Melbourne, Australia. However, Whittaker was forced to withdraw from the fight on the day of the event after health issues. That left Gastelum without an opponent and he missed out on his chance at middleweight gold.
Behind Gastelum is a man who has been storming through the 170-pound division. Israel Adesanya was destined to compete for a title after his last victory and now finds himself competing for the interim middleweight strap, that will lead the winner to that elusive fight against Robert Whittaker.
Let's break it down and share our recommended bet and the best odds.
Kelvin Gastelum is just one of the many athletes who is benefiting greatly from a move up in weight class. Like the champion, Gastelum moved up from welterweight not that long ago and has looked brilliant since doing so. After winning his middleweight debut against Tim Kennedy, Gastelum advanced to a fight with Chris Weidman at UFC on FOX 25. Gastelum was submitted by the top contender in the third round but has since bounced back with impressive victories over Michael Bisping and Ronaldo "Jacare" Souza in his last fight.
Across from him is Israel Adesanya, who was the undisputed breakout mixed martial artist of 2018. Adesanya burst onto the scene with an outstanding knockout victory in his debut fight in Australia and then proceeded to fight five times in the span of 12 months. Adesanya won every bout and gradually moved up the level of competition he faced every time. He's never looked in trouble and has showcased his masterful striking in every bout so far. Most recently, Adesanya earned a unanimous decision victory against Anderson Silva in Melbourne, Australia.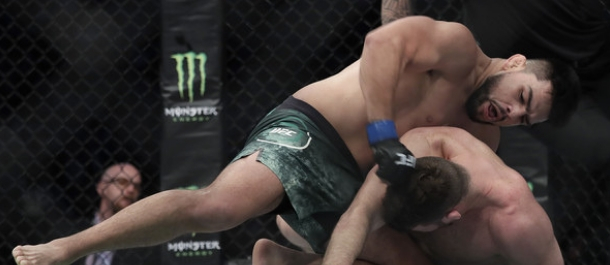 Fight Breakdown
This might be the moment in which Israel Adesanya truly shines.
The creative and almost unpredictable striker has been superb on the feet throughout his career. It's almost fair to say that there is no one in the division that can win an exclusive striking contest with him. Rather, a challenger needs to be defensively sound on the feet while also mixing in the other elements of mixed martial arts well.
At range, Adesanya sticks back and employs a rather efficient and accurate style of striking. He's aggressive in the form of constant feinting and pressure but he carefully selects his shots and rarely over-commits to any strike in particular. For an opponent, there's almost no window of opportunity to punish Adesanya for a mistake.
Gastelum is rather explosive and athletic for the middleweight division, however. Moving up from welterweight, Gastelum brings a short and stocky frame that is more agile than many of the similar builds in the 170-pound division. His game basically revolves around landing strong left-hand punches now more than ever before. He's unable to control a striking contest in the same way that Adesanya has shown and has never been a great round-winner for that reason.
Sure, Gastelum's left hand is devastating and could end Adesanya's night if it lands with enough force but the openings might not be there for him.
Adesanya's long-distance punching (jabs and straights) will overwhelm Gastelum, and when mixed in with fluid kicks during and at the end of combinations it could be enough to entirely frustrate his opponent.
Gastelum, like many before him, should be looking to secure a takedown and discourage Adesanya from settling into a full-blown striking contest. If he can secure a takedown or two throughout the fight and keep Adesanya pinned, we might start to Adesanya's advantage on the feet diminish slightly. However, it is important to note that Adesanya's wrestling ability has always been incredibly underrated and he has made massive strides to improve that part of his game.
There are limited pathways to victory for Kelvin Gastelum against Israel Adesanya and that's enough reason to confidently back the "Stylebender" here at UFC 236.
Best odds for Israel Adesanya are at Bovada.
UFC 236: Kelvin Gastelum vs. Israel Adesanya
Saturday, April 13 – 11:00 pm (ET) / 3:00am (GMT)
Israel Adesanya
Kelvin Gastelum
UFC 236