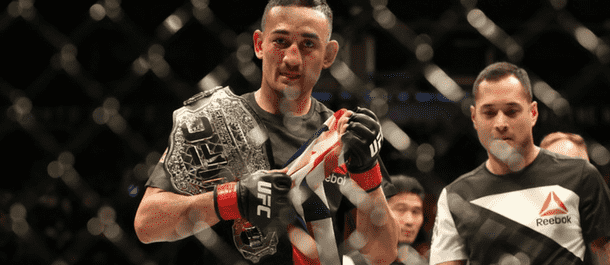 It's UFC pay-per-view fight week and it feels absolutely awesome.
We've been waiting since March 3 for another stacked UFC card. On that night, it was Jon Jones who successfully defended his UFC Light Heavyweight Championship against Anthony Smith in the main event of UFC 235.
This time around, we've got another two big-time title fights scheduled for the main and co-main event of UFC 236.
The first of the two will see Israel Adesanya challenge Kelvin Gastelum for an interim middleweight title while champion Robert Whittaker recovers from a health issue.
The final bout of the evening is a rematch that has been more than seven years in the making. Featherweight champion Max Holloway is moving up from the featherweight division to challenge Dustin Poirier for an interim lightweight title. The winner of this bout will have the next opportunity to fight 155-pound champion Khabib Nurmagomedov.
Let's break down this main event bout and bring you our best bet for the UFC 236 event in Atlanta, Georgia.
Max Holloway is an undisputed top-tier pound-for-pound fighter in the UFC today. In some ways, his rise was slow and steady, considering defeats to Dustin Poirier at UFC 143, and then Dennis Bermudez and Conor McGregor in 2013. Before his fight with Will Chope in January 2014, Holloway was 3-3 in the UFC. Since then, however, he has yet to be defeated and is currently on a 13-win streak that includes back-to-back wins over featherweight great Jose Aldo.
In Holloway's most recent title defense, he battered top-rated challenger Brian Ortega for four rounds before the doctor called an end to the fight. The 27-year-old looked outstanding and showcased all of the skills and attributes we've come to expect from him over the years.
Dustin Poirier is the #3-ranked lightweight fighter in the UFC and will be an immense challenge for Holloway in his move up to 155-pounds. Despite a shocking knockout defeat to Michael Johnson in 2016, Poirier has looked brilliant in recent years. His most recent win came against Eddie Alvarez in July last year. Poirier stopped Alvarez in the second round, making that his third consecutive stoppage victory after earning a knockout win against Justin Gaethje and a submission win over Anthony Pettis.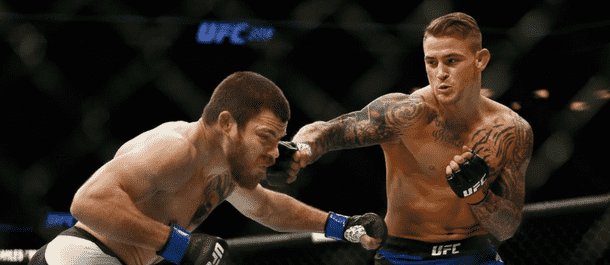 Fight Breakdown
Max Holloway moves up to lightweight and is an instant elite-talent at 155-pounds. A masterful striker, Holloway has shown a highly intelligent strategy in each of his recent fights. Against Jose Aldo, Holloway kept up the pressure and made the Brazilian work at an unusually high pace. He took many of Aldo's best shots in the early rounds but was able to overrun him after ten minutes of cage time.
Against Ortega, Holloway put on a striking clinic. He was never truly unloading with full power, but rather just tagging up Ortega with powerful shots to the head and body. On that note, Holloway's bodywork is among the best in the UFC today. We've seen him glide into range to land devastating combinations to the body or merely just mix it up with a left hook to the body after an initial combination upstairs.
Defensively, Holloway doesn't display too many holes. Sure he's eaten some monster shots from his opponent's in the past, but he's taken them very well. Holloway moves his head to evade incoming strikes without worry and is typically a difficult opponent to hit well.
He matches up very well against Dustin Poirier on the feet, but Poirier does have understated power and aggression. The game plan, it seems, is for Poirier to keep up the pressure and make Holloway fight off the back foot. It is here where the Poirier camp believes Holloway's weaknesses lie, and while they're not wrong, they're not exactly right, either. Holloway is still an excellent fighter while tracking backward, as he cuts different angles to beat an opponent who blindly rushes straight forward. He also sprays his jab very well, helping to maintain a safe operating distance and make his opponent react to the incoming punch or the threat of the punch.
Poirier's best weapons are ones that may work very well against Holloway, as well. His southpaw cross is outstanding and Holloway doesn't have a ton of experience fighting against left-handed fighters. Also, Poirier rips the body with hard kicks and has excellent close-range boxing ability. In particular, Poirier is at his most dangerous when he closes the distance to finish an opponent.
Many fighters in the UFC are unable to remain composed while looking for a finish on the feet, but Poirier smartly stays cool while stepping in and heaping the pressure on an opponent in trouble. This was on display against Justin Gaethje; as Gaethje raised his hands to defend blows and recover, Poirier continued to pick apart at Gaethje by swinging hooks to either side of his defense before opening him up with crisp uppercuts up the middle.
Holloway is a deserving betting favorite and we're not here to dispute that. But we do believe that this fight is closer than the odds suggest right now. Poirier is a high-value bet and there's a good chance that he can tag up Holloway in the pocket and earn an early finish or decision win.
Mix in the undiscussed threat of a Poirier takedown and heavy top-game, and we've got ourselves a great bet for the UFC 236 main event.
UFC 236: Max Holloway vs. Dustin Poirier
Saturday, April 13 – 11:30 pm (ET) / 3:30am (GMT)
Dustin Poirier
Max Holloway
UFC 236