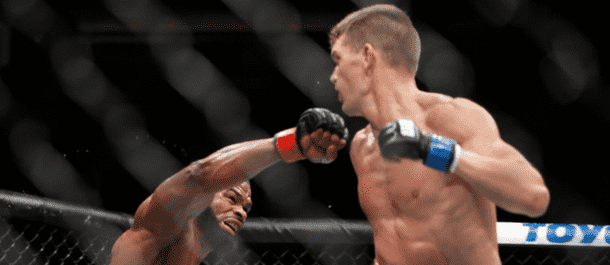 UFC 235 is packed with world-class mixed martial arts bouts, and one of them is this fantastic co-main event showdown between Tyron Woodley and Kamaru Usman.
Woodley will be looking to defend his UFC Welterweight Championship in this high-stakes matchup with Usman, who has jumped past Colby Covington as the top contender in the division.
This co-main event will take place just moments before Jon Jones fights Anthony Smith in a UFC Light Heavyweight Championship bout. Make sure to read our Jones vs. Smith breakdown and prediction and learn more about the rest of the UFC 235 main card before the weekend.
For now, however, let's discuss this welterweight battle.
Tyron Woodley vs. Kamaru Usman
Tyron Woodley is easily one of the most underrated fighters on the UFC's roster today. Time and time again, fans write Woodley off before a fight, and he proves everyone wrong. It happened only recently when 25-year-old Darren Till stepped up and challenged Till for the title. The relatively unproven (and undefeated) challenger entered the fight as the betting favorite against the vastly more experienced champion, who had already defended his title three times. Woodley made easy work of Till, just like he did to Demian Maia not long before then.
Woodley is an accomplished wrestler with truly hefty power in his hands, as well. As a result, no one matches up particularly well against him as he can shut down jiu-jitsu guys (like Maia), strikers (like Till) and well-rounded mixed martial artists (like Robbie Lawler).
But in steps a fighter who arguably has the greatest chance of beating the champion in quite some time – Kamaru Usman. A high-pace pressure fighter, Usman swarms his opponents from start to finish. He enters this title challenge after recently dominating Rafael Dos Anjos over five rounds. Before then, it was a beatdown of Demian Maia and wins over Emil Meek and Sergio Moraes. Usman is a talented wrestler with a more than adequate skill set to topple the reigning champion.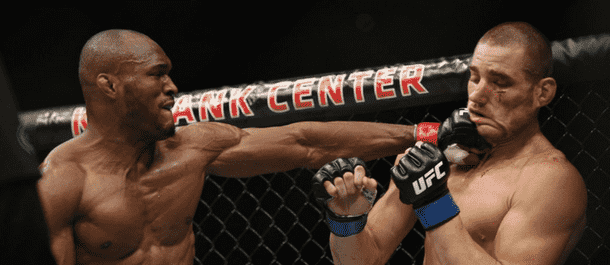 Fight Breakdown
Tyron Woodley isn't like Jon Jones in the sense that he has a supremely sophisticated set of skills and abilities that leave him so far ahead of the rest of the division, Woodley's realistically been working with the limitations he has – and found a way to defeat his opponents using them.
For example, Woodley's striking is feared by many, but it's not complex in any way. Woodley's primary weapon is his counter right-hand, and he lets go of this strike once retreating to the cage and allowing his opponent to step into range. His right hand is ridiculously fast and packs massive power – just watch this clip from early in his career:
Tyron Woodley's KO vs Willie Dale R1 at MMA – Genesis 3 (2007) AMMY #UFC235 pic.twitter.com/JfBYBHC0n1

— LORD HONKY HUMUNGUS (@Mr_Honky) February 25, 2019
The rest of his boxing is reasonably limited. He doesn't open up with rapid combinations, nor does he have a jabbing game that can be used to stick an opponent. As such, he can draw an opponent into a slow and uneventful fight, as his opponent looks for a way to enter punching range safely without being starched by his right hand. This fear of Woodley's right-hand counter led Darren Till, a usually aggressive kickboxer, to not land a single strike in almost seven minutes of fighting. Till was overly cautious about Woodley's counter striking ability, and the one time he opened up with a combination of his own, Woodley hammered home the dreaded right hand anyway.
Usman does bring some things to the table that others before him have not, however.
For instance, Usman relies on pace and pressure to carry him over the line – and he likely won't be stalled by Woodley's counter striking techniques. The primary reason for that is because Usman has an orthodox stance jab that Till, Thompson, and Maia did not. Usman can close the distance using this jab, and effectively jam up the right side of Woodley's body before falling into the clinch and working for the takedown against the cage. As Woodley continues to be passive and relatively inactive, it will most likely be Usman who is doing most of the work and earning points on the scorecards.
Of course, Woodley's wrestling is considered elite, and Usman will have a difficult time taking him down in the early rounds. But by the time the middle and later rounds come along (if Usman makes it that far), he should have enough left in the tank to overwhelm the champion and take over the contest.
This fight is significantly closer than the bookmakers have it at the moment, and the value is definitely on Usman's side considering that his strengths play well against Woodley's.
Bet on Kamaru Usman to win: 2.65Bet €100 to win €26533/20Bet £100 to win £265+165Bet $100 to win $2651.65Bet HK$100 to win HK$2651.65Bet Rp100 to win Rp265-0.6061Bet RM100 to win RM265 at BetOnline
---
UFC 235: Tyron Woodley vs. Kamaru Usman
Saturday, March 2 – 11:20 pm (ET) / 3:20am (GMT)
Kamaru Usman
Tyron Woodley
UFC 235