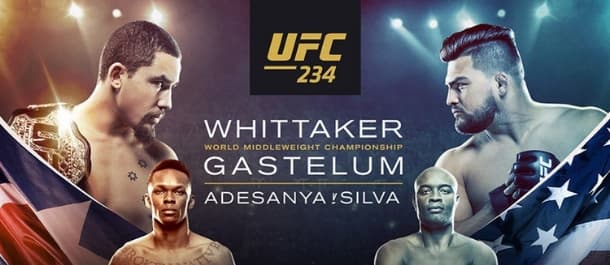 The UFC returns to pay-per-view this weekend with UFC 234, taking place in Melbourne, Australia.
It's a big-time event for the UFC, but it stacks up relatively poor against recent PPV cards. For instance, this card is super top-heavy with notable bouts between Robert Whittaker and Kelvin Gastelum, and Anderson Silva vs. Israel Adesanya shining brightly at the top of the tree. But apart from that, there's not much else.
In many ways, that's how boxing has operated for decades now, so what's the difference?
This main event is truly one of the best fights that could be made right now, however.
Whittaker will be attempting to defend his title for the first time on home soil against a guy who has finally made his way to a shot at UFC gold.
Both Whittaker and Gastelum are ferocious, gritty fighters with a never-say-die attitude. This one's going to be fantastic.
Robert Whittaker vs. Kelvin Gastelum Odds
Robert Whittaker steps into this fight after ten intense rounds with one of the most monstrous guys in the UFC, Yoel Romero. Whittaker came out the victor in both five-round fights, but you wouldn't say he stepped out of those fights unscathed. In the first one, Whittaker's knee was badly damaged in round one but he carried it through five rounds to come out on top and win a decision. And in the second fight, Whittaker broke his hand early in the fight by throwing a punch and then managed to carry on and win the fight, as well. It wasn't without adversity, as Whittaker was knocked down on repeat occasions but survived to tell the tale and come out with the UFC Middleweight Championship wrapped around his waist.
His opponent, Kelvin Gastelum, is also streaking through the middleweight division after coming up from the smaller, welterweight division. Gastelum knocked out Michael Bisping with ease before then earning a shot against "Jacare" Souza. Gastelum defeated the Brazilian by split decision in Brazil – a tough ask – but showed many opportunities for his future opponent's to exploit. The challenger has arrived in Melbourne, Australia early in the week to get some rounds in at 10th Planet Jiu Jitsu Melbourne to sharpen up his grappling before his bout with Whittaker.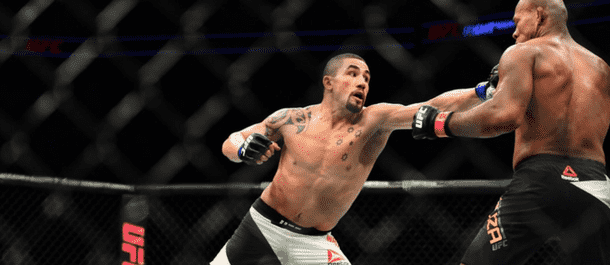 Fight Breakdown
Whittaker and Gastelum are perfect examples of how well-rounded a fighter must be in mixed martial arts today.
Whittaker, the Australian, is a dangerous boxer with fast hands and devastating power. But he's not rigid or stiff in any way, he's smooth and relaxed, typically employing a strategic game plan to perfectly navigate his way to a victory. Against "Jacare" previously, Whittaker kept his opponent at range by using kicks to the stomach and long-range punches to maintain separation. And then in the second round, Whittaker pounced and earned a finish after systematically breaking him down for the many minutes before that. And against Yoel Romero, Whittaker's takedown defense was the differentiating factor. He held the Olympic-level wrestler away and kept the fight standing long enough to do damage on the feet.
Gastelum's just as well-rounded; able to drag the fight to the mat when he wants to rely on his wrestling or jiu-jitsu techniques. And Gastelum's also considerably dangerous on the feet, as the Michael Bisping knockout proved just recently. Arguably his biggest advantage over his opponent's is something that can't exactly be measured or seen; Gastelum is a true fighter with unparalleled toughness and durability. He can take a shot and keep coming, and he'll definitely need to rely on this ability at UFC 234.
Whittaker believes he'll be too fast and too much for Gastelum across the board. We agree, and there's plenty of value left on his side of the board for bettors.
Bet on Robert Whittaker to win
UFC 234: Robert Whittaker vs. Kelvin Gastelum
Saturday, February 9 – 11:30 pm (ET) / 3:30am (GMT)
Kelvin Gastelum
Robert Whittaker
UFC 234