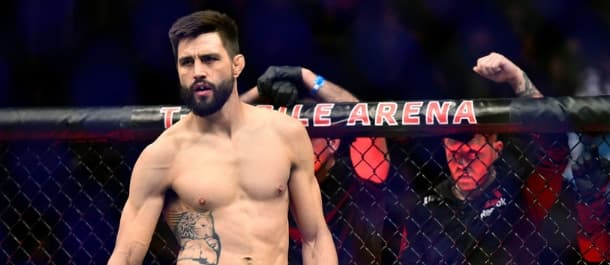 The UFC 232 main card is packed with six brilliant fights between veterans and new contenders
Carlos Condit, Ilir Latifi, Chad Mendes and Walt Harris appear to be excellent value for bettors this weekend
The UFC is packing their bags and traveling to Los Angeles on late notice for an end-of-year event that features some of the biggest names in the sport.
The main event is a highly-anticipated rematch between Jon Jones and Alexander Gustafsson and the co-main event is a battle between two of the best females in mixed martial arts.
We here to uncover all of the best bets for the weekend and profit from the mistakes of the bookmakers.
Let's get started.
Carlos Condit vs. Michael Chiesa
Saturday, December 29 – 11:30 pm (ET) / 3:30am (GMT)
Lost beneath the hype of the brilliant main and co-main event, Carlos Condit vs. Michael Chiesa is sure to be a thrilling welterweight scrap between two tough UFC-proven fighters.
Chiesa will be leaping up to the welterweight division after a recent defeat to Anthony Pettis in the 155-pound category. Having always been a large lightweight fighter who struggled to make weight, Chiesa will undoubtedly benefit from not needing to shed pounds and dehydrate his body in the days before UFC 232.
He'll be facing Condit, who has slipped into a four-fight losing streak and recorded five losses in his last six bouts. Condit's last victory came in March 2015 against Thiago Alves, and he's now desperately seeking a win.
Carlos Condit is a fascinating case at this point. A dangerous striker, Condit has recently experienced his greatest troubles against stronger grapplers. The Demian Maia fight comes to mind as Condit was dragged to the mat and submitted with ease by the crafty Brazilian. But that was after he was involved in a very competitive and entertaining fight with Robbie Lawler.
But despite losing to Alex Oliveira in his most recent fight, Condit put together one of the most inspiring performances of late. Condit likely stole the first round from his opponent after securing a tight rear-naked choke but was unable to secure the finish. This would ultimately cost him as Oliveira came out and struck him with a tremendous head kick in round two to begin the finishing sequence.
Moving up in weight, what does Chiesa have in store that prior opponents such as Neil Magny or "Cowboy" Oliveira don't? You'd probably think better takedowns at first thought, but that isn't the case. With 37% takedown accuracy in his UFC career, Chiesa isn't as remarkable of a wrestler as we're initially led to believe. Furthermore, he averages less than one takedown per round and will likely remain standing with Condit for longer periods.
It's here where Condit will have a slight edge.
At these odds, it's worth banking on a vintage Carlos Condit performance.
Bet on Carlos Condit to win: 2.50Bet €100 to win €2503/2Bet £100 to win £250+150Bet $100 to win $2501.50Bet HK$100 to win HK$2501.50Bet Rp100 to win Rp250-0.6667Bet RM100 to win RM250 at BetVictor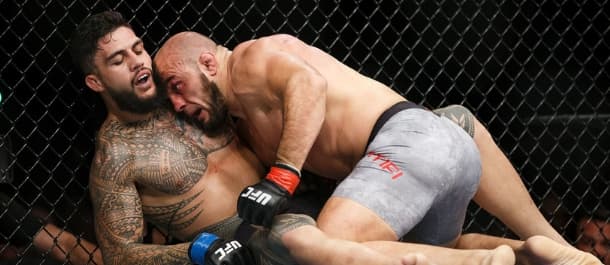 Ilir Latifi vs. Corey Anderson
Saturday, December 29 – 11:00 pm (ET) / 3:00am (GMT)
An interesting light heavyweight clash will feature on the UFC 232 main card when Ilir Latifi fights Corey Anderson.
Latifi and Anderson have both experienced recent success in the UFC's 205-pound division and each will enter this weekend on a two-fight winning streak.
For Latifi, he has managed to shut down two fast-rising fighters in the light heavyweight division and managed to shut down previously undefeated Tyson Pedro before then ending Ovince Saint-Preux's three-fight winning streak. The Pedro win was enough to remind us of Latifi's dominant grappling ability and the Saint-Preux win showcased a well-rounded game from the 35-year-old.
And for Anderson, he's earned unanimous decision victories against Patrick Cummins and Glover Teixeira. Those wins were enough to overturn a steep decline that included three losses in four fights through 2016 and 2017.
Latifi is undoubtedly the highest-skilled wrestler that Anderson has come across in his career. Usually, Anderson is the better of the two inside the cage when it comes to grappling, but he'll find himself relying on his stand-up more often than usual in this contest.
What stands out the most before this contest, however, is Anderson's subpar striking defense and how that might hold the key for Latifi's power shots to sneak through. With immediate pressure from the beginning of the contest, Latifi will land his hands and surely do enough to put away Anderson this time.
Bet on Ilir Latifi to win: 1.70Bet €100 to win €1707/10Bet £100 to win £170-143Bet $100 to win $1700.70Bet HK$100 to win HK$170-1.43Bet Rp100 to win Rp1700.7000Bet RM100 to win RM170 BetOnline
Saturday, December 29 – 10:30 pm (ET) / 2:30am (GMT)
Chad Mendes is back, and he's ready to storm through the UFC's featherweight division once again. He'll be up against Alex Volkanovski, who asked for a fight with Mendes after his most recent victory at UFC Fight Night 133.
Well, Volkanovski's wish came true, and he'll now have his chance to move himself up the UFC's official rankings this weekend.
Volkanovski believes that he is "pound-for-pound, the strongest fighter in the UFC," and will be planning to utilize his strength and power against Mendes this weekend. An excellent grappler, Volkanovski has cruised past tough opponents such as Darren Elkins and Jeremy Kennedy to move his record to 18-1 as a professional mixed martial artist. Despite only recently breaking into the UFC's top-15 for the featherweight division, many believe Volkanovski to be one of the greatest talents in the 145-pound category.
Mendes, a former title challenger, has only recently returned to competition after a lengthy suspension from the United States Anti-Doping Agency. In his first contest in over two years, Mendes secured a brilliant TKO victory against Myles Jury in just under three minutes.
An overly simple breakdown of this fight might say that Volkanovski's wrestling – while it has helped him dominate lower level opponents – is not of the level of Mendes' and that is the most critical factor in predicting this fight.
There's no evidence to suggest that Volkanovski can't hang in there with Mendes on the mat, but there's also no evidence to prove that he can, either. His strength and power will be matched against what appears to be superior technique.
Mendes has shown no signs of declining, and his impressive first-round win over Jury leaves us with enough confidence to back him at UFC 232.
Bet on Chad Mendes to win: 1.63Bet €100 to win €16363/100Bet £100 to win £163-159Bet $100 to win $1630.63Bet HK$100 to win HK$163-1.59Bet Rp100 to win Rp1630.6300Bet RM100 to win RM163 at Bovada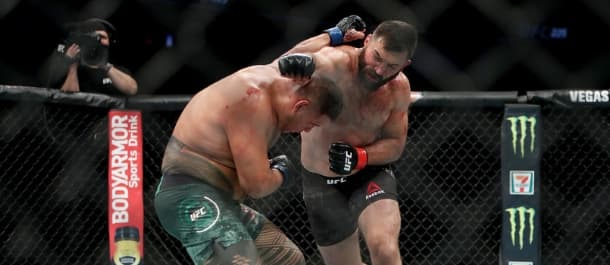 Andrei Arlovski vs. Walt Harris
Saturday, December 29 – 10:00 pm (ET) / 2:00am (GMT)
Andrei Arlovski is set to fight for the fourth time this year and move past yet another losing streak, as he steps into the cage this weekend after losses to Tai Tuivasa and Shamil Abdurakhimov.
Arlovski is up against Walt Harris, who recently scored a memorable victory against Daniel Spitz at UFC Fight Night 131 not long after a disappointing finish to his fight with Mark Godbeer. Harris was disqualified in that bout for an illegal kick in the first round at UFC 217.
You could be forgiven for thinking that Andrei Arlovski was experiencing some kind of career resurgence only recently. With two consecutive wins and an inspired effort against Tuivasa, Arlovski appeared exactly in line with our earlier analysis that suggested he was still as good as ever, but he was falling short against elite-level competition. Arlovski's last fight did change that opinion, however.
So now, in what should have been a winnable fight against Walt Harris, we're going to be siding with the heavier-hitting and younger fighter. Harris packs decent power in his right hand and will likely find ways to creatively land this shot on Arlovski.
Walt Harris to win: 1.61Bet €100 to win €16161/100Bet £100 to win £161-164Bet $100 to win $1610.61Bet HK$100 to win HK$161-1.64Bet Rp100 to win Rp1610.6100Bet RM100 to win RM161 at Mybookie
Best Bets for UFC 232 Main Card
We've broken down the entire UFC 232 main card to bring you the best odds online and a detailed betting guide.
Here's a quick summary of our best bets for UFC 232:
Carlos Condit
Michael Chiesa
UFC 232