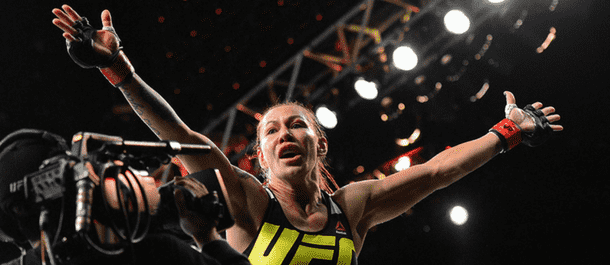 Cristiane "Cyborg" Justino will defend her featherweight title against bantamweight champion, Amanda Nunes
The fight has been labeled as one of the biggest women's mixed martial arts bouts in the history of the sport
Nunes believes this fight is more significant than her title defense against Ronda Rousey
In what is one of the highest-level women's mixed martial arts bouts of all-time, "Cyborg" will defend her 145-pound belt from hard-hitting Amanda Nunes.
Nunes rose to fame after smashing Ronda Rousey in just 48 seconds at UFC 207, but has been a dominant force in the women's bantamweight division for many years now. Unbeaten in her last seven fights, many fans believe that Nunes could be the one to hand "Cyborg" her first defeat in 13 years.
The fight is currently scheduled as the co-main event of the upcoming UFC 232 event in Los Angeles. Make sure to review our best bets for Jon Jones vs. Alexander Gustafsson before the weekend.
Undefeated in her last 20 fights, Cristiane Justino is considered the most feared female mixed martial artist in the UFC. She claimed the UFC Women's Featherweight Championship in July 2017 and has defended it against Holly Holm, a former bantamweight champion, and Yana Kunitskaya, who was making her UFC debut. There's been a lack of decent competition for Cyborg in the UFC and Nunes' jump up a division highlights that once more.
A win over Amanda Nunes might indicate that there's no one else that can possibly defeat the 145-pound champion.
The bookmakers and public see this fight the same way, and Nunes will enter the cage with the shortest betting odds of any of Cyborg's opponents since 2009. The last person to have such a chance was Gina Carano in Strikeforce; Cyborg finished her inside the first round.
But you could say that Nunes provides a different kind of threat. A split decision win over Valentina Shevchenko last year showed that she has the ability to control better strikers and earn a decision. Her punching power was also displayed against Rousey as she lit her up with devastating strikes for as long as it lasted. Nunes also punished Raquel Pennington in her last title defense on her way to a dominant win that ended up with a nasty ground and pound finish.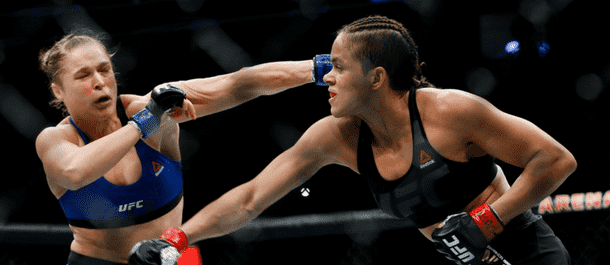 Fight Breakdown
Although both of these women are heavy hitters, they both go about it in very different ways.
Nunes packs power into her punches but rarely strings combinations together. She'll often be found waiting for a counter-striking opportunity before hammering home a single shot or two of her own in return. She rarely succeeds when moving forward at an opponent and pushing the pace and most of her best work comes as a result of her opponent's undoings.
That's a luxury she won't be able to afford against Cyborg, who is a devastating striker and leaves next to no room for counter striking. With a combination of power and precision, Cyborg was able to easily defeat Holly Holm over five rounds and overwhelm others in less time.
It might take a powerful and efficient wrestler/grappler type to give Cyborg the best run for her money at 145-pounds and Nunes isn't cut out for that task right now. In fact, her stand-up focused approach could see her run into Cyborg's hands more often than she'd like come Saturday night.
We're expecting Cris Cyborg to earn a stoppage inside the distance at UFC 232. Although Nunes can take a punch, there's only so much punishment one can take at the hands of this devastating striker and we're expecting it to accumulate quickly through the early rounds.
UFC 232: Cristiane "Cyborg" Justino vs. Amanda Nunes
Saturday, 29 December – 11:30 pm (ET) / 3:30am (GMT)
Amanda Nunes
Cris Cyborg
UFC 232