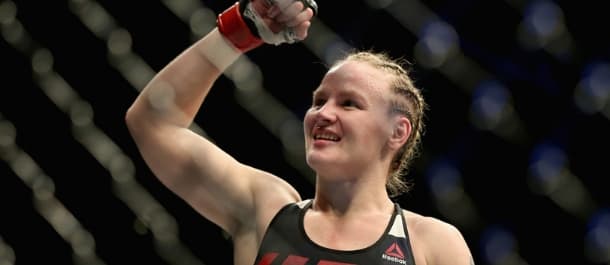 The co-main event of UFC 231 is a brilliant UFC Women's Flyweight Championship bout between two long-time rivals.
Valentina Shevchenko, a former title challenger in the UFC's 135-pound division, will face off with Joanna Jedrzejczyk, who previously held the UFC's 115-pound title for several years.
But in 2018, both of these fighters will meet in the 125-pound category and fight for a title that was only recently stripped from inaugural champion Nicco Montano and was never defended.
Shevchenko and Jedrzejczyk have previously met in Muay Thai competition three times in the past with Shevchenko coming out victorious on all occasions. However, there are certainly more elements at play here inside the cage and we'll see each fighter use their clinch and grappling abilities to gain an edge in this title fight.
This is the first of two outstanding title fights at UFC 231. You can read our Max Holloway vs. Brian Ortega betting guide here.
But for now, let us share with you our best bet for the co-main event.
Valentina Shevchenko finally gets her shot at the UFC's Flyweight Championship after missing out on a fight with Nicco Montano earlier this year. This will be Shevchenko's second title challenge in the last 15 months after she previously lost a UFC Women's Bantamweight Championship bout to long-reigning Amanda Nunes.
Unlike her opponent, Shevchenko has previously entered the 125-pound division and tested the waters. In her first fight in the division, Shevchenko dominated UFC newcomer Priscila Cachoeira before earning a second-round stoppage. That fight was arguably one of the worst matched fights in recent memory and Shevchenko proved exactly why.
Joanna Jedrzejczyk hopes to become the G.O.A.T of women's mixed martial arts by winning this weekend in Toronto. Although she has lost two of her most recent three bouts, a win would definitely put her in contention for that title considering her lengthy reign at the top of the 115-pound division.
Jedrzejczyk enters this one with some decent form after beating up Tecia Torres for three rounds at UFC on FOX 30 in July.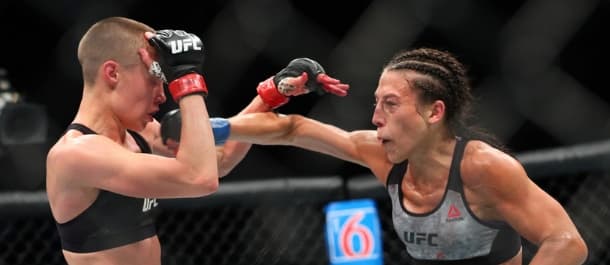 Fight Breakdown
Let's not skip past the obvious, Valentina Shevchenko is the better striker of these two female mixed martial artists and that's where this fight will mostly be decided.
A devastating counter striker, Shevchenko typically sits back and waits for her opponent to come forward with strikes before answering over the top with punches of her own. This style, while effective, has seen her involved in close scorecards and most importantly cost her a UFC title when she lost a split decision that many believed she should have won against Nunes.
Her slow and steady style saw her behind on the strikes landed tally for all four of the first rounds, yet most thought she won rounds two, three, and four. Simply speaking, Shevchenko's style isn't one that can reliably win decisions and this has been proven over and over.
And this time, she's up against a fighter who fights in a very decision-friendly way. With constant pressure and a high volume of strikes, Jedrzejczyk is excellent at winning over the judges with her output more so than her actual impact and accuracy.
Essentially, if this fight turns out to be remotely competitive in any way, there's a reasonable chance that Jedrzejczyk gets across the line thanks to how the judges favor her style and not Shevchenko's. For that reason, the value to be had by taking the underdog value on Jedrzejczyk is far too great to ignore.
This is purely a value bet.
UFC 231: Valentina Shevchenko vs. Joanna Jedrzejczyk
Saturday, December 8 – 11:50 pm (ET) / 3:50am (GMT)
Joanna Jedrzejczyk
UFC 231
Valentina Shevchenko