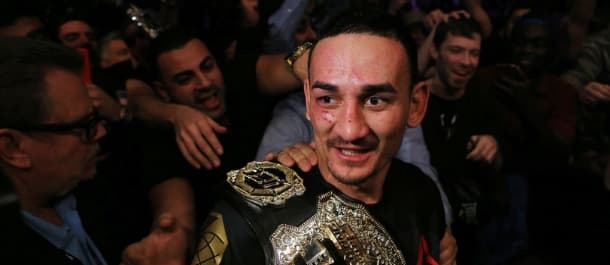 Finally, we have another UFC title fight in our sights.
This weekend it's a UFC Featherweight Championship fight in the main event slot that will see Max Holloway defend his title from the undefeated Brian Ortega.
The UFC Women's Flyweight Championship will also be up for grabs in the co-main event, as Valentina Shevchenko and Joanna Jedrzeczyk fight for the title that was recently stripped from Nicco Montano.
The main event between Holloway and Ortega was originally scheduled to take place at UFC 226 in July but a mysterious illness kept Holloway from entering the cage that night. To this day, it's unclear what prevented the Hawaiian from competing but it is suspect that it was either the effects of a concussion combined with a bad weight cut.
Regardless, Holloway and Ortega are now scheduled to throw hands on Saturday night in Toronto, Ontario, and we couldn't be any more excited.
Let's take a look at the odds and break down where the betting value is for this featherweight title fight.
Arguably one of the most well-matched fights in recent memory, there's not a lot separating Max Holloway and Brian Ortega in the days before UFC 231.
Holloway claimed the UFC Featherweight Championship by defeating Jose Aldo in stunning fashion at UFC 206 in June 2017. After a typically slow start from the Hawaiian fighter that saw him get clipped by the champion with several hard shots in round one, Holloway eventually put his foot down and scored a brilliant KO/TKO finish via ground and pound in round three.
If there was any doubt remaining after that first performance, Holloway silenced the talk by then backing it up with a similarly dominant third-round finish against the former champion later that year. That win marked Holloway's third consecutive third-round KO/TKO stoppage after he had also defeated Anthony Pettis in a similar way in December 2016.
Ortega is a bit of a strange case in the UFC's featherweight division. Despite looking close to defeat in several of his recent bouts – namely against Clay Guida and Renato Moicano – he managed to score a much-needed finish in the last round of each of those bouts. Those victories were enough to throw Ortega into the deep end against the likes of Cub Swanson, and Ortega managed to strangle him with a memorable guillotine choke in the second round.
But the best win of Ortega's career would come in the very next fight when he knocked out Frankie Edgar inside the first five minutes. A brilliant elbow stunned Edgar and allowed Ortega enough time to rock him with a nasty uppercut and finish the fight early.
After that, there was no denying that Ortega is the most deserving of a title shot.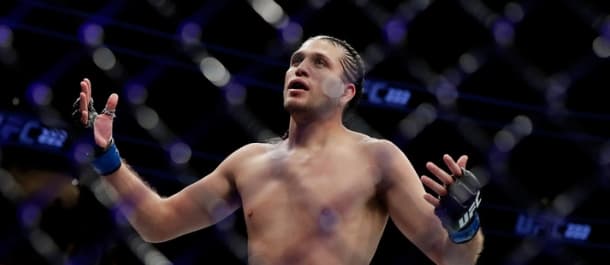 Fight Breakdown
The challenger, Brian Ortega, is a masterful finisher with world-class Brazilian Jiu-Jitsu technique. On the mat, his slick transitions, black-belt squeeze and superb control help him secure and maintain dominant positions before eventually locking up submissions. Alternatively, there have been times when Ortega has sliced open his opponent with elbows while on his back, proving that he is dangerous from all positions on the floor.
Despite this incredible ability, Ortega isn't known for desperately shooting in for takedowns to try and get this fight to the mat. In fact, Holloway average more takedowns per 15 minutes than Ortega does. The challenger instead relies on winning the fight while standing and hoping that his opponent makes an error.
This was always an unusual tactic for Ortega considering that he isn't a top-tier striker in the UFC. Arguably the best evidence of this is when Renato Moicano pieced Ortega up for two and a half rounds with ease. So while this strategy would work well against most lower-ranked fighters, Ortega might have a difficult time against more skilled competitors such as Holloway and Aldo, who can win the fight on the feet.
And if Ortega does want to take the fight to the mat, he's without excellent wrestling ability or technique to do so. Ortega's 14% takedown accuracy is almost embarrassingly low and rates extremely poorly against Holloway's 80% takedown accuracy.
Whereas Holloway ranks as one of the best strikers in the UFC featherweight division with an outstanding 5.79 significant strikes landed per minute, Ortega lands just 3.65 and absorbs 5.27 every minute.
Ortega might have insurmountable problems while standing with Holloway, but we do need to consider the simple fact that he has always found a way to win.
Despite being overmatched by Moicano, Ortega caught him in a guillotine and tapped him quickly in the third round. And after losing to Clay Guida through the first two rounds, Ortega perfectly timed a knee that crushed Guida and ended the fight with not long remaining in the fight. Let's not forget his brilliant knockout finish of Frankie Edgar, who had previously never been finished, either.
We can't count out Ortega, but we do think he's overmatched yet again in this main event with Holloway.
Holloway's well-timed techniques and excellent reads will see him perfectly analyze Ortega's openings and eventually land the cleaner and more significant strikes as the fight goes on. By the time round two and three come around, Holloway will be running away with the fight and Ortega will be looking for answers.
Unlike Aldo and Pettis, though, Ortega has never been defeated let alone knocked out or stopped. The most obvious path to victory for the champion might be a five-round beatdown that earns him a unanimous decision win.
But if the striking is as one-sided as we believe it to be, Holloway might get the job done within just a couple of rounds.
UFC 231: Max Holloway vs. Brian Ortega
Saturday, December 8 – 11:50 pm (ET) / 3:50am (GMT)
Brian Ortega
Max Holloway
UFC 231