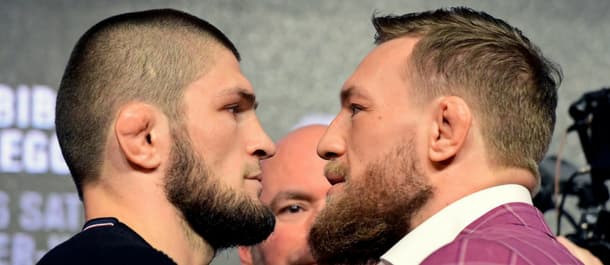 Khabib Nurmagomedov vs. Conor Mcgregor Betting Guide
Arguably the greatest fight in mixed martial arts history is set to take place in Las Vegas, Nevada, this weekend at UFC 229. The undefeated Khabib Nurmagomedov (26-0) will attempt to defend his title from the "Notorious" Conor McGregor (21-3), who is returning to action for the first time since defeating Eddie Alvarez in November 2016.
This fight will headline what is a spectacular event that includes Tony Ferguson vs. Anthony Pettis, Ovince Saint Preux vs. Dominick Reyes, Derrick Lewis vs. Alexander Volkov, and Michelle Waterson vs. Felice Herrig.
McGregor hasn't competed inside the UFC's Octagon for almost two years, but that doesn't mean we haven't seen plenty of him outside the cage.
The 30-year-old managed to lure Floyd Mayweather Jr., the most accomplished boxer of our generation, into a boxing match of mind-blowing proportions. Of course, McGregor wasn't able to defeat Mayweather, and he went on to lose by TKO in the 10th round.
And when he wasn't fighting, he was still finding his way into mainstream media for all the wrong reasons. Most recently, the Irishman was sentenced to community service and anger management classes after he and a squad stormed the Barclays Center and threw items at a bus that housed Khabib Nurmagomedov. At the time, Dana White declared McGregor's actions as the 'most disgusting thing that has ever happened' in UFC history. Now, of course, the footage of McGregor throwing a dolly at that bus is serving as an invaluable piece of footage for the UFC's marketing team.
At UFC 229, McGregor will be attempting to take back the UFC Lightweight Championship that was stripped from him due to inactivity. Nurmagomedov claimed the title when he defeated short-notice opponent Al Iaquinta at UFC 223, who had replaced Max Holloway and Tony Ferguson after last-minute problems caused them both to withdraw.
Now, in what is touted as a battle of grappler vs. striker, there are two overwhelmingly popular schools of thought for how this fight will end:
Khabib Nurmagomedov will maul Conor McGregor, just like he has done to all of his opponents so far
Conor McGregor will land his mighty left hand and knock Khabib Nurmamedov out
So, which of these two potential outcomes will prevail?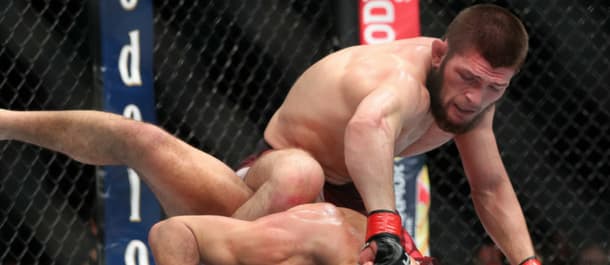 Finding The Edge
While many are quick to subscribe to each of those two potential outcomes above, there's much more that we need to consider before predicting this fight.
And most importantly, we need to approach this with the idea of finding exceptional betting value, and not merely picking a winner.
Khabib Nurmagomedov's Takedowns
It's no secret that Khabib Nurmagomedov is a master on the mat.
In Nurmagomedov's last five fights, he's landed 428 strikes and absorbed only 111; he's also finished 41% of his takedowns at 20/49. While those takedown statistics aren't all that impressive (even against high-quality opposition), it's the work he does on the mat that makes the difference. Once he has secured that takedown, he will pass to a dominant position and begin unloading vicious ground and pound. In fact, from those 20 takedowns alone, he has managed 30 guard passes and allowed zero in return.
Nurmagomedov needs to apply constant pressure to his opponent to secure this takedown. All of Nurmagomedov's best work occurs when he has backed his opponent into the cage. His takedowns aren't as effective in the middle of the Octagon, and Iaquinta proved this when he established control of the center of the cage during the third and fourth round. Further evidence of this is Nurmagomedov's fight with Darrell Horcher, who remained standing for the longest period before an initial takedown. Khabib secured his first takedown 2:43 into the first round after Horcher stepped outside the black tape for the first time.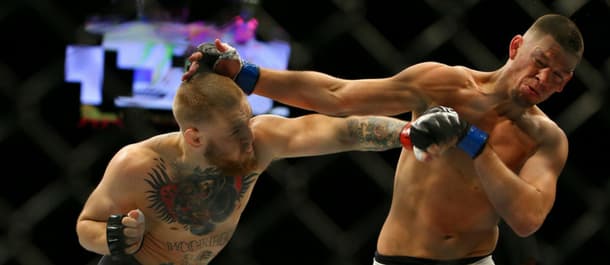 How Can Conor McGregor Defeat Khabib Nurmagomedov?
Considering McGregor's persistent cardio issues, we're likely looking at a scenario in which McGregor needs a KO/TKO finish to win the fight.
He has the power in his hands to do so, of course, but it's all about the process to achieve that knockout finish.
Conor McGregor needs to control the center of the cage and not allow Khabib to command the pace of the fight. This typically isn't a problem for McGregor, who uses his footwork and the threat of his strikes to demand respect. McGregor's patient and intelligent approach to the Eddie Alvarez fight highlighted just how far his Octagon control has improved in recent years. McGregor set various distance traps for his opponent and punished Alvarez every time he moved forward into range with a crisp straight left hand.
Not only is McGregor the most dangerous when he controls the center, but he'll also decrease the effectiveness of Khabib's takedown attempts. And if Khabib is unable to implement his strategy of takedown after takedown, he's going to need to find a way to do so. Usually, Nurmagomedov will pressure his opponent with a rapid flurry of punches, quick forward movement, or even sometimes fly forward with a super-aggressive jumping knee to push them back to the cage. Many of these techniques won't be sufficient against McGregor's elite distance management, reflexes, and power. A poorly-timed Khabib flurry could result in an immediate knockdown. But then again, the sheer threat of a Khabib takedown was enough to keep Edson Barboza, Rafael Dos Anjos, and Michael Johnson backpedaling and not setting up their strikes.
Everyone is saying that this is going to be a competitive fight, but it might not be. One of these fighters is going to have early success and likely dominate the other fighter in their realm of striking or grappling.
We believe that the successful fighter will be Conor McGregor.
UFC 229: Khabib Nurmagomedov vs. Conor McGregor
When: Saturday, October 6 – 11:55 pm (ET) / 3:55am (GMT)
Prediction: Conor McGregor by KO/TKO – Round 2
Conor McGregor
Khabib Nurmagomedov
UFC 229