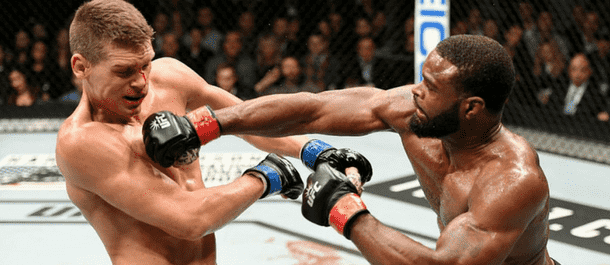 Tyron Woodley vs. Darren Till
Saturday, September 8 – 11:30 pm (ET) / 3:30am (GMT)
Tyron Woodley will defend his UFC Welterweight Championship against rising striker, Darren Till, in the main event of UFC 228.
This wasn't always the plan. Recently crowned interim champion of the division, Colby Covington, looked to be next in line for a shot at Woodley. Covington and Woodley had been engaging in a war of words and fans were starting to look forward to a potential matchup between these rivals. Since Covington is out of action until later this year, though, Till has been asked to step up to the plate after defeating Stephen Thompson and destroying Donald Cerrone.
Since crushing Robbie Lawler to win the title in 2016, Tyron Woodley has fought and defeated the top-ranked guys in the division. After fighting to a draw in a memorable battle with "Wonderboy," Woodley was asked to defend his title from the challenger yet again. He defeated the striking specialist in a five-round fight a few months later.
Then, Woodley was tasked with overcoming the streaking Demian Maia, who had climbed to the top contender spot after defeating Carlos Condit and Jorge Masvidal. Woodley masterfully defeated the Brazilian over five rounds, denying all of his 21 takedowns. This will be the first time we Woodley back in the cage since that day in July last year.
When Darren Till was scheduled against Stephen Thompson for a main event battle at UFC Fight Night 130 earlier this year, many fans and analysts thought it was too much, too soon for the 25-year-old. Yes, he had dominated "Cowboy," but that was his first win over a ranked opponent. Till proved that he belongs in the cage with the very best in the welterweight division by outstriking Thompson in a very competitive five-round fight that many believe could have gone either way. That unanimous decision victory over "Wonderboy" boosted Till to an excellent professional record of 17-0-1.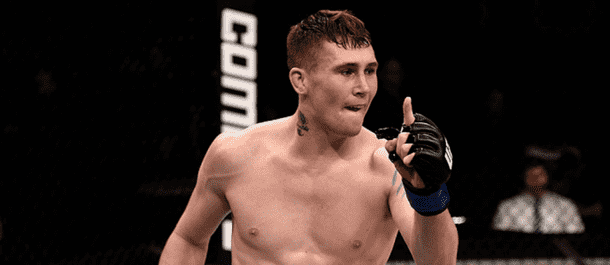 Finding The Edge
For the first time in nearly two years, Woodley – who has been criticized for his relatively unentertaining performances of late – will be thrown into a high-pace fight against a typically aggressive opponent. Rather than merely defending takedowns or avoiding the counter striking threat of "Wonderboy," Woodley will be asked to stand his ground against the powerful Till.
Regarded as a low-volume striker, Woodley lands just 2.48 significant strikes per minute (per FightMetric). That's not far behind Till's 2.67 significant strikes per minute. Till has a reputation as an aggressive striker – and he is – it's just that the statistics don't follow suit mainly due to Till's five rounds with Thompson in which a total of 68 strikes were landed (Till 38, Thompson 30). The two have similar striking accuracy during their time in the UFC with Woodley landing with 47% of his strikes and Till connecting with 46% of his own.
Although inseparable through statistical analysis, the real betting edge comes through an understanding the techniques and tendencies of each of these world-class fighters.
Till is a fearless striker whose sheer size, strength, and reach, help him to command the center of the Octagon. He walks his opponent down to the cage before carefully selecting his shots. Unlike a striker like Stephen Thompson, Till throws heavy strikes. His intention isn't to 'outpoint' his opponent, and he's more interested in landing the finishing blow. His stopping power hasn't always translated to the UFC, where he has earned a stoppage in just two of his six fights, but he did maintain an 83% finishing rate in his 12 fights before joining the promotion.
Unlike the fighters he has faced since becoming the champion, Woodley doesn't have a particular specialization and honestly represents one of the best examples of a true mixed martial artist today. His superb counter-wrestling ability helped him to shrug away Maia's takedown attempts with ease, and his mighty right hand was respected by Thompson who was usually hesitant to open up first.
Darren Till's greatest work in this title fight will come when he backs Tyron Woodley to the cage. Woodley has a bad habit of accepting a dangerous position, and most of his opponents have been unable to capitalize on this opportunity. Rory MacDonald, the last fighter to defeat Woodley, applied a high-pressure approach to smother Woodley and overwhelm him with strikes. Till will be looking at MacDonald's work from 2014 and employing a similar strategy.
Woodley's best chances in this fight will be much the same as when he faced Thompson; he'll need to land that devastating right hand of his or get the fight to the mat where can he use his world-class top pressure and wrestling. The right hand is definitely a factor, but Till has superior hand skills and will likely avoid the dangers of Woodley's right hand for long enough. The takedowns might not be a factor, either, because Woodley hasn't shown a tendency to shoot in for takedowns for a long time now. Rather than hunting double-leg takedowns, Woodley's work against Thompson on the mat was a result of catching a kick – he might be able to do the same against Till.
We're not the type to back against Tyron Woodley, a top-tier UFC champion who has already defended his belt against two killers, but this is the time to do so. Darren Till is a dominant welterweight with the size and speed to cause serious trouble for Woodley.
This will be a fantastic fight. Take Darren Till to get the job done.
Darren Till
Tyron Woodley
UFC 228