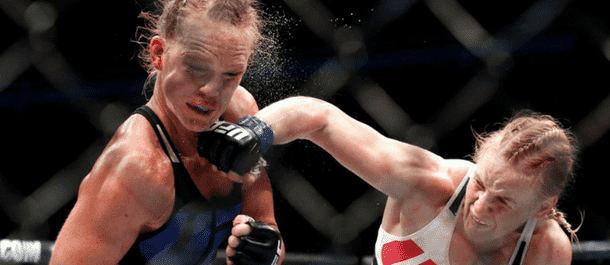 Nicco Montano vs. Valentina Shevchenko
Saturday, September 8 – 11:00 pm (ET) / 3:00am (GMT)
The co-main event of UFC 228 will see the first UFC women's flyweight champion, Nicco Montano, defend her title against the ruthless Valentina Shevchenko.
Montano earned the title by defeating Roxanne Modafferi at The Ultimate Fighter 26 Finale in December last year. Now, in her first title defense, she will go down in the record books as the most substantial betting underdog for a reigning champion in the UFC.
Before defeating Roxanne Modafferi in the TUF 26 Finale, Nicco Montano had already marched past three tough competitors on The Ultimate Fighter: A New World Champion. She defeated Lauren Murphy, Montano Stewart, and Barb Honchak to earn her spot in that title fight. Before Valentina Shevchenko joined the mix in the newly-created female 125 lbs division, Honchak, Murphy, and Modafferi were all viewed as some of the toughest competition out there. Montano defeated them all by unanimous decision. As we approach the UFC 228 co-main event, Montano has gained inspiration from Henry Cejudo's memorable underdog victory against Demetrious Johnson recently.
When the UFC women's flyweight division was announced, many fans were quick to proclaim that Valentina Shevchenko will walk straight in and claim the title without a problem. Shevchenko can be considered an almost-champion, yet that's not an accomplishment by any means. In September last year, Shevchenko came incredibly close to dethroning bantamweight champion Amanda Nunes, in which she lost by split decision.
Now that Montano has emerged as the winner of The Ultimate Fighter and took the belt home, Shevchenko has had the 29-year-old in her crosshairs. Shevchenko made a terrifying statement in her most recent fight with Priscila Cachoeira in which her one-sided dominance was exacerbated by Mario Yamasaki's careless approach to refereeing mixed martial arts. At the end of it all, Cachoeira was brutalized for two and a half rounds, and Shevchenko looked more dominant than ever before. She submitted Cachoeira to secure her second submission victory in her last three fights.
Finding The Edge
Unless you have an enormous bankroll, there's next to no reason to place a bet on Valentina Shevchenko. She deserves to be this much of a favorite, but it's tough to advise anyone to back a fighter with odds as low as those.
So, we'll be looking at two ways to extract value from this title fight:
Is there value betting on Nicco Montano as a significant underdog?
Are there any 'prop' bets that have great value for bettors?
We'll cover the first point relatively quickly. It's highly unlikely that Montano will defeat Shevchenko at UFC 228. There's a significant skill disparity between these two fighters; possibly more so than in any other UFC title fight. Montano's odds would need to branch out even further for us to consider placing a bet on her side.
As for how the fight will play out, there are a couple of scenarios that seem likely.
More than ever before, Shevchenko now seems interested in taking her opponent down to the ground and beating her there. Of course, she can beat most of her competition while standing – as she did against Holly Holm – but her skills on the mat allow for a safer and more convincing path to victory. She stunned everyone watching when she submitted Juliana Pena with an armbar, and she finished Cachoeira off with a submission despite being able to ground and pound her enough for a stoppage. So, as much as we all believe Shevchenko to be this superior striker, she is continually growing into a legitimate threat on the mat, too.
There's a significant chance that Shevchenko takes Montano down to the mat and works her there for the early rounds.
Of course, Shevchenko could potshot and outstrike Montano all night long – that's a legitimate option too. It does seem unlikely, however, considering the leadup to the fight and how it might influence the emotions of each fighter. Montano has continually been reminded of the wide odds and her limited chances, while Shevchenko's confidence grows as she enjoys all of the praise and attention. Shevchenko won't just be happy with a decision victory, she'll want a decisive and memorable stoppage to prove that she is worthy of all the hype.
Don't expect Shevchenko to carry Montano through the middle to late rounds. Expect a ruthless assault from the challenger who will be looking to make a statement.
Prediction: Valentina Shevchenko by Submission – Round 2
Nicco Montano
UFC 228
Valentina Shevchenko