UFC 228 Main Card Betting Guide
The UFC's next pay-per-view is just around the corner, and we're here to bring you all of the betting action for UFC 228's five-fight main card that is set to take place in Dallas, Texas, on Saturday, September 8.
If you haven't done so already, make sure to check out our preview and prediction for the two title fights scheduled for the main and co-main event of UFC 228:
Let's get started.
Zabit Magomedsharipov vs. Brandon Davis
Saturday, September 8 – 11:00 pm (ET) / 3:00am (GMT)
In many ways, this fight encompasses what it's like to be a fan of mixed martial arts in 2018.
It's a great fight, but it's not the one we were promised. MMA fans around the world were strapped in and waiting for the spectacular show that was Zabit Magomedsharipov vs. Yair Rodriguez. Somewhat unsurprisingly, fans discovered just last week that Rodriguez had suffered an injury and would need to withdraw from the bout.
Our hopes and dreams were crushed. But now, Brandon Davis will step inside the cage with Magomedsharipov and test his skills in front of many thousands of people who splash some cash to watch UFC 228 this weekend.
It's a significant opportunity for Davis, who is now 1-2 in the UFC and 9-5 in his professional career. Including his appearance on Dana White's Tuesday Night Contender Series in August last year, Davis has now made it to the scorecards in all of his previous four fights.
Across from him will stand Magomedsharipov, who has only been to the scorecards three times in his 16-fight career. The 27-year-old Russian is regarded as one of the very best prospects in all of mixed martial arts today.
Before any Zabit Magomedsharipov fight, it pays to mention his height and reach; it's beyond insane for the featherweight division. Standing tall, but slim, Magomedsharipov measures up at 6'1″ (185cm) with 73.0″ (185cm) reach. For comparison, Brandon Davis will enter the cage standing 5'10" (178cm) tall and with reach of 72.0″ (183cm).
However, it's not about the size; it's about how you use it (wink).
Magomedsharipov stabs his opponent from a distance with his long arms and legs, helping to operate at a safe distance and avoid any of the power strikes coming his way. This worked for the most part against Kyle Bochniak until Magomedsharipov eventually fatigued and allowed his opponent to close the distance and negate the size advantage. When we're talking about skills and abilities, Magomedsharipov might already be top-tier. His weapons are undoubtedly, and he plays to his strengths, whether that's on the feet or the mat.
Davis is relatively tall for the division himself and is well-respected for his exciting fighting style. Despite being mauled by Enrique Barzola for minutes at a time in his most recent fight, Davis was still trying to find ways to land his punches in the third and final round. But it was simply too easy for Barzola to take Davis down to the mat and grind him out there on the floor or even against the cage. Despite showing great defense and sticking in there through three rounds, Davis could be in for another 15 minutes of the same thing here at UFC 228.
Expect Magomedsharipov to use his grappling to control this contest from start to finish.
Prediction: Zabit Magomedsharipov to win by decision
We'll be betting on Zabit Magomedsharipov to win by decision. We found great odds for this selection over at ComeOn, where he is currently 2.95Bet €100 to win €29539/20Bet £100 to win £295+195Bet $100 to win $2951.95Bet HK$100 to win HK$2951.95Bet Rp100 to win Rp295-0.5128Bet RM100 to win RM295.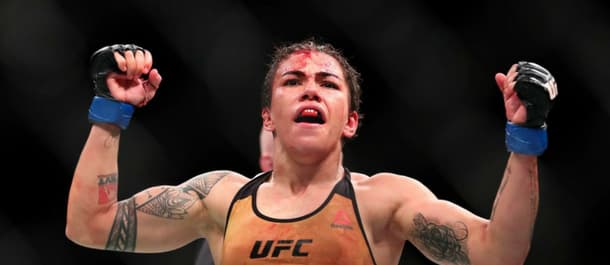 Jessica Andrade vs. Karolina Kowalkiewicz
Saturday, September 8 – 10:30 pm (ET) / 2:30am (GMT)
The first of the two featured female fights on the UFC 228 main card is a fantastic strawweight clash between the always-attacking Jessica Andrade and the super-composed Karolina Kowalkiewicz.
If we're hoping to find a betting edge in this contest, it's going to come from an understanding of each fighters tendencies. Kowalkiewicz, while drawing observations for being a long and rangy striker, actually does the majority of her work in short flurries as she attempts to land several fast strikes on an incoming opponent. These punches often don't pack the same power that we'll see from a Rose Namajunas, Claudia Gadelha, or even a Jessica Andrade, but they are enough to gain some respect. Kowalkiewicz will land her flurry and get on her bike. There's no stopping power here, just rapid combinations and sufficient footwork.
Andrade, on the other hand, is all about power. There's almost nothing in her toolkit that isn't labeled "maximum power." She'll walk forward and dip her head to either side before launching devastating hooks and other strikes. She's ferocious and is a tough challenge for any opponent. That's why we can look to how Joanna Jedrzejczyk and how she defeated Andrade. After being rocked by some of Andrade's heavy punches early in the first round, Joanna eventually took over the contest by controlling the fight using single shots from a distance and not exchanging strikes with her incoming opponent.
Wait, but isn't that what Kowalkiewicz does all the time?
Yes. That's why we'll be confidently backing Andrade to get the job done here at UFC 228 and likely within the distance. As Kowalkiewicz begins to flurry, Andrade will be there ready and waiting to answer with some shots of her own.
Prediction: Jessica Andrade by KO/TKO – Round 3
We'll be backing Jessica Andrade by KO/TKO at odds of 5.95Bet €100 to win €59599/20Bet £100 to win £595+495Bet $100 to win $5954.95Bet HK$100 to win HK$5954.95Bet Rp100 to win Rp595-0.2020Bet RM100 to win RM595 with ComeOn!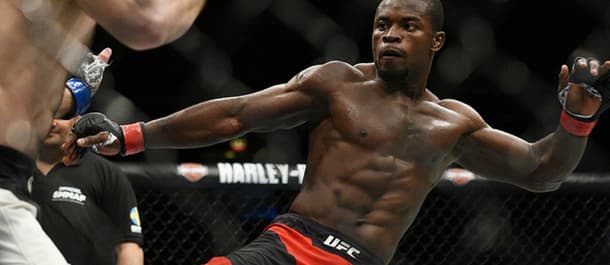 Abdul Razak Alhassan vs. Niko Price
Saturday, September 8 – 10:00 pm (ET) / 2:00am (GMT)
This war between two heavy-hitters will likely be an underappreciated one before Bruce Buffer calls them in, but Abdul Razak Alhassan and Niko Price might walk out with thousands of new fans if this fight goes as we are expecting.
Abdul Razak Alhassan might be the most ferocious fighter in the UFC. He's now 9-1 in his career and has finished ALL of his nine wins inside the first round by KO/TKO. There's something incredibly satisfying about that 100% round one finishing rate and he has even backed it up with two wins in the UFC. His one defeat was a difficult three-round contest with Omari Akhmedov who continually grounded Alhassan and kept him away from his hands. Unsurprisingly, Alhassan is entirely one-dimensional, and the only time a fighter has escaped the first round, they won the fight. Alhassan fatigues rather easily and runs out of options.
Surviving the first round is a must if Niko Price plans to score a victory this weekend at UFC 228. If Price can navigate his way to the start of round two, that's where he'll likely be able to start implementing some of his well-rounded mixed martial arts techniques and turn this into a proper bout, not just the slugfest that Alhassan wants it to be. Price can stall during the first round and counter Alhassan's forward movement with reactive takedowns.
But then again, Price is vulnerable to punches, and it might just take one Alhassan rocket to end the night early.
Prediction: Niko Price to win by KO/TKO
We will be backing Niko Price to succeed at those underdog odds supplied by Bovada. There's a significant chance that Price finishes Alhassan before the end of the 15 minutes, but it's not worth missing out on this value if it goes to a decision!
The best odds are 2.15Bet €100 to win €21523/20Bet £100 to win £215+115Bet $100 to win $2151.15Bet HK$100 to win HK$2151.15Bet Rp100 to win Rp215-0.8696Bet RM100 to win RM215 at Bovada!
Best Bets for the UFC 228 Main Card
Jessica Andrade
Karolina Kowalkiewicz
UFC 228
Zabit Magomedosharipov