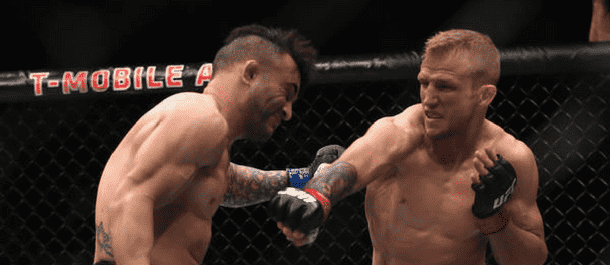 We hit three of four plays in last weekend's UFC on FOX 30 main card. At the top was a confident bet on Dustin Poirier to defeat Eddie Alvarez.
T.J. Dillashaw vs. Cody Garbrandt
Los Angeles, California – Saturday, August 4 – 11:50 pm (ET) / 3:50am (GMT)
Immediate rematches don't happen too often in the UFC. For some reason or another, the UFC has rebooked T.J. Dillashaw vs. Cody Garbrandt as the main event bout after their epic clash at UFC 217. The two will compete for the UFC Bantamweight Championship, the title that Dillashaw claimed from Garbrandt in November.
T.J. Dillashaw is one of the most well-rounded and supremely talented mixed martial artists in the world. Despite this, he doesn't receive the type of praise or respect that would usually come with a track record similar to his. With wins over Renan Barão, Raphael Assuncao, John Lineker and now Cody Garbrandt, Dillashaw has shown that he is capable of defeating even the most feared strikers in the bantamweight division. He's now re-earned the title that he lost to Dominick Cruz in January 2016 and will be ready to defend it from "No Love" this weekend.
Cody Garbrandt's rise to the top was about as swift as it gets. The 27-year-old stopped three consecutive opponents in the first round to earn a shot at Dominick Cruz and the title that he had taken from Dillashaw. And Garbrandt didn't look shy on the big stage, that's for sure. In fact, he completely outclassed Cruz for five rounds and took home the belt. His run didn't last long at the top, as he was finished via TKO in the second round by T.J. Dillashaw at UFC 217.
https://youtu.be/ZPIepZuj_Pg
Fight Breakdown
Much like how we previewed last weekend's main event between Dustin Poirier and Eddie Alvarez, we'll begin by taking a look back at the events that unfolded in Dillashaw and Garbrandt's first encounter.
As we approached the end of a relatively lackluster first round, Cody Garbrandt changed everything when he connected with a perfectly timed right hand that knocked the chin of Dillashaw and sent him to the mat. At the end of the round, Dillashaw stood up and wobbled back to his corner. He was pretty much done for.
Yet, he worked his way back into the action in the second round and managed to flip the tables by connecting with a heavy head kick near the start of the round. And just over 150 seconds into the round, Dillashaw connected with a right hand of his own that stunned Garbrandt, allowing Dillashaw to finish the fight with ground and pound.
Dillashaw was victorious, but you can argue that he was saved by the bell in that first round.
What to expect at UFC 217?
While many fans are predicting an entertaining back-and-forth fight between these two stars because of the glorified moments in their first fight, we're leaning the other way and expecting this to be a relatively less exciting fight.
Expect Dillashaw to try and weave his way inside Garbrandt's range before letting go combinations of punches and kicks. At times, he might even throw up a high kick without setting it up, as his corner called for in that first fight.
But you can also expect to see Garbrandt's excellent footwork that enables him to separate himself from danger. He'll also display his fast hands and knockout power, too.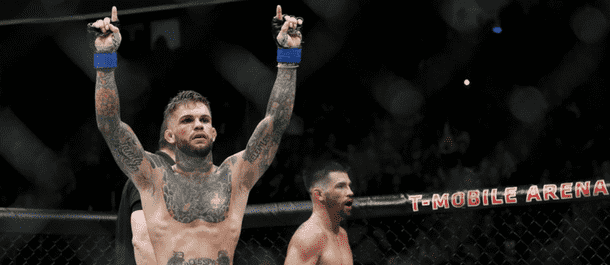 T.J. Dillashaw vs. Cody Garbrandt Odds
As expected, the bookmakers are having trouble splitting these two fighters and at the moment it's T.J. Dillashaw who is the slight favorite over Cody Garbrandt at UFC 227.
T.J. Dillashaw's odds are currently 1.88Bet €100 to win €18822/25Bet £100 to win £188-114Bet $100 to win $1880.88Bet HK$100 to win HK$188-1.14Bet Rp100 to win Rp1880.8800Bet RM100 to win RM188 over at BetOnline.
As for the challenger, Cody Gabrandt, his best odds are 2.00Bet €100 to win €2001/1Bet £100 to win £200+100Bet $100 to win $2001.00Bet HK$100 to win HK$2001.00Bet Rp100 to win Rp2001.0000Bet RM100 to win RM200 with BetVictor.
Best Bet and Prediction
It's difficult to make a confident bet against either of these two guys, but there is a reason to believe Cody Garbrandt can bounce back in a big way and score a thrilling knockout of T.J. Dillashaw.
Garbrandt's hands are fast and he uses his footwork to expertly position himself in range of landing that final blow. Yes, he made a costly mistake in the last bout, but he will learn from that and punish Dillashaw at UFC 227 in a similar way to how he controlled the contest against Dominick Cruz.
Best Bet: Cody Garbrandt to win 2.00Bet €100 to win €2001/1Bet £100 to win £200+100Bet $100 to win $2001.00Bet HK$100 to win HK$2001.00Bet Rp100 to win Rp2001.0000Bet RM100 to win RM200 at BetVictor
Cody Garbrandt
T.J. Dillashaw
UFC 227