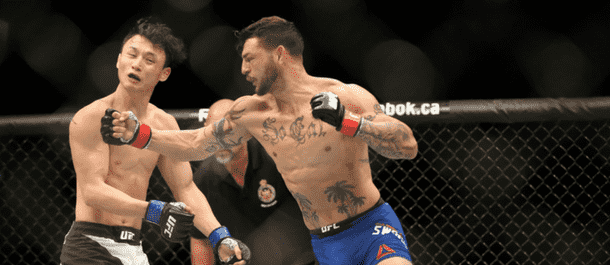 Cub Swanson vs. Renato Moicano
Saturday, August 4 – 11:00 pm (ET) / 3:00am (GMT)
A fantastic featherweight matchup between Cub Swanson and Renato Moicano is set to feature on UFC 227's main card this weekend.
Cub Swanson is a proven veteran of the sport and should never be counted out. That might be especially true this weekend as it seems that everyone is overlooking the nifty stand-up fighter in favor of his younger and more hyped opponent. Swanson's on a two-fight losing streak that came at the hands of elite featherweight fighters in Brian Ortega and then Frankie Edgar. Of course, those two defeats are nothing to be overly upset about, but it seems as if the public has lost confidence in Swanson as a result.
We can see the reasons behind it, as well. Swanson's last victory was over Artem Lobov, who isn't a shark in this tank of fish, by any means. And on paper, Swanson hasn't been all that impressive recently.
Yet, his slick boxing and masterful Octagon control will be on full display this weekend and we can be sure that Renato Moicano will be pushed to the limits.
Renato Moicano is the man who is generating all of the attention in this matchup because of his relatively exceptional stand-up abilities combined with creative jiu-jitsu techniques on the mat. If it wasn't for a poorly executed single-leg takedown against Brian Ortega not that long ago, Moicano might have been looking at a shot at Max Holloway and the title right now. That loss to Ortega was the first and only in Moicano's extensive career. And despite being a significant favorite over Swanson in this fight, Renato Moicano is definitely another overlooked UFC featherweight.
Cub Swanson vs. Renato Moicano Odds
One of the craziest betting stories of this entire pay-per-view event is the fact that Renato Moicano opened at -165 before all the smart money pushed him out to -400 where he has been stable ever since. Those odds can be found at Bovada.
And on the other hand, Cub Swanson hasn't been considered this much of an underdog since he faced Chad Mendes in 2010. In fact, his current odds +330 are higher than when he faced Frankie Edgar and Brian Ortega recently. Swanson's best odds are with BetOnline, who continually bring out the best odds for MMA tipsters.
Best Bet
While this matchup certainly favors the more improved striking of Moicano, there's a huge chance that Swanson can score an upset and hold his spot at #5 in the featherweight rankings. Moicano should be the favorite, but probably not by this much.
Take Swanson.
Bet: Cub Swanson to win +330 at BetOnline
Polyana Viana vs. JJ Aldrich
Saturday, August 4 – 10:30 pm (ET) / 2:30am (GMT)
Well, here's a matchup you probably never expected to see on a UFC pay-per-view. Polyana Viana will do battle with JJ Aldrich in a three-round fight that doesn't really have anyone screaming and shouting for good reasons.
Polyana Viana could be the UFC's next female star. It looks like they realize it too, and are allowing her a chance to shine on the main card here after injuries removed other fights from the event.
She's a talented fighter from Brazil with outstanding Brazilian Jiu-Jitsu (of course) and seems to be growing confidence with her stand-up lately. However, this matchup will almost certainly require Viana to get Aldrich down to the mat and begin working her submission game.
JJ Aldrich featured on The Ultimate Fighter and was eventually steamrolled by the fast-rising Tatiana Suarez. Since then, Aldrich has won four of her last five fights and most recently picked up two wins against Danielle Taylor and Chan Mi Jeon. Admittedly, the South Korean and Taylor are probably in the lowest tier of fighters in the division.
Aldrich will be looking to use her excellent kickboxing ability to manage the distance and pepper Viana with strikes for as long as this fight remains standing.
Polyana Viana vs. JJ Aldrich Odds
Can JJ Aldrich keep this fight upright and defeat Viana over three rounds? Bookmakers and bettors don't think so. At the moment, Aldrich is sitting at +215 with Bovada.
And up against her is Polyana Viana, who steps in as the favorite. Her odds are the best with BetOnline, who have her at great odds of -240.
Best Bet
Aldrich's takedown defense is lacking and that leaves me with next to no confidence that she can keep this fight standing and defeat Viana over three rounds. Expect a takedown and finish for Polyana Viana.
Bet: Polyana Viana to win -240 at BetOnline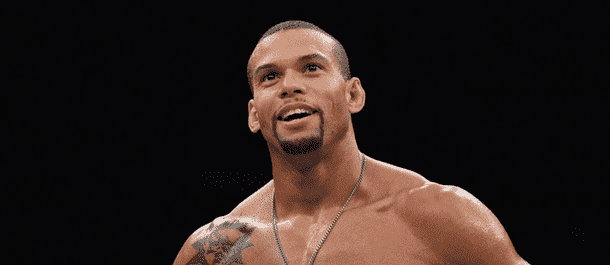 Thiago Santos vs. Kevin Holland
Saturday, August 4 – 10:00 pm (ET) / 2:00am (GMT)
To get the main card started, Thiago Santos and Kevin Holland will engage in a three-round war that came about as a surprise.
Thiago Santos recently had his four-fight winning streak (that included a big win over Anthony Smith) snapped by David Branch at UFC Fight Night 128 in April. With Smith now proving himself as a top contender at light heavyweight, Santos has shown glimpses of his full potential as he crushed the former middleweight in round two. This time around, he'll be matched up with a UFC newcomer which should be a recipe for victory for the Brazilian; however, the last time Santos was given a seemingly achievable victory, Eric Spicely submitted him in under three minutes.
Kevin Holland is the man who is entering the UFC after his appearance on Dana White's Tuesday Night Contender Series. Holland has worked up to a 13-3 record after 16 fights as a professional and is now on a four-fight winning streak, with all victories coming in the last year. At the Contender Series, Holland outworked Will Santiago to win a unanimous decision. This 25-year-old is absolutely ready for his shot in the UFC and a big-name matchup with Thiago Santos straight away.
Thiago Santos vs. Kevin Holland Odds
There are no surprises in this one as Thiago Santos and his wealth of UFC experience is favored against the organizational debutant. Santos can be found for odds of -360 at BetOnline.
If you're looking to back Holland, there is currently excellent value over at BetVictor where he is 4.00.
Best Bet
Kevin Holland is cool, calm, and composed when inside the Octagon as we saw against Mike Santiago. But is he too relaxed for someone who is about to face the ever-dangerous Thiago Santos? Santos might explode forward and crush him with body kicks and punches. And if Holland doesn't want him to do that, he hasn't shown an ability to keep someone away with a jab or straight punches of his own.
It's difficult to believe in Holland's chances, so we'll take Santos with confidence.
Bet: Thiago Santos to win -360 at BetOnline
Betting Plays
Best Bets:
Cub Swanson to win +330 at BetOnline
Polyana Viana to win -240 at BetOnline
Thiago Santos to win -360 at BetOnline
Cub Swanson
Renato Moicano
UFC 227