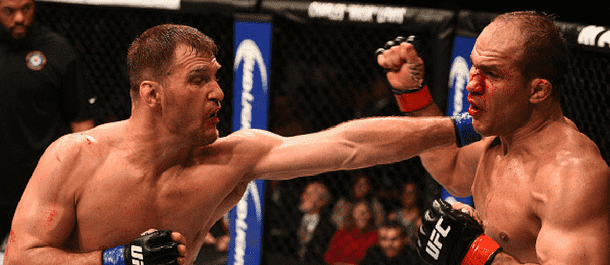 Las Vegas, Nevada – Saturday, July 7 – 11:50 pm (ET) / 3:50am (GMT)
Labeled as a "Super Fight," the main event of UFC 226 pits the UFC heavyweight champion, Stipe Miocic, against Daniel Cormier, the UFC light heavyweight champion.
Stipe Miocic could very well be the greatest UFC heavyweight of all-time. If he's not already regarded as such, a win over Daniel Cormier at UFC 226 will only solidify his case. Since taking the title from Fabricio Werdum with a fantastic KO in May 2016, Miocic has gone on to defend his title successfully against Alistair Overeem, Junior Dos Santos, and Francis Ngannou. Before these four wins, Miocic also had compiled two-straight wins over Mark Hunt and Andrei Arlovski. He has almost cleaned out the entire heavyweight division (besides the new breed in Volkov and Blaydes), and a win here could see him be regarded as an unstoppable heavyweight.
Daniel Cormier is also ready to make his case for one of the greatest fighters in UFC history. Cormier has enjoyed a near-perfect career after 22 fights, and his only defeat came at the hands of Jon Jones. Yes, he was defeated by Jones twice – most recently at UFC 214 last year – but Jones tested positive for Performance Enhancing Drugs (PED's) and the result was later overturned to a no contest. Most recently, Cormier shut down the rising Volkan Oezdemir in what proved to be a completely one-sided affair.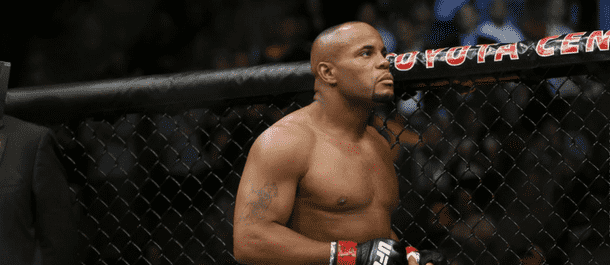 Fight Breakdown
Cormier's move to heavyweight isn't entirely groundbreaking. Some years ago now, Daniel Cormier became a heavyweight champion after winning the Strikeforce heavyweight tournament. And if it wasn't for Cain Velasquez, Cormier might have continued to compete at heavyweight. He's not massive by any means, but he's stocky and carries more body fat than the usual for his size.
So, is Cormier used to dealing with the strength and size of a heavyweight fighter?
Well, maybe the 'old' heavyweights. The ones of the previous era. The slow-moving and heavy fighters who relied on their size to overwhelm opponents. But now, we're seeing a new breed of heavyweight fighters come through. They are more explosive, athletic, and have more technique to go with their size. And Stipe Miocic isn't the perfect heavyweight, but he is certainly a heck of a lot better than the ones Cormier was previously facing. Or, they've developed a lot since then.
Cormier will need to do a couple of things exceptionally well if he wants to defeat Stipe Miocic at UFC 226. The first is that he'll need to overwhelm him with pressure and land enough strikes to influence the scorecards. See, it's going to be very difficult for Cormier to put Miocic away early, and he might need to rely on being up at the end of five rounds. We've seen Cormier's pace and pressure before, and he's the king of the grind, so he certainly has a shot at stealing a decision from Miocic if he can remain consistent through 25 minutes.
However, Miocic's power could cause problems. Miocic isn't a long fighter like Cormier might be used to in Jon Jones, or other top light heavyweight talents. Instead, Miocic throws bombs in close-to-medium range and attempts to land that one fight-ending blow. And while his power isn't marketed by the UFC in the same way that Ngannou's was, Miocic's power was enough to crush Fabricio Werdum while he was moving backward. It was also enough to finish Junior Dos Santos and Alistair Overeem inside the opening minutes.
Stipe Miocic is for real, and it might take until this weekend for many to realize it.
Betting Market
Stipe Miocic is the betting favorite at the moment and has settled in at 1.41Bet €100 to win €14141/100Bet £100 to win £141-244Bet $100 to win $1410.41Bet HK$100 to win HK$141-2.44Bet Rp100 to win Rp1410.4100Bet RM100 to win RM141 at BetOnline. Daniel Cormier is good value for those thinking he can get the win this weekend, and he can now be found at 3.15Bet €100 to win €31543/20Bet £100 to win £315+215Bet $100 to win $3152.15Bet HK$100 to win HK$3152.15Bet Rp100 to win Rp315-0.4651Bet RM100 to win RM315 with Bovada.
Betting Play
We'll be backing Stipe Miocic to get this one done.
Best Bet: Stipe Miocic to win 1.41Bet €100 to win €14141/100Bet £100 to win £141-244Bet $100 to win $1410.41Bet HK$100 to win HK$141-2.44Bet Rp100 to win Rp1410.4100Bet RM100 to win RM141 at BetOnline
Daniel Cormier
Stipe Miocic
UFC 226