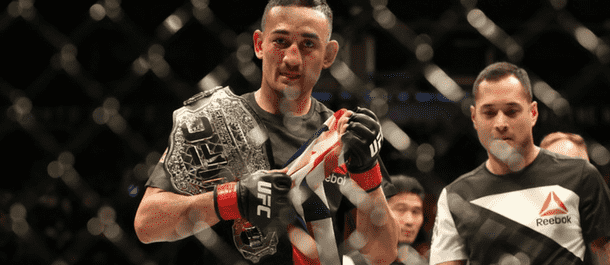 Las Vegas, Nevada – Saturday, July 7 – 11:30 pm (ET) / 3:30am (GMT)
While the main event of UFC 226 has rightfully stolen some of the attention from this UFC Featherweight Championship bout, there are still many fans out there who are looking forward to this fight the most.
This co-main event will see Max Holloway and Brian Ortega do battle over 25-minutes to determine who should leave as the UFC's featherweight champion.
Max Holloway is becoming much more than just a remarkably talented fighter. He's also starting to break through and capture the attention of mainstream fans as many are attracted to his 'It is what it is' attitude, combined with his ferociousness and finishing ability inside the Octagon.
Holloway stormed past Jose Aldo not once, but twice. Despite what Conor McGregor's efforts might have you believe, that's no easy feat; Aldo is likely the best featherweight to have ever stepped foot in the UFC. However, Holloway is quickly starting to build up his resume, and it's one that can be submitted in that same conversation if he manages to defeat Brian Ortega this weekend.
Brian Ortega is the shiny new toy in the UFC's featherweight division, and many people are backing him to be the first to defeat Max Holloway in a very long time. Usually, the rising star will find themselves facing an aging veteran of the sport when they reach this level of competition, but Ortega will be meeting Holloway in what is a battle of two fighters who are arguably at their respective peaks right now.
It hasn't been an easy road for Ortega, but he remains undefeated. He was behind on the scorecards against Clay Guida until he pulled out a come-from-behind victory in the dying moments. That was a trend that existed for a couple of fights, too, as Ortega struggled to win rounds, but had the game-changing submissions and knockout power in his hands that can end a fight in a matter of seconds. How about when he snatched the neck of Cub Swanson and submitted him? After the fight, Swanson said that he felt like he was going to die. He backed up this win with a stunning knockout finish of Frankie Edgar and now finds himself challenging for the title.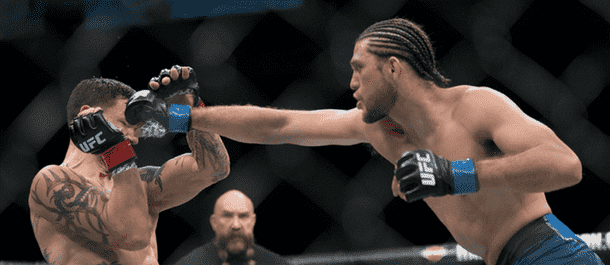 Fight Breakdown
What do we know about Brian Ortega? Well, his submission game is downright nasty. It's creative as it is unexpected. It's highly-advanced and he is also capable of creating opportunities from nothing. Ortega also doesn't need the fight to hit the ground before he wraps up a submission, either. He locked up the neck of Swanson before jumping up and wrapping himself around Swanson's body like a vicious snake.
And he's no slouch on the feet, either. We saw this against Frankie Edgar, as he absolutely crushed him with true knockout power. We'd never seen anything like it, and there's no reason to believe we won't ever see it again from the challenger.
Well, what about Max Holloway? Holloway is a notoriously slow starter who likes to get a read on his opponent and then work his way into the fight by turning up the volume of strikes to an unmatchable quantity. In his fights with Aldo, Holloway looked to be on the losing end of things for the first 5-10 minutes. Once he started to feel the fight, though, he soon took over and never looked back.
Holloway uses advanced striking techniques such as pull-back counter strikes to bait his opponent into launching a punch before returning a heavier one of his own. He's also not afraid to stand in the pocket with someone, but we fail to see how that is a good option against the heavy-hitting Ortega.
Instead, Holloway might be able to outwork Ortega through five rounds of intense action. Yes, he might need to escape a potentially dangerous submission or two along the way, but there's every chance Holloway just hammers straight punches down the line and beats Ortega by submission this weekend.
Betting Market
Brian Ortega will step into this co-main event at UFC 226 as a slight underdog. In fact, the bookies are giving Ortega much more of a chance than Daniel Cormier in the main event.
Currently, Ortega is sitting at 2.27Bet €100 to win €227127/100Bet £100 to win £227+127Bet $100 to win $2271.27Bet HK$100 to win HK$2271.27Bet Rp100 to win Rp227-0.7874Bet RM100 to win RM227 with BetOnline, while Max Holloway is a good bet at 1.73Bet €100 to win €17373/100Bet £100 to win £173-137Bet $100 to win $1730.73Bet HK$100 to win HK$173-1.37Bet Rp100 to win Rp1730.7300Bet RM100 to win RM173 with BetVictor.
Betting Play
Many have been quick to claim that Brian Ortega's value is inflated at the moment after wins over Frankie Edgar and Cub Swanson, and we partly agree. Ortega is definitely dangerous and might one day be a future champion, but we're living in the 'Blessed Era' right now and Max Holloway will safely retain his title at UFC 226.
Best Bet: Max Holloway to win – 1.73Bet €100 to win €17373/100Bet £100 to win £173-137Bet $100 to win $1730.73Bet HK$100 to win HK$173-1.37Bet Rp100 to win Rp1730.7300Bet RM100 to win RM173 with BetVictor
https://www.youtube.com/watch?v=wr6vp8FvDMM
Brian Ortega
Max Holloway
UFC 226