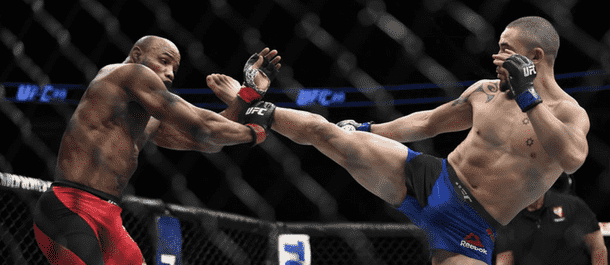 Chicago, Illinois – Saturday, June 9 – 11:55 pm (ET) / 3:55am (GMT)
Robert Whittaker and Yoel Romero will meet again.
This time, Whittaker and Romero will do battle over five rounds for the UFC Middleweight Championship after Whittaker was crowned the champion of the division. Whittaker was victorious in their first meeting and defeated Romero by unanimous decision after a hard-fought five rounds.
Now that Georges St-Pierre has vacated his middleweight title, Robert Whittaker is sitting at the top of the middleweight division and might do so for a very long time. That's even considering the list of killers that exist in the ranks below him such as Romero, Luke Rockhold, Chris Weidman, Kelvin Gastelum and more.
At the age of 27, Whittaker has stormed past that list of elite martial artists by brilliantly mixing his boxing with defensive wrestling. He shrugged away the takedown attempts of Jacare Souza before lighting him up with devastating strikes in April last year. In his fight with Romero, he overcame adversity in the first round after his knee was banged-up by one of Romero's kicks to eventually get the better of Romero over the final three rounds.
Yoel Romero is still terrifying. The former world champion in freestyle wrestling and silver medalist at the 2000 Olympic Games has now cemented himself as a real terror in the middleweight division of the UFC. His offensive wrestling is world-class, and he can shoot in for effective takedowns at any given moment. Romero didn't need takedowns to defeat Luke Rockhold at UFC 221, though, and he managed to clip Rockhold with a nasty punch in the third round and send him home early. If Romero comes up short against Whittaker again this weekend, he might be one of the better fighters to have never won a UFC championship.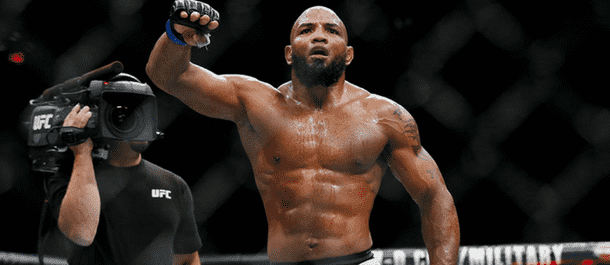 Fight Breakdown
We've seen this one before, and there's no reason to think that it will be dramatically different from the first time around.
There are, however, a few things to consider.
In the first fight, Whittaker's knee was damaged by a Romero stomping kick in the first round, and this impacted Whittaker's movement throughout the entire fight. Will we see a better Whittaker than we did last time? Almost certainly.
We also have to recognize that Romero let that first fight slip out from underneath him. Romero cruised through the first two rounds but eventually fatigued and allowed Whittaker to step up the pace. Romero has historically been at his most dangerous in the third round, and all of his last five stoppages have come during that time. After reading Rockhold for over ten minutes, Romero eventually exploded and unleashed a nightmarish combination of strikes that floored Rockhold.
The thing is, it's hard to see Romero tagging Whittaker in the same way that he has removed previous opponents from the contest. Whittaker's movement is superb, and his defensive (and offensive) boxing ability is up there with the best in the UFC. He manages the range well and punishes an opponent for any mistakes.
It's also difficult to see Romero's wrestling being a primary factor in this fight. Whittaker has shown that he can defend the takedowns of Romero (although it takes extreme effort) and when Romero has an opponent on the mat, they are more often than not able to get back to their feet rather quickly.
Again, this will be a competitive fight that probably lasts five rounds. At the end of it all, it should be Whittaker with his hand raised.
Betting Market
There has been plenty of action for bets on Robert Whittaker since the market opened. Whittaker started at 1.59Bet €100 to win €15959/100Bet £100 to win £159-169Bet $100 to win $1590.59Bet HK$100 to win HK$159-1.69Bet Rp100 to win Rp1590.5900Bet RM100 to win RM159 but has since moved all the way in to 1.43Bet €100 to win €14343/100Bet £100 to win £143-233Bet $100 to win $1430.43Bet HK$100 to win HK$143-2.33Bet Rp100 to win Rp1430.4300Bet RM100 to win RM143.
Romero is a moderate underdog in this contest and can be found at odds of 3.15Bet €100 to win €31543/20Bet £100 to win £315+215Bet $100 to win $3152.15Bet HK$100 to win HK$3152.15Bet Rp100 to win Rp315-0.4651Bet RM100 to win RM315.
Betting Play
Despite the value being sucked out of it, Whittaker is still the right selection in this contest. We'll be taking Whittaker to win (by any method).
Best Bet: Robert Whittaker to win 1.43Bet €100 to win €14343/100Bet £100 to win £143-233Bet $100 to win $1430.43Bet HK$100 to win HK$143-2.33Bet Rp100 to win Rp1430.4300Bet RM100 to win RM143 at BetOnline
Want to learn more about this fight? Watch the UFC's Countdown video below.
https://www.youtube.com/watch?v=a-TTd3-733Q
Robert Whittaker
UFC 225
Yoel Romero