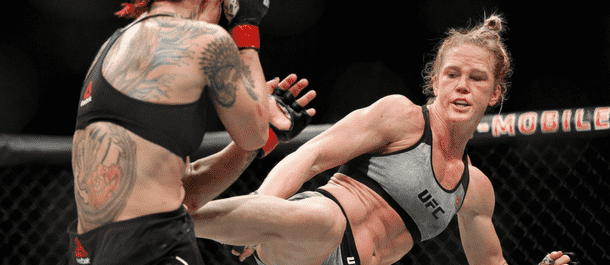 Holly Holm vs. Megan Anderson
Saturday, June 9 – 11:00 pm (ET) / 3:00am (GMT)
Moments before the two title fights of UFC 225, Holly Holm will welcome UFC newcomer Megan Anderson in what should be a fiery battle in the UFC women's flyweight division.
Holly Holm needs no introduction. But if she did, an introduction would certainly include her involvement in one of the greatest UFC upsets of all-time when she defeated Ronda Rousey. Since then, it hasn't been so crash-hot for Holm. In fact, she has only won one of her last five contests. That win came in Singapore when Holm crashed a high kick into the head of Bethe Correia and stopped the fight with her favorite weapon of choice.
But it's hard not to forget the disappointing finish to her fight with Miesha Tate, being outworked by Valentina Shevchenko and Germaine De Randamie, and then falling short against Cris Cyborg as well. See, for as good as Holm really is, her style doesn't translate well in the eyes of the judges and she has lost these contests despite each of them remaining relatively competitive. She'll need to bring her A-game to defeat Megan Anderson this weekend.
Unlike Holly Holm, Megan Anderson indeed needs some kind of introduction to the majority of MMA fans. Not because she isn't talented or worthy of a spot on this pay-per-view main card, but because this is her first fight in the UFC. Previously, Anderson has competed in Invicta FC and she not only won her last four bouts but stood out in doing so. To understand the hype around Anderson, she is just one of the few female fighters in the world that some people believe can defeat Cris Cyborg.
Betting Market and Prediction
Holly Holm's experience inside the UFC's Octagon looks to be an important factor for bookmakers and bettors in this matchup. At the moment, Holm is the betting favorite and be selected at odds of -225 at BetOnline.
We don't recommend chasing Holly Holm to win inside the distance because she largely relies on connecting with her thunderous head kick. If she can't land with that superb strike, it's hard for her to put away an opponent.
Prediction: Holly Holm to win by decision
Bet: Holly Holm to win -225 at BetOnline.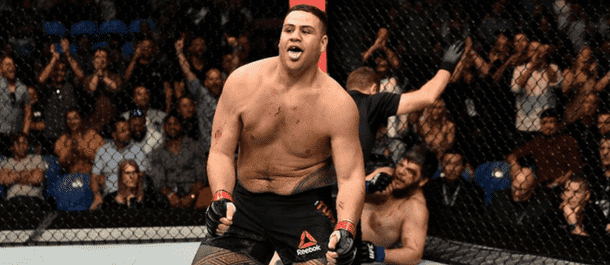 Andrei Arlovski vs. Tai Tuivasa
Saturday, June 9 – 10:30 pm (ET) / 2:30am (GMT)
Two heavyweight martial artists will slug it out when Andrei Arlovski and Tai Tuivasa stand toe-to-toe at UFC 225.
Andrei Arlovski has been around forever, or so it feels. After a disappointing losing streak, it was thought that Arlovski's career was coming to an end. However, he has managed to turn things around now after stringing together two wins. Both wins were impressive; Arlovski defeated the rising Junior Albini over three rounds and broke his losing streak. He then stopped Stefan Struve in his most recent outing. While we might not ever see the Arlovski we know from the past again, he still remains a threat in this division that has many unpredictable outcomes.
Tai Tuivasa is now one of the fastest-rising prospects in the heavyweight division, if not the entire UFC. He's had just two fights in the UFC but has made a mark already. It all started with a dominant win over Rashad Coulter and he backed it up with another KO/TKO against Cyril Asker. If you want to learn an incredible statistic regarding Tuivasa, he has finished all nine of his professional mixed martial arts bouts by way of KO/TKO – all in the first round. Tuivasa is ready to demolish anyone who stands in his tracks.
Betting Market and Prediction
There are a number of ways that we can see this fight playing out. Firstly, Tai Tuivasa could finish Arlovski inside the opening few minutes if he uses his typically aggressive approach. However, if he pays too much respect to the veteran, he might take a while to settle into the fight and it could be a second or third round finish.
An Arlovski decision wouldn't be all that surprising, either, considering his most recent two performances.
At the moment, the best odds for Tai Tuivasa can be found at BetOnline and he is currently -250 to win by any method.
Prediction: Tai Tuivasa to win
Bet: Tai Tuivasa to win -250 at BetOnline.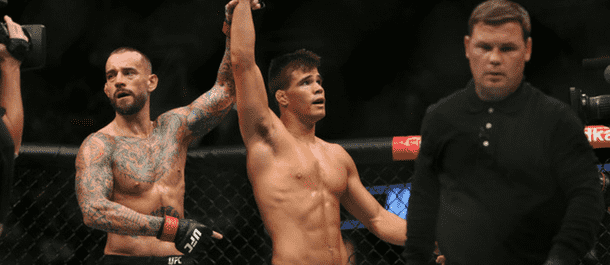 CM Punk vs. Mike Jackson
Saturday, June 9 – 10:00 pm (ET) / 2:00am (GMT)
It's a little crazy that CM Punk vs. Mike Jackson is a featured bout on the pay-per-view of UFC 225 and big-name fighters such as Alistair Overeem miss out, but here we are. Punk and Jackson will fight in the first bout of the main card and the winner will secure their first-ever professional win and move forward from their 0-1 record.
While CM Punk is obviously better known for his feats as a professional wrestler with the WWE, he's now looking to transition into a mixed martial arts career. Well, he has already transitioned and it wasn't particularly successful. Punk made his MMA debut against Mickey Gall and was completely outclassed in the first round. Actually, it was about as embarrassing of a performance we have seen inside the UFC's Octagon. Punk winded up a punch before looping it over the top of Gall's head and was eventually taken down to the mat and submitted in just a few minutes.
Fortunately for Punk, this upcoming matchup at UFC 225 is a winnable one.
Mike Jackson is the man who will be standing across from CM Punk at UFC 225 in Chicago. Jackson, who is a sports journalist with some minor experience in striking competitions, also has just one fight to his name, and his opponent was Mickey Gall, as well. Like Punk, Jackson didn't belong in there with Gall and was stopped in the first round. Unlike Punk, however, Jackson does have some striking talent and should be able to defeat Punk while this one is standing. On the mat, however, it remains to be seen how Jackson will hang in there with Punk (who isn't some kind of highly-skilled grappler, mind you).
Betting Market and Prediction
It's hard to see any situation in which CM Punk can defeat Mike Jackson in this fight. At the same time, it's challenging to determine the method of victory for Jackson. He isn't usually aggressive and instead likes to keep his distance and pump out his jab. He is a great three-round fighter with enough fight intelligence to work a decision against a similarly skilled opponent. CM Punk isn't similarly skilled, though, so he might be able to finish this inside the distance. It's a tough prediction.
Prediction: Mike Jackson to win by decision
Bet: Mike Jackson to win -200 at BetOnline.
Betting Plays
Best Bets:
Holly Holm to win -225 at BetOnline
Tai Tuivasa to win -250 at BetOnline
Mike Jackson to win -200 at BetOnline
Accumulator:
Holly Holm, Tai Tuivasa, and Mike Jackson to win +203 at BetOnline
Holly Holm
Megan Anderson
UFC 225