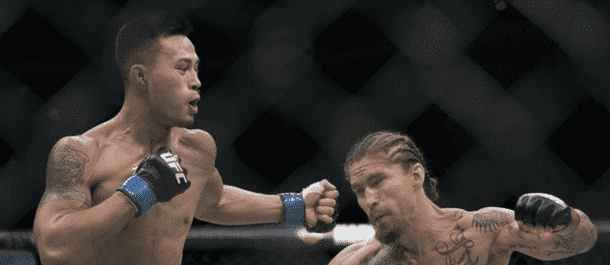 Andre Soukhamthath vs. Sean O'Malley
Las Vegas, Nevada – Saturday, March 3 – 11:00 pm (ET) / 4:00am (GMT)
Believe it or not, this fight is going to be just as exciting as the main and co-main event.
"The Asian Sensation" Andre Soukhamthath will do battle with "Sugar" Sean O'Malley in a battle between two very entertaining fighters.
Andre Soukhamthath entered the UFC in March 2017 and lost two narrow split decisions. However, his fortunes turned when he took a short-notice fight with Luke Sanders at UFC Fight Night 123 and picked up a devastating knockout win in the second round. The victory propelled him into the main card of UFC 222 this weekend as he shut down the formerly 11-1 prospect in Sanders. Now, Soukhamthath looks set to stop another rising martial artist in his tracks.
Sean O'Malley has become somewhat of a pop-culture sensation in mixed martial arts. He turned plenty of heads on Dana White's Contender Series when he knocked out Alfred Khashakyan. The knockout punch, combined with Snoop Dogg's love for O'Malley, led to the creation thousands of new O'Malley fans around the world.
The thing is, though, Soukhamthath has been in this game for a very long time and will provide O'Malley with a significant test on a very large stage.
Betting Market and Prediction
Somewhat surprisingly, Soukhamthath has opened up as the betting favorite at 1.77Bet €100 to win €17777/100Bet £100 to win £177-130Bet $100 to win $1770.77Bet HK$100 to win HK$177-1.30Bet Rp100 to win Rp1770.7700Bet RM100 to win RM177, while O'Malley can be found on most sites for 2.20Bet €100 to win €2206/5Bet £100 to win £220+120Bet $100 to win $2201.20Bet HK$100 to win HK$2201.20Bet Rp100 to win Rp220-0.8333Bet RM100 to win RM220.
It's not surprising because of skills or abilities. Just more so that the bookmakers generally tend to favor the more popular of the two fighters in relatively even matchups. In this one, however, they're giving Soukhamthath the credit that he deserves.
Prediction: Andre Soukhamthath by KO/TKO – Round 2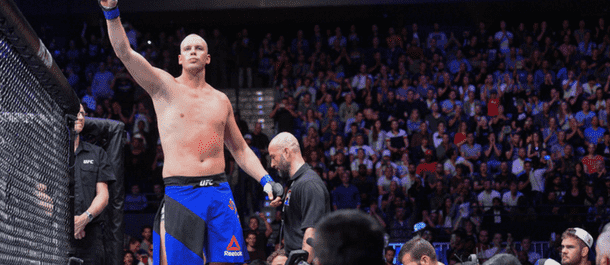 Stefan Struve vs. Andrei Arlovski
Las Vegas, Nevada – Saturday, March 3 – 10:30 pm (ET) / 3:30am (GMT)
Stefan Struve and Andrei Arlovski is a clash of giants at UFC 222.
Stefan Struve was starting to look like he had rejuvenated his career. After nearly a decade of many wins and losses, it appeared as though Struve had finally found the answer of how to make his lanky and lengthy frame work in the UFC. He has looked great on the mat lately, especially against Daniel Omielanczuk, and has started to use his range better. He did, however, fall short against Alexander Volkov in his most recent bout – and that's how he finds himself competing against the declining Andrei Arlovski and not a higher ranked contender.
Andrei Arlovski somehow managed to turn around a five-fight losing streak in his most recent outing. Well, to say somehow is a little rude because Arlovski did manage to completely outclass Junior Albini of the course of three rounds. But in the five fights prior, Arlovski didn't even look like a shadow of himself. We'll now find out whether he won due to Albini's lack of skill and experience, or whether because Arlovski has turned a (small) corner.
Betting Market and Prediction
Stefan Struve is a reasonable favorite at odds of about 1.53Bet €100 to win €15353/100Bet £100 to win £153-189Bet $100 to win $1530.53Bet HK$100 to win HK$153-1.89Bet Rp100 to win Rp1530.5300Bet RM100 to win RM153 in most places. Arlovski isn't getting much love from the bookmakers and is instead a moderate underdog at 2.65Bet €100 to win €26533/20Bet £100 to win £265+165Bet $100 to win $2651.65Bet HK$100 to win HK$2651.65Bet Rp100 to win Rp265-0.6061Bet RM100 to win RM265.
Prediction: Stefan Struve by KO/TKO – round two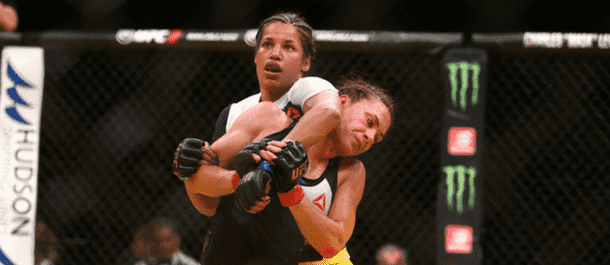 Cat Zingano vs. Ketlen Vieira
Las Vegas, Nevada – Saturday, March 3 – 10:00 pm (ET) / 3:00am (GMT)
One of the real OG's of female mixed martial arts in the UFC will stand toe-to-toe with an undefeated prospect in this main card matchup.
Cat Zingano is up there with some of the weirdest stories in all of female mixed martial arts. Well, it's not quite as wacky as Ronda Rousey being so dominant for so long and then disappearing and giving up on the sport, but still. Zingano managed big wins over Amanda Nunes, Miesha Tate, and Raquel Pennington consecutively before running into Rousey in February 2015. Nunes is a current champion, Tate is a former champion and Raquel Pennington is arguably the top contender in the division right now – not bad. That loss to Rousey hurt Zingano more than we can probably imagine, though.
Ketlen Vieira has won three times since arriving in the UFC but is still probably flying under the radar of most fans. Vieira's best win to date was her last outing in which she submitted Sara McMann at UFC 215. The interesting part about Vieira is that she has entered her most recent two contests as a betting underdog, but has come out on top. Maybe it's time that fans and bookmakers start showing her some respect?
Betting Market and Prediction
Vieira has snapped her streak of being an underdog and will enter this contest as the betting favorite against Cat Zingano. While Vieira can be found at 1.83Bet €100 to win €18383/100Bet £100 to win £183-120Bet $100 to win $1830.83Bet HK$100 to win HK$183-1.20Bet Rp100 to win Rp1830.8300Bet RM100 to win RM183 in some places, Zingano has generous odds of 2.32Bet €100 to win €23233/25Bet £100 to win £232+132Bet $100 to win $2321.32Bet HK$100 to win HK$2321.32Bet Rp100 to win Rp232-0.7576Bet RM100 to win RM232 out there right now for bettors.
Prediction: Cat Zingano by decision
Betting Plays
Andre Soukhamthath vs. Sean O'Malley

Andre Soukhamthath to win: 1.35Bet €100 to win €1357/20Bet £100 to win £135-286Bet $100 to win $1350.35Bet HK$100 to win HK$135-2.86Bet Rp100 to win Rp1350.3500Bet RM100 to win RM135 at Bovada
Stefan Struve vs. Andrei Arlovski
Stefan Struve to win: 1.53Bet €100 to win €15353/100Bet £100 to win £153-189Bet $100 to win $1530.53Bet HK$100 to win HK$153-1.89Bet Rp100 to win Rp1530.5300Bet RM100 to win RM153 at BetOnline
Cat Zingano vs. Ketlen Vieira
Cat Zingano to win: 2.32Bet €100 to win €23233/25Bet £100 to win £232+132Bet $100 to win $2321.32Bet HK$100 to win HK$2321.32Bet Rp100 to win Rp232-0.7576Bet RM100 to win RM232 at BetOnline