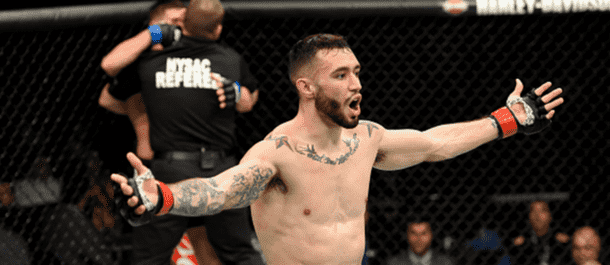 Calvin Kattar vs. Shane Burgos
Calvin Kattar and Shane Burgos are set to clash in an intriguing featherweight battle at UFC 220.
Kattar, who joined the UFC in July last year at UFC 214, won his debut against Andre Fili. Despite entering as an underdog, and a replacement for Fili's original opponent, Kattar controlled all three rounds and won the fight 30-27 across all scorecards.
This time, Kattar will face-off with undefeated Shane Burgos who has won all three of his fights since entering the UFC. Burgos, who has been a significant betting favorite in all of his contests, has defeated Tiago Trator and Godofredo Pepey by unanimous decision and also topped Charles Rosa in a 'Fight of the Night' at UFC 210 via KO/TKO in round three.
Breakdown
What was most impressive about Calvin Kattar's debut in the UFC was his composure. Fili, a usually dangerous striker, was continually backed up by the pressure and confidence of the challenger and Kattar continually caught his kicks and answered back with heavy punches. Sometimes, Kattar's footwork can look a little sloppy, but it proved effective against the 'flashier' feet of Fili. The major concern about Kattar's stand-up game is his ability to defend shots inside the pocket – as he took plenty of big shots from Fili while he was trying to cover up rather than evade.
Shane Burgos fights like an animal. Well, that's not entirely true, but he storms forward with his head outstretched waiting to throw bombs with an opponent. Like Kattar, Burgos isn't particularly good at defending punches in close range and instead likes to bait out strikes to land his own.
Prediction and Betting Guide
While it might seem strange to have this fight so high up on a pay-per-view main card, the two styles match up perfectly for what should be incredible viewing.
One man should go down, and if I'm picking a winner; I'd lead toward Calvin Kattar rocking Burgos as he moves forward.
Prediction: Calvin Kattar by KO/TKO (punches) – Round 2
You can find the best odds for this fight at BetOnline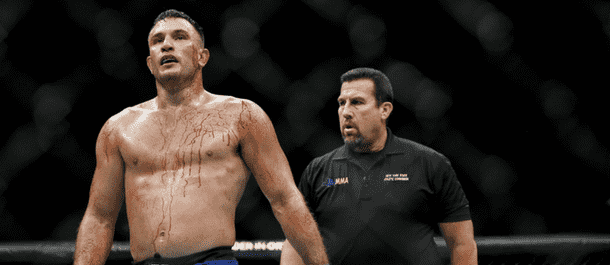 Gian Villante vs. Francimar Barroso
In what seems to be the least anticipated bout on the main card at UFC 220, Gian Villante will compete against Francimar Barroso in a light heavyweight bout.
Villante, who steps in after two consecutive defeats, will be looking to get back on track against a relatively more accommodating opponent in Barroso. Rua finished Villante in the final round at UFC Fight Night 106 in a thrilling fight before Patrick Cummins managed a split decision over Villante in July last year.
The 37-year-old Francimar Barroso has never really got things going in the UFC. Most recently, he's been involved in all kinds of craziness with two defeats, one no contest, and then a win, in his last four fights. In his latest bout with Aleksandar Rakic, Barroso lost a unanimous decision and now looks to redeem himself against another fighter on a losing streak.
Breakdown
Despite losing his last contest, Gian Villante nearly scored the KO/TKO victory in round one against Patrick Cummins. He landed several big punches and had Cummins rocked, but the durable Cummins kept coming forward and eventually won the fight by slowing down the pace of the fight with the threat of grappling. Villante is always dangerous on the feet.
Similar to Villante, Barroso loves throwing hands with maximum power. In fact, he baits his opponent into his devastating right hand in the hope that it lands cleanly. The worry about Barroso is his lack of footwork. While it works, in a way, because his feet are always planted and ready for a big shot, he doesn't have a way to chase someone down and impose his will (John Lineker style).
Prediction and Betting Guide
Barroso's style is certainly powerful, but he finds himself waiting and waiting for his strikes to land. Villante will set the pace and either finish his opponent early or take him the distance. I'll lean this one lasting three rounds.
Prediction: Gian Villante by unanimous decision
You can find the best odds for this fight at BetOnline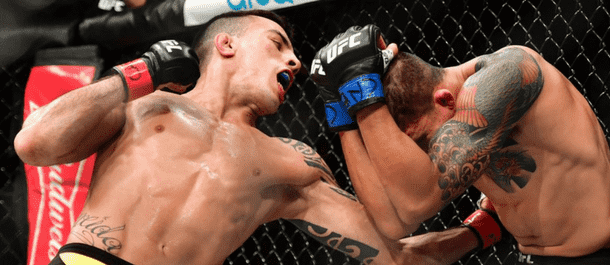 Thomas Almeida vs. Rob Font

Thomas Almeida vs. Rob Font has all the makings of a spectacular fight.
Almeida steps into the cage with a 22-2 professional record, but what is interesting is that his only two defeats have come in his last three fights. Almeida crossed paths with the ever-dangerous Cody Garbrandt and was floored in the first round by the now-former champion. After that, he bounced back with a tough win against Albert Morales before losing to Jimmie Rivera at UFC on FOX 25.
Font also tasted defeat in his last outing. After defeating Matt Schnell with ease and then submitting Douglas Andrade at UFC 213, Font dropped a bout to Pedro Munhoz and lost all momentum. Now, he looks to get back on track against the seriously underrated Thomas Almeida.
Breakdown
Firstly, Almeida's striking is almost top-class in the UFC's bantamweight division and he uses his excellent Muay Thai to control range and influence the scorecards with volume and power. The problem against Jimmie Rivera (but everyone has this problem against Rivera), was that he was too hesitant to engage with the fast hands on offer from his opponent.
Rob Font fights long. It might sound strange, but every aspect of Font's striking utilizes his reach. That's all kinds of strikes too, it's not just his 1-2, but it's also his lunging body hooks from distance. While he strikes with lots of volume and keeps the pressure on, he doesn't overcommit and patiently skips in and out of distance waiting for the right opportunity – this is key against Almeida.
The one aspect of Font's game that stands out vs. Almeida is his forward movement. When he wants to pressure an opponent, he moves forward rapidly and moves his head in a way that can avoid punches almost certainly. However, the risk with relying on head movement is that you can still get caught by kicks – and if you do, it's generally game over. But moving forward will mean that Almeida can't plant his feet and attempt kicks, so it's a back-and-forth experience on that front. Oh, and there's also the nasty guillotine of Rob Font to always look out for, too.
Prediction and Betting Guide
Almeida's going to try and control the pace of this fight, but he's going to have a very hard time controlling Rob Font. Font's consistency will see him win a surprise decision against Almeida at UFC 220.
Prediction: Rob Font by unanimous decision
You can find the best odds for this fight at Bovada
Best Bets
Calvin Kattar vs. Shane Burgos
Calvin Kattar to win
Saturday, January 20 – 11:00 pm (ET) / 4:00am (GMT)
Odds: 2.50Bet €100 to win €2503/2Bet £100 to win £250+150Bet $100 to win $2501.50Bet HK$100 to win HK$2501.50Bet Rp100 to win Rp250-0.6667Bet RM100 to win RM250 – BetOnline
Gian Villante vs. Francimar Barroso
Gian Villante to win
Saturday, January 20 – 10:30 pm (ET) / 3:30am (GMT)
Odds: 1.63Bet €100 to win €16363/100Bet £100 to win £163-159Bet $100 to win $1630.63Bet HK$100 to win HK$163-1.59Bet Rp100 to win Rp1630.6300Bet RM100 to win RM163 – BetOnline
Thomas Almeida vs. Rob Font
Rob Font to win
Saturday, January 20 – 10:00 pm (ET) / 3:00am (GMT)
Odds: 2.05Bet €100 to win €20521/20Bet £100 to win £205+105Bet $100 to win $2051.05Bet HK$100 to win HK$2051.05Bet Rp100 to win Rp205-0.9524Bet RM100 to win RM205 – Bovada