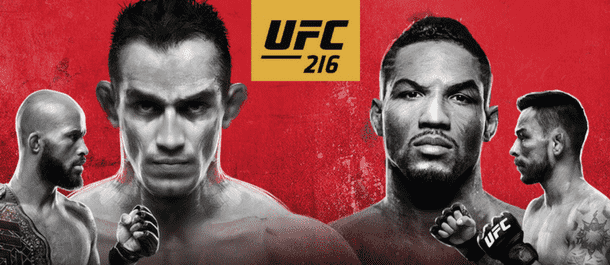 Tony Ferguson vs. Kevin Lee
UFC 216 Main Event – UFC Interim Lightweight Championship
Tony Ferguson vs. Kevin Lee may not be the most anticipated headline fight in recent UFC history, but it's definitely one of the most intriguing and significant matchups of the year.
Ferguson and Lee, after months of trash talking, will finally go head-to-head in order to determine who is the rightful challenger for Conor McGregor and the UFC Lightweight Championship. As we all know, a fight with McGregor wouldn't be your ordinary UFC championship bout. It would be one of the most popular events in mixed martial arts history now that McGregor has reached new levels after his bout with Floyd "Money" Mayweather. McGregor recently announced that he would is interested in "legitimizing" the title and a fight against the winner of Ferguson and Lee does exactly that.
Tony Ferguson
Record: 22-3
Height: 6'0″ (183cm)
Reach: 76.0″ (193cm)
Odds: 1.49Bet €100 to win €14949/100Bet £100 to win £149-204Bet $100 to win $1490.49Bet HK$100 to win HK$149-2.04Bet Rp100 to win Rp1490.4900Bet RM100 to win RM149
Tony Ferguson could very well be the most dangerous lightweight in the UFC.
He's freakishly unorthodox and brings one of the most bizarre fighting styles with him to the UFC's Octagon. He sometimes sticks and moves from range, he'll occasionally plant his feet and trade punches with you or sometimes he'll even lunge in with spinning attacks. Ferguson's opponents can't really plan for him.
Ferguson's time at the top of the division is well overdue. He's undefeated since 2012 and has managed nine consecutive victories against some of the best fighters that the UFC's lightweight division has to offer. To top it all off, Ferguson has been involved in the Fight of the Night for each of his last three performances. A win here could very well see him challenge (and potentially defeat) "The Notorious" and secure the UFC Lightweight Championship.
Kevin Lee
Record: 16-2
Height: 5'9″ (175cm)
Reach: 75.5″ (192cm)
Odds: 2.90Bet €100 to win €29019/10Bet £100 to win £290+190Bet $100 to win $2901.90Bet HK$100 to win HK$2901.90Bet Rp100 to win Rp290-0.5263Bet RM100 to win RM290
Kevin Lee is like a high school bully who slams you on the ground before beating you up.
While Tony Ferguson is complex in his ways, Kevin Lee is about as predictable as it gets. Lee relies on his wrestling to take opponents down to the mat where he lands some damaging ground and pound before transitioning to taking the back and choking them out. It sounds simple and Kevin Lee makes it look just as simple, too.
Kevin Lee might not have 'earned' his opportunity to headline a pay-per-view in the same way that many others before him have. Instead, Lee relied on opportunistic moments such as trash talking Tony Ferguson live on FOX just moments after his rear-naked choke victory against Michael Chiesa. Speaking of the Chiesa fight, that was the moment that anybody who didn't believe in Kevin Lee had to change (or at least consider changing) their opinion about the 25-year-old.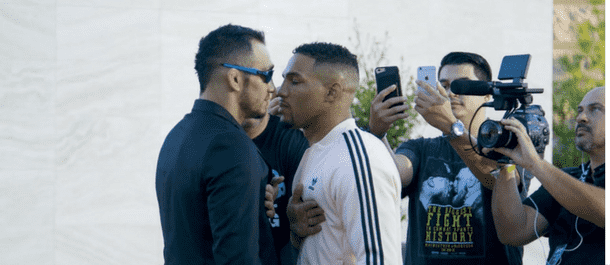 Fight Breakdown
Let's break this fight down into two distinct aspects: the striking battle and the wrestling.
Striking
Tony Ferguson is light years ahead of Kevin Lee in the striking department. Ferguson's strikes are powerful, yet fluid. He flows from one strike to the next and sometimes looks like he is out there taking a dancing class, rather than fighting against incredibly dangerous opponents.
Ferguson's usual advantage is his versatility and surprise attacks. Just when you think you're getting a read on Tony Ferguson, he'll attack you with a shot you didn't see coming. In this matchup with Kevin Lee, though, it's these unusual strikes that could allow Kevin Lee to secure a takedown; we'll get to that in a minute.
If Ferguson moves forward and fights behind his jab and other long-range weapons, he'll cause Kevin Lee all kinds of trouble. In fact, it won't even be close.
Wrestling
Kevin Lee's bread and butter is his traditional wrestling technique.
If Ferguson plants his feet for even a second or manages to miss with a spinning attack, Lee is going to step in and attempt a double leg takedown. This is exactly the moment in which the fight becomes very, very interesting. Ferguson usually doesn't sprawl takedown attempts, and instead, frames against his opponent in an attempt to lock them down with a D'Arch choke after breaking their posture.
Can Ferguson break Lee's excellent posture from years of wrestling, though? If he can't, Lee is going to drive through and lay Ferguson out. From here, Ferguson likes to attempt to roll out of trouble and get back to his feet or turn things around with an unsuspected leg lock attack.
Prediction and Betting Guide
I'm going to go against popular opinion and confidently back Kevin Lee to secure the win in this fight. Tony Ferguson, as spectacular as he is, relies on his unorthodox style a little too much for my liking. Lee's seen this all before, and while he may not overpower Ferguson early, he'll eventually get the takedown he desires and win via rear-naked choke.
Kevin Lee by submission (rear-naked choke) – round two
Best Bet
Tony Ferguson vs. Kevin Lee
Kevin Lee to Win
Saturday, 7th October – 11:50 pm (ET) / 3:50am (GMT)
Odds: 2.90Bet €100 to win €29019/10Bet £100 to win £290+190Bet $100 to win $2901.90Bet HK$100 to win HK$2901.90Bet Rp100 to win Rp290-0.5263Bet RM100 to win RM290 – Marathon
Kevin Lee
Tony Ferguson
UFC 216