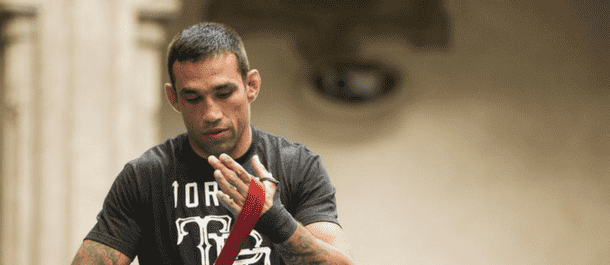 Fabricio Werdum vs. Derrick Lewis

UFC 216 Main Card – Heavyweight Bout
Fabricio Werdum vs. Derrick Lewis is a matchup with major proportions on the UFC's heavyweight division. The UFC has put together this fight, along with another heavyweight bout between Alistair Overeem and Francis Ngannou, in an attempt to clear up who is the worthy challenger of UFC heavyweight champion, Stipe Miocic.
Fabricio Werdum (21-7-1) is one of the best heavyweights to have ever competed in mixed martial arts. Werdum is a talented submission artist, with excellent jiu-jitsu skills, but isn't afraid of standing up and trading with opponents. Werdum enters this fight with Lewis after dropping a majority decision to Alistair Overeem at UFC 213.
The last time we saw Derrick Lewis (18-5) inside the UFC's Octagon, he announced his retirement. After being stopped by Mark Hunt in Auckland, Lewis jumped on the microphone and expressed his disinterest in competing in mixed martial arts.
Well, strangely enough, Lewis has already returned. And somehow, he's managed to jump a spot over Mark Hunt, who defeated him. If you're wondering how that works, don't worry – I'm wondering the same.
Breakdown
Just like all the other fights on this main card, the battle between Fabricio Werdum and Derrick Lewis is incredibly fascinating. Lewis is a humungous heavyweight who carries his size quite well. He waits and waits, before finding the right time to explode with a flurry of punches and put his opponent to sleep. This strategy worked against many of the UFC's roster, but expert striker Mark Hunt made easy work of Lewis by out-striking him patiently.
If Fabricio Werdum thinks he can stand and bang with the monster that is Derrick Lewis, he's so very wrong. Werdum often leaves his chin exposed and even the slightest of touches from Lewis is enough to put a fighter unconscious.
Instead, Werdum's going to need to employ the same patience that Mark Hunt displayed and take Lewis deep into the fight where he starts to fatigue. Alternatively, if Werdum gets Hunt down to the mat, it could very well spell trouble for the heavyweight. But then again, Lewis has never been submitted so it's an interesting aspect of the fight to think about.
Prediction and Betting Guide
Fabricio Werdum enters the fight at UFC 216 as the betting favorite and that's well deserved. Werdum's extensive skill set and a long history of success in the sport will see most bettors flock to him against the relatively untested Derrick Lewis.
However, as much as there's a considerable skill difference between the two, this matchup isn't the best for Werdum. I'm expecting Derrick Lewis to find a home for his powerful hands and put Werdum away. It'd be surprising, but I'm willing to back it.
Prediction: Derrick Lewis to win by KO/TKO – round one
You can find the best odds for a Derrick Lewis victory at Marathon
Kalindra Faria vs. Mara Romello Borella
UFC 216 Main Card – Women's Flyweight Bout
Well, the UFC eventually decided to pack another fight into the main card but it definitely wasn't the fight that the fans wanted. It is exciting, though, not because of the two fighters but because it's the debut of the women's flyweight division in the UFC.
Mara Romello Borella is replacing Andrea Lee, who had to withdraw from UFC 216 after some complexities with USADA's drug testing.
Both Kalinda Faria and Mara Romello Borella are battle tested. Faria enters this fight on a three-fight win streak after impressive performances in Brazil and at Titan FC 41. Before that, she had lost fights to Karolina Kowalkiewicz and Jessica Aguilar. The Kowalkiewicz fight was a split decision, and the two would end up winning Fight of the Night at KSW 30 in Poland.
Borella has been fighting all over Europe before recently moving to Invicta. She has won each of her last five bouts, with three decisions and two submissions. Both of Borella's decision victories have been split decision victories, and her upset victory over Milana Dudieva at Invicta FC 24 has been her most impressive performance of late.
Breakdown
Kalindra Faria is a straight-up killer. She's fast, powerful, and fairly well-rounded. She mixes up effective striking techniques with a range of trips and takedowns when required too. On the mat, Faria can lay the smackdown with heavy ground and pound from the top position.
Borella is an uber-technical striker who doesn't stray far from her gameplan. She'll slow the pace down when she wants to by patiently waiting to counter the strikes of her opponent, and when required she'll step up the pace as well with takedowns and ground and pound.
Prediction and Betting Guide
Both of these fighters are talented and are capable of putting on a war for the fans. However, Faria is probably too powerful and fast for Borella in this matchup.
Odds aren't released yet, so we will wait for release before deciding on our best bet.
Prediction: Kalindra Faria by KO/TKO – round three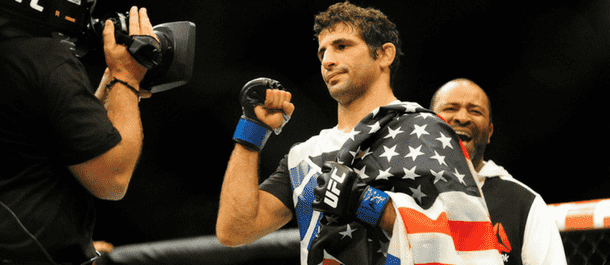 Beneil Dariush vs. Evan Dunham

UFC 216 Main Card – Lightweight Bout
Beneil Dariush vs. Evan Dunham is a battle between two guys who are continually striving to get into the UFC's top ten and stay there. It's no easy task, however, as the division is jam-packed with talent.
It's also not an easy task if you can't put together long streaks of wins, as is the case of Beneil Dariush. Dariush has always been that guy who looks to be capable of competing with the middle to high range of competitors in the division. Actually, he's even capable of doing so. We saw it against Edson Barboza in that first round. Dariush was beating Barboza before fatigue kicked in and he copped a giant Barboza knee to the face.
Evan Dunham, on the other hand, isn't the new kid on the block. He's been around the UFC since 2009 and has only just started to look like a real threat in the division. Dunham is on a four-fight win streak and is a big chance to keep that going against Dariush at UFC 216.
Breakdown
Evan Dunham's 'rejuvenation' can be attributed to a number of things, but most importantly is that his striking has improved dramatically. He fights from distance and uses long-range weapons to keep his opponent busy. Dunham might not be capable of ending someone's night early, but he does have enough smarts about him to outstrike someone for three rounds.
Beneil Dariush is the type of guy that does a bit of everything, but nothing extremely well. He can pump his jab when required and he can defend takedowns when required too. The problem for Dariush, though, is that when an opponent does something better than him, they make the most of it. In this fight, that's the long-range boxing of Evan Dunham.
Prediction and Betting Guide
Dariush may be able to keep up with Dunham early, but as the fight progresses it will be Dunham who is inflicting more and more damage on his opponent. Dariush does have a couple of ways to win this one and the bookmakers are reflecting his popularity, as well. But, we'll back the underdog with confidence.
Prediction: Evan Dunham by unanimous decision
You can find the best odds for an Evan Dunham victory at Betway
Best Bets
Fabricio Werdum vs. Derrick Lewis
A to Win
Saturday, 7th October – 11:00 pm (ET) / 3:00am (GMT)
Odds: 3.06Bet €100 to win €306103/50Bet £100 to win £306+206Bet $100 to win $3062.06Bet HK$100 to win HK$3062.06Bet Rp100 to win Rp306-0.4854Bet RM100 to win RM306 – Marathon
Kalindra Faria vs. Mara Romello Borella
Odds not released
Saturday, 7th October – 10:30 pm (ET) / 2:30am (GMT)
Beneil Dariush vs. Evan Dunham
Evan Dunham to Win
Saturday, 7th October – 10:00 pm (ET) / 2:00am (GMT)
Odds: 3.10Bet €100 to win €31021/10Bet £100 to win £310+210Bet $100 to win $3102.10Bet HK$100 to win HK$3102.10Bet Rp100 to win Rp310-0.4762Bet RM100 to win RM310 – Betway
Derrick Lewis
Fabricio Werdum
UFC 216