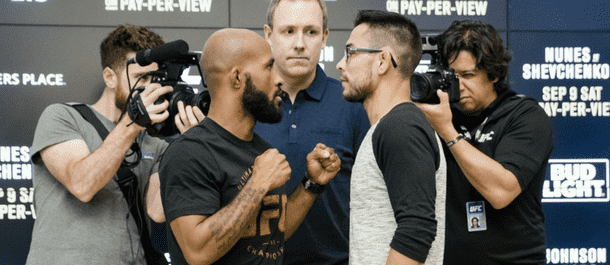 Demetrious Johnson vs. Ray Borg
UFC 216 Co-Main Event – UFC Flyweight Championship
And it's happening again.
The scheduled UFC 215 main event bout between Demetrious Johnson and Ray Borg never eventuated. Ray Borg was suffering from illness in the days leading up to the event and was ruled unable to compete by the UFC's doctors.
Fortunately for Johnson and Borg, the UFC was able to slot them straight into the next pay-per-view and they find themselves in the co-main event of UFC 216 in Las Vegas.
Demetrious Johnson
Record: 22-3
Height: 6'0″ (183cm)
Reach: 76.0″ (193cm)
Odds: 1.10Bet €100 to win €1101/10Bet £100 to win £110-1000Bet $100 to win $1100.10Bet HK$100 to win HK$110-10.00Bet Rp100 to win Rp1100.1000Bet RM100 to win RM110
The story leading into this fight is Demetrious Johnson's attempt to shatter Anderson Silva's record for most consecutive title defenses. Johnson tied Silva's record with a win over Wilson Reis earlier this year. By defeating Borg, "Mighty Mouse" will likely enter history books forever.
If you're unfamiliar with Demetrious Johnson, listen up. Johnson is mostly agreed upon as the best pound-for-fighter and the best mixed martial artist in the world today. Yes, that's across all divisions and organizations and he's completely deserving of those accolades. Johnson has defended his title ten times since capturing the UFC Flyweight Championship five years ago.
Ray Borg
Record: 16-2
Height: 5'9″ (175cm)
Reach: 75.5″ (192cm)
Odds: 9.67Bet €100 to win €967867/100Bet £100 to win £967+867Bet $100 to win $9678.67Bet HK$100 to win HK$9678.67Bet Rp100 to win Rp967-0.1153Bet RM100 to win RM967
Ray Borg is the man tasked with trying to stop Demetrious Johnson from breaking the record for most consecutive title defenses. Beating Johnson is already difficult enough. The added motivation will surely make it even more of a challenge for the 24-year-old "Tazmexican Devil".
Borg enters this fight after two consecutive wins against tough flyweight opponents in Jussier Formiga and Louis Smolka. Formiga and Smolka are definitely a tier under the likes of Cejudo and Benavidez, though. Ray Borg might not be ready for the task of taking on the flyweight champion, but Demetrious Johnson has cleared out the entire division and there's no one really left to step up and challenge him. I guess that's a problem of being the champion for five years straight.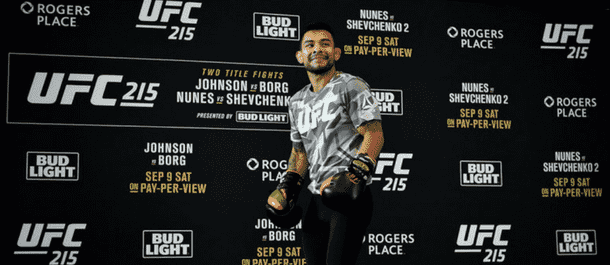 Fight Breakdown
There aren't a whole lot of ways to beat Demetrious Johnson. Actually, watching him now, there is seemingly none at all.
No matter the likelihood, though, there's always a chance in combat sports. I'm not going to sell you the "puncher's chance" idea that was thrown around in the build-up to Conor McGregor vs. Floyd Mayweather, but instead, I will look for the biggest opportunity for Ray Borg in this fight.
Scramble
Scramble, scramble, scramble. Ray Borg is a phenomenal scrambler; one of the best in the UFC. His athleticism, explosiveness, and timing mean that he is able to escape nearly every position when required. We saw it against Jussier Formiga when Ray Borg somehow escaped Formiga's usually extremely constrictive control from the back. We also saw it against Louis Smolka when Borg was the first one to every meaningful position, on the basis of speed and power alone. While Demetrious Johnson easily pinned Wilson Reis to the mat in his last fight and controlled Tim Elliott before that, who knows if he can do the same to Ray Borg?
If Ray Borg can beat Demetrious Johnson to a position, much like Tim Elliott managed to do in the first round, there's a chance. It might be small, but it's still a chance.
What should we expect?
While I've talked up Borg's chances, we should only be expecting Demetrious Johnson to win. Rather than spending time predicting a winner, the real difficulty in this fight lies within trying to determine just how Demetrious Johnson can win.
Johnson and Borg are notoriously patient fighters. They want to find the right opportunities and they won't press their opponent unless required. When the opportunity is there, however, they go berserk. Johnson turned up the tempo in the third round against Wilson Reis and was able to pick and choose how he would win the fight essentially. When Borg managed to get top control of Jussier Formiga, he turned up the heat and started raining down heavy elbows that would end up winning him the fight.
Prediction and Betting Guide
I'm not going to be 'that guy' who picks against Demetrious Johnson to be controversial. It doesn't make sense to do so. But, this fight is much closer than the bookmakers have it as. While that's not because Borg has a good chance at surprising Demetrious Johnson (he doesn't), it's more because the bookmakers have this one so wide.
Even at these odds, I can't back Ray Borg. Instead, the best bet of this fight is predicting a finish. I'm confident that Demetrious Johnson will break the record in tremendous fashion and stamp himself as the greatest fighter alive today. If he doesn't, and Ray Borg somehow manages to stop Demetrious Johnson, we've got cover.
Prediction: Demetrious Johnson by KO/TKO – round one
Best Bet
Demetrious Johnson vs. Ray Borg
Total Rounds – Under 4.5
Saturday, 7th October – 11:30 pm (ET) / 3:30am (GMT)
Odds: 1.80Bet €100 to win €1804/5Bet £100 to win £180-125Bet $100 to win $1800.80Bet HK$100 to win HK$180-1.25Bet Rp100 to win Rp1800.8000Bet RM100 to win RM180 – Betway
Demetrious Johnson
Ray Borg
UFC 216