Sara McMann vs Ketlen Vieira

UFC 215 Prelims – Women's Bantamweight Bout
There's a fair chance that Sara McMann and Ketlen Vieira meet in the middle of the octagon and throw down against each other at UFC 215.
Ketlen Vieira (8-0) is an undefeated prospect out of Brazil that will be looking to shine in the bright lights of UFC 215 along with fellow Brazilian star Amanda Nunes come this weekend. While Vieira is still relatively unknown, she has managed two-straight victories in the UFC with a unanimous decision victory against Ashlee Evans-Smith and a split decision win over Kelly Faszholz.
Sara McMann (11-3) is still going strong. After a difficult 2015 campaign that saw her lose to both Amanda Nunes and Miesha Tate, McMann has since put together three-straight victories inside the octagon. Most recently, she's won her last two fights via way of submission. A win here could put her right in the mix, again, for a future shot at the UFC women's bantamweight championship.
Breakdown
McMann has heavy hands and technical boxing ability to go along with her wrestling pedigree. Vieira enters this fight with a different assortment of grappling skills to her opponent, with a background in judo and Brazilian jiu-jitsu. Despite the grappling talents of each of these ladies, they love to brawl.
Vieira walks forward and throws heavy hands at her opponent, while McMann is also edging towards the scrappy throw-down kind of fighting lately, as well.
Prediction and Betting Strategy
McMann should be too good for Vieira, and I can see her finding a way to finish her opponent before time is up. However, the value isn't there on McMann in this matchup and instead, the best bet will be to take the excellent odds that one of these ladies finds a stoppage victory before time is up.
Sara McMann by KO/TKO – Round Three
You can find the best odds for Total Rounds – Under 2.5 at Bet365
Henry Cejudo vs Wilson Reis

UFC 215 Prelims – Flyweight Bout
I'm hugely surprised that this battle is buried in the prelims of UFC 215 and isn't featured on the main card of the pay-per-view. However, then I remember that the UFC does very little to promote their flyweight talent and despite this being a potentially very entertaining battle, it will miss out on the spotlight that the main card draws.
Henry Cejudo (10-2) will be looking to get another crack at UFC flyweight champion Demetrious Johnson (if he wins this weekend), after scoring a win against Wilson Reis this weekend. Cejudo is a former gold-medal Olympic wrestler who has started to develop an incredible mixed martial arts game lately.
Wilson Reis (22-7) had earned his shot at Demetrious Johnson and fell short against the reigning champion after being submitted by an armbar in round three. Reis has impressive jiu-jitsu skills and will be hoping that Cejudo falls into one of his many traps this weekend.
Breakdown
Henry Cejudo is becoming a complete fighter, much like Demetrious Johnson. I'm one of those who believes that Henry Cejudo did more than Joseph Benavidez when they fought nine months ago and deserved the victory over the fellow flyweight contender.
I'm expecting Henry Cejudo to outstrike Wilson Reis consistently before Reis looks for a way to shake things up and get this one to the mat. Cejudo can either stuff the takedowns of Reis and keep this one standing, or opt to throw Reis down himself and start out-wrestling the jiu-jitsu expert.
Prediction and Betting Strategy
Cejudo looked vastly improved last fight after losing to Johnson, and now I can only imagine that his time he looks even better after losing to Benavidez. Cejudo enters this one as a heavy favorite, and much like the McMann fight, the better value is backing there to be a stoppage in this battle.
Henry Cejudo by KO/TKO – Round Two
You can find the best odds for Total Rounds – Under 2.5 victory at Marathon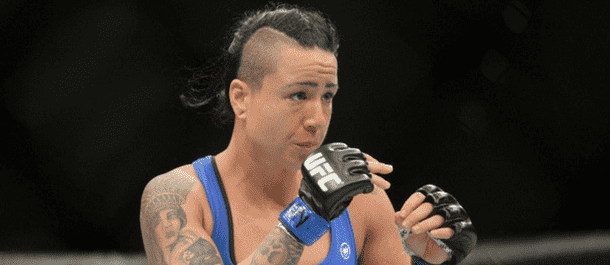 Sarah Moras vs Ashlee Evans-Smith

UFC 215 Prelims – Women's Bantamweight Bout
It's been over two years since Sarah Moras (4-2) competed in mixed martial arts. Moras returns to the cage against the extremely tough competitor in Ashlee Evans-Smith (5-2). It's tough to see whether Moras has been active or not, but the one thing that I have found is that she asked the public to help fund her latest camp.
Ashlee Evans-Smith looked to be gaining some momentum in the UFC after picking up impressive victories against Marion Reneau and Veronica Macedo consecutively. However, she was then to fall short in a contest against Ketlen Vieira at UFC on FOX 24.
Breakdown
It's always difficult to break down a fight in which one of the athletes hasn't competed in such a long time.
Ashlee Evans-Smith was lit up by Vieira's striking in the pocket in her last contest. The problem here was that Evans-Smith decided to cover up from the incoming attacks, rather than use her footwork to create space for her strikes. She'll learn from this mistake and mix it up much smarter with Sarah Moras this time around. Despite Moras' effective jiu-jitsu from her back, Evans-Smith won't find her in this position and evade engaging with her opponent on the ground.
Prediction and Betting Strategy
Ashlee Evans-Smith should be able to outwork Sarah Moras who has seemingly questionable motives in her return fight to the UFC.
Ashlee Evans-Smith to win by Unanimous Decision
You can find the best odds for an Ashlee Evans-Smith win at Bet365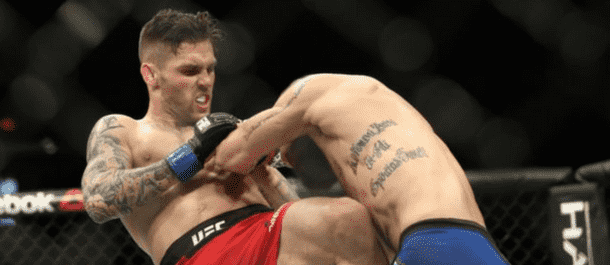 Gavin Tucker vs Rick Glenn

UFC 215 Prelims – Featherweight Bout
Gavin Tucker (10-0) is a must-watch prospect. He entered the UFC as an undefeated 9-0 prospect with eight-straight stoppage victories. While his streak of finishing fights came to an end against Sam Sicilia, he did stand out as a truly talented fighter with an uncapped ceiling.
Rick Glenn (19-4-1) entered the UFC in September 2016 but managed to fall short against Evan Dunham in a fight that was awarded 'Fight of the Night' at UFC Fight Night 94. Glenn then went on to win a split decision against Phillipe Nover at UFC 208
Breakdown
Gavin Tucker's striking is world-class, and he continues to further sharpen his tools by training intensively in Thailand. His footwork is excellent, and he uses his fast feet to close the distance when striking and evade his opponents attacks by moving laterally with speed. Sam Sicilia had a terribly long night trying to track down Tucker's position, and Rick Glenn will be in a similar story.
Glenn has some nice single-shot striking, but he finds himself flinching too often when an opponent moves forward. Tucker doesn't just move forward, he moves forward with explosive speed and an array of different strikes.
Prediction and Betting Strategy
I'm calling it early, but Gavin Tucker has the potential to be a UFC champion one day. He'll be too good for Rick Glenn this weekend at UFC 215 and get back to his finishing ways. There are no 'Method of Victory' odds available at the moment, so again, the best bet is taking the stoppage in this one.
Gavin Tucker by KO/TKO – Round One
You can find the best odds for Total Rounds – Under 2.5 at Bet365
Best Bets
Sara McMann vs Ketlen Vieira
Total Rounds – Under 2.5
Saturday 2nd September – 9:30 pm (ET) / 01:30am GMT
Odds: 3.00Bet €100 to win €3002/1Bet £100 to win £300+200Bet $100 to win $3002.00Bet HK$100 to win HK$3002.00Bet Rp100 to win Rp300-0.5000Bet RM100 to win RM300 – Bet365
Henry Cejudo vs Wilson Reis
Total Rounds – Under 2.5
Saturday 2nd September – 9:00 pm (ET) / 01:00am GMT
Odds: 3.20Bet €100 to win €32011/5Bet £100 to win £320+220Bet $100 to win $3202.20Bet HK$100 to win HK$3202.20Bet Rp100 to win Rp320-0.4545Bet RM100 to win RM320 – Marathon
Sarah Moras vs Ashlee Evans-Smith
Ashlee Evans-Smith to win
Saturday 2nd September – 8:30 pm (ET) / 12:30am GMT
Odds: 1.44Bet €100 to win €14411/25Bet £100 to win £144-227Bet $100 to win $1440.44Bet HK$100 to win HK$144-2.27Bet Rp100 to win Rp1440.4400Bet RM100 to win RM144 – Bet365
Gavin Tucker vs Rick Glenn
Total Rounds – Under 2.5
Saturday 2nd September – 8:00 pm (ET) / 12:00am GMT
Odds: 2.75Bet €100 to win €2757/4Bet £100 to win £275+175Bet $100 to win $2751.75Bet HK$100 to win HK$2751.75Bet Rp100 to win Rp275-0.5714Bet RM100 to win RM275 – Bet365