Neil Magny vs Rafael Dos Anjos
UFC 215 Main Card – Welterweight Bout
After losing his UFC lightweight championship to Eddie Alvarez at UFC Fight Night 90 and suffering a defeat at the hands of Tony Ferguson at UFC Fight Night 98, Rafael Dos Anjos (26-9) decided it was best that he moved up to the welterweight division. So far, it seems to be an excellent move. Dos Anjos looked brilliant in his welterweight debut against Tarec Saffiedine back at UFC Fight Night 111 in Singapore on his way to a dominant unanimous decision. Dos Anjos will be hoping to climb through the UFC's welterweight division and make his way to the top and reclaim UFC gold.
Neil Magny was one of the welterweight divisions greatest contenders up until losing to Lorenz Larkin at UFC 202. Magny had scored a remarkable comeback victory against Hector Lombard in the fight prior and had also managed impressive wins against the likes of Kelvin Gastelum and Eric Silva. Now, Magny bounced back after his loss to Larkin and scored a unanimous decision victory against Johny Hendricks at UFC 207.
Breakdown
Neil Magny is one of the slowest starters in the UFC. He takes a little while to find his range and settle into a fight, but he becomes a dangerous and rangy striker as soon as he feels comfortable. Against Hector Lombard, Magny's slow start nearly cost him greatly after he was absolutely wrecked by a menacing Lombard. But, Magny's cardio, endurance, and composure helped him see it through to round two in which he managed to somehow win the fight.
In complete contrast to Neil Magny, Rafael Dos Anjos comes out firing from the very start. Against Donald Cerrone in 2015, "RDA" showed us his unbelievable capabilities when he defended his title in just 1:06 against Donald Cerrone. Dos Anjos never allowed Cerrone to settle into the fight and get comfortable.
Prediction and Betting Strategy
I believe that Rafael Dos Anjos looks much healthier, happier and more dangerous in his new home at welterweight. He never allowed Donald Cerrone into a fight that was almost two years ago, and we'll see a very similar performance from Dos Anjos this time around at UFC 215 as he looks to shut down Neil Magny before the wheels start turning. There isn't a whole lot of value in the 'Method of Victory' markets, so I recommend backing our prediction entirely in the 'Round Betting' markets.
Prediction: Rafael Dos Anjos by KO/TKO – Round One
You can find the best odds for Rafael Dos Anjos to win in Round One at Bet365
Ilir Latifi vs Tyson Pedro

UFC 215 Main Card – Light Heavyweight Bout
Tyson Pedro (6-0) hasn't been inside a cage for longer than 4:10 in any of his six fights as a professional mixed martial artist. Strangely, each of his stoppage wins have come at a later time than ever before and the trend has continued since arriving in the UFC with a 4:07 submission victory over Khalil Rountree in Australia and a 4:10 KO/TKO victory against Paul Craig. Pedro seems to be the real deal and a victory over heavy-hitting Ilir Latifi could boost him right up there in the rankings.
Ilir Latifi (12-5) hasn't competed since we saw Ryan Bader nearly snap his head off with a perfectly-timed flying knee in September last year. Before losing to Bader, the 34-year-old Swede was running on a three-fight win streak with KO/TKO victories against Sean O'Connell and Hans Stringer.
Breakdown
Pedro switches stances often and uses the infamous oblique kick to measure distance and frustrate his opponent when they are battling on the feet. He's been troubled in both of his fights in the UFC but seems to intelligently find a way to come back and re-establish himself in the fight. Pedro uses crushing pressure against the cage before unloading devastating knees and elbows onto his opponent.
Pedro has had the most success in his last two fights in clinch exchanges and it will be interesting to see whether he can have this same dominance in the grappling exchanges as he has previously against the excellent wrestling of Ilir Latifi.
Prediction and Betting Strategy
I'm expecting Ilir Latifi to look like the much stronger and dominant fighter through the first round. Latifi is going to need to finish Pedro in this first round because the longer the fight lasts, I can see Pedro beginning to outscore him. Latifi's takedown defense is excellent and Pedro may struggle to out-muscle him early in the fight.
Despite this, I can see Pedro out working a fatiguing Ilir Latifi in round two before finding a way to finish the fight.
Tyson Pedro is the underdog and I'll happily be taking those odds against Ilir Latifi at UFC 215.
Prediction: Tyson Pedro by KO/TKO – Round Two
You can find the best odds for Tyson Pedro at SkyBet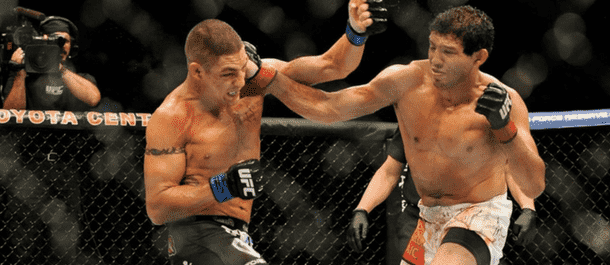 Jeremy Stephens vs Gilbert Melendez

UFC 215 Main Card – Featherweight Bout
Gilbert Melendez will be entering the octagon for the first time as a featherweight this weekend at UFC 215. Melendez will jump straight into the mix of talented featherweights when he takes on top 10 ranked Jeremy Stephens.
Jeremy Stephens throws bombs, but he hasn't been able to find a home for his devastating punches recently and has let his last two appearances in the octagon slip. Stephens is now 2-5 in his last seven fights and 1-3 in his last four, indicating that this is must-win territory for a featherweight who was previously very dominant.
Gilbert Melendez, a former Strikeforce lightweight champion, really hasn't put it all together in the UFC and is 1-4 in the promotion since joining in 2013. Regardless, he's remembered for a spectacular fight with Diego Sanchez back at 166 and there's every chance that we'll see something of similarity when he meets Stephens this weekend.
Breakdown
Melendez's striking hasn't translated well to the UFC so far. There was never much to translate, actually, but he is in desperate need of a way to shake up his game and become less predictable to his opponents. Entering this one, Stephens will know that Melendez is going to try and outwork him with an enduring volume of strikes, takedown attempts, and a completely exhausting gameplan.
Stephens needs to land a bomb on Melendez. It's certainly possible, but Melendez is relatively safe and has never been finished by KO/TKO. He has an excellent chin and can take the best shots an opponent can offer.
Prediction and Betting Strategy
If Melendez can survive some of Stephen's best shots in his drop down to the featherweight division, he'll certainly find a way to outscore him on the judge's scorecards in rounds two and three once he gets going. This fight is incredibly significant to each of these veterans and I'm expecting a desperate approach from both of them. The value here lies with a Gilbert Melendez 'Method of Victory' bet.
Prediction: Gilbert Melendez by Unanimous Decision
You can find the best odds for a Gilbert Melendez Unanimous Decision victory at SkyBet
Best Bets
Neil Magny vs Rafael Dos Anjos
Rafael Dos Anjos to win in Round One
Saturday 9th September – 11:00 pm (ET) / 3:00am GMT
Odds: 6.00Bet €100 to win €6005/1Bet £100 to win £600+500Bet $100 to win $6005.00Bet HK$100 to win HK$6005.00Bet Rp100 to win Rp600-0.2000Bet RM100 to win RM600 – Bet365
Ilir Latifi vs Tyson Pedro
Tyson Pedro to Win
Saturday 9th September – 10:30 pm (ET) / 2:30am GMT
Odds: 2.10Bet €100 to win €21011/10Bet £100 to win £210+110Bet $100 to win $2101.10Bet HK$100 to win HK$2101.10Bet Rp100 to win Rp210-0.9091Bet RM100 to win RM210 – SkyBet
Jeremy Stephens vs Gilbert Melendez
Gilbert Melendez to win by Unanimous Decision
Saturday 9th September – 10:00 pm (ET) / 2:00am GMT
Odds: 2.88Bet €100 to win €28847/25Bet £100 to win £288+188Bet $100 to win $2881.88Bet HK$100 to win HK$2881.88Bet Rp100 to win Rp288-0.5319Bet RM100 to win RM288 – SkyBet