Mitch Clarke vs Alex White

UFC 215 Prelims – Lightweight Bout
Mitch Clarke (11-4) has battled through his entire career. Since arriving in the UFC as an undefeated 9-0 prospect, the Canadian has gone 2-4 inside the organization. His most recent loss was a 25-second submission defeat to Joe Duffy at UFC Fight Night 90. While Clarke went crashing down to the mat after a Joe Duffy right hand, Clarke has since claimed that his knee made a "crunch and pop" and gave out on him.
Much like Mitch Clarke, Alex White (11-3) enters this weekend with a losing record in the UFC so far. White has two wins to his name, against Artem Lobov and Estevan Payan the latter scoring him a Performance of the Night bonus.
Breakdown
Mitch Clarke has been training out at Jackson-Wink and further developing his game. It's been over two years since we've seen a full performance from Mitch Clarke when he lost a decision to Michael Chiesa. He should have improved significantly from his previous time in the cage and we'll see a better version of Mitch Clarke this weekend if all goes to plan.
White is a gritty fighter who comes forward at his opponents relentlessly. Unfortunately, against Tony Martin, White was pushed backward for fifteen minutes.
This one could end up similarly. Mitch Clarke has the potential and now the improve wrestling from Jackson-Wink camp to out-wrestle and overpower his opponent this weekend.
Prediction and Betting Strategy
Mitch Clarke will finally get going and show his improved game by overwhelming Alex White. While there's a chance that Clarke can find a stoppage against his opponent this weekend, it's more likely that his pressure scores him a decision victory at the end of it all.
Prediction: Mitch Clarke by Unanimous Decision
You can find the best odds for a Mitch Clarke win at Marathon
Luis Henrique vs Arjan Singh Bhullar

UFC 215 Prelims – Heavyweight Bout
Arjan Singh Bhullar (6-0) has already shaken up the UFC before he steps inside the octagon at UFC 215. Bhullar is the first-ever Indian origin fighter to sign with the UFC, marking a monumental occasion for the country. Bhullar also represented Canada at the 2012 Olympic games in freestyle wrestling and will enter this fight with Luis Henrique with a wave of momentum after starting his career undefeated after six wins.
Luis Henrique (10-3) is 2-2 in the UFC since joining in 2015. His two losses, however, have come against top quality talent in the heavyweight division in Francis Ngannou and Marcin Tybura. Henrique will be looking to shut down Bhullar's debut and put an end to the hype.
Breakdown
Arjan Bhullar has been training with the team at American Kickboxing Academy (AKA) to get ready for this fight with Luis Henrique. AKA has plenty of top-tier talent, and Bhullar will be extremely prepared for Luis Henrique.
It's no secret that Luis Henrique wants the takedown; that's his entire game plan. If he can't get the takedown, what then? Arjan Bhullar isn't going to take the division by storm or become a top-10 contender overnight, but he's got a wrestling background that will make it difficult for Henrique to work his game.
Prediction and Betting Strategy
Luis Henrique will try and try to get the takedown but may struggle to succeed against Arjan Bhullar's Olympic-calibre wrestling. He'll fatigue and run out of options by round two and by then, Arjan Bhullar should be able to overrun his opponent.
Prediction: Arjan Bhullar by Unanimous Decision
You can find the best odds for an Arjan Bhullar victory at Bet365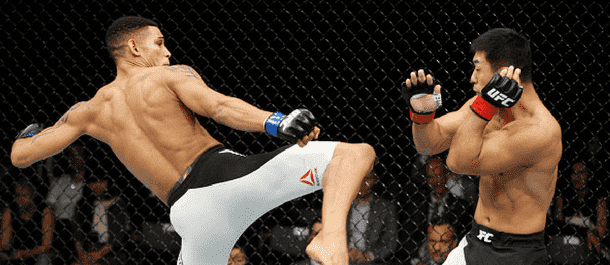 Kajan Johnson vs Adriano Martins

UFC 215 Prelims – Lightweight Bout

"Ragin" Kajan Johnson (21-12-1) hasn't competed in nearly two years. After joining the UFC in 2014, he had three fights in just under 15 months and managed to win the most recent two against Naoyuki Kotani and Lipeng Zhang.
Adriano Martins (28-8) started his time in the UFC with a 4-1 record with a single loss to Donald Cerrone at UFC on FOX 10. After that, though, Martins lost to Leonardo Santos at UFC 204 by split decision and now will need to regain momentum.
Breakdown
Kajan Johnson is a somewhat wild fighter with quick and effective movement and an unsuspecting range of strikes in his arsenal. Adriano Martins is almost the complete opposite. Martins treads forward carefully and plants his feet, not presenting any real difficult for his opponents to target him.
Despite Kajan Johnson potentially looking more frenetic inside the octagon, he'll need to be efficient and effective to score in the eyes of the judges as Martins does and can control rounds despite being what seems to be the less active fighter.
Prediction and Betting Strategy
Kajan Johnson will set a good pace and outscore Martins over three rounds. I believe Martins will have the bigger moments in the fight, but Johnson will control longer periods of time.
Prediction: Kajan Johnson by Split Decision
Best Bets
Mitch Clarke vs Alex White
Mitch Clarke to Win
Saturday 9th September – 7:30 pm (ET) / 11:30pm GMT
Odds: 2.56Bet €100 to win €25639/25Bet £100 to win £256+156Bet $100 to win $2561.56Bet HK$100 to win HK$2561.56Bet Rp100 to win Rp256-0.6410Bet RM100 to win RM256
Luis Henrique vs Arjan Singh Bhullar
Arjan Singh Bhullar to Win
Saturday 9th September – 7:00 pm (ET) / 11:00pm GMT
Odds: 1.57Bet €100 to win €15757/100Bet £100 to win £157-175Bet $100 to win $1570.57Bet HK$100 to win HK$157-1.75Bet Rp100 to win Rp1570.5700Bet RM100 to win RM157
Kajan Johnson v Adriano Martins
Kajan Johnson to Win
Saturday 9th September – 6:30 pm (ET) / 10:30pm GMT
Odds: 4.35Bet €100 to win €43567/20Bet £100 to win £435+335Bet $100 to win $4353.35Bet HK$100 to win HK$4353.35Bet Rp100 to win Rp435-0.2985Bet RM100 to win RM435