UFC 214 Co-Main Event – Tyron Woodley vs. Demian Maia

UFC Welterweight Championship
Despite Demian Maia being the clear top contender in the division, he enters this fight with Tyron Woodley as the betting underdog. In fact, this is the first time that Woodley has entered a bout as the betting favourite since he fought a split decision with Kelvin Gastelum in January 2015. The reason? Many believe that Tyron Woodley is a nightmare matchup for the grappling genius. On paper, it makes sense. Demian Maia is essentially just a grappler, and Tyron Woodley has some of the best takedown defence in the world of mixed martial arts. Woodley's wrestling is sure to make things difficult for Demian Maia, right?
Tyron Woodley
Record: 17-3-1
Height: 5'9″ (176cm)
Reach: 74.0″ (188cm)
Tyron Woodley has been busy since defeating Robbie Lawler and winning the UFC welterweight championship at UFC 201. He has since gone on to defend his title twice against Stephen Thompson and his fight with Demian Maia at UFC 214 will mark the third title defence in the twelve months Woodley has held the belt. Woodley's consecutive title defences with Stephen Thompson were a hot topic for a number of reasons, but mostly because their first encounter contained one of the greatest rounds of MMA in 2016 and the fight eventually ended in a majority draw. The highly anticipated rematch with Thompson proved to be a snore-fest as Tyron Woodley showed incredible composure and patience to deal with the striking techniques of his opponent.
Demian Maia
Record: 25-6
Height: 6'1″ (185cm)
Reach: 72.0″ (183cm)
Since losing consecutive fights with Jake Shields and Rory MacDonald in 2014, Demian Maia has since gone on to win seven fights. Maia's complete dominance of Carlos Condit at UFC on FOX 21 was the moment that everyone realised the Brazilian was undoubtedly the next in line for a shot at the welterweight championship. Unfortunately for Demian Maia, however, when Woodley and Thompson fought out their draw at UFC 205 and a rematch was immediately scheduled between the two, it left Maia without a clear path to the title. The Brazilian chose to compete against Jorge Masvidal while waiting for his shot at the title and won the fight by split decision.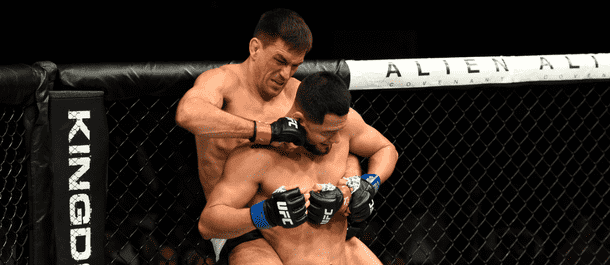 The Breakdown
Maia's path to victory is relatively simple to understand. He needs to secure the takedown to get an opponent to the mat before strangling them. He took Carlos Condit down with relative ease and submitted him within the first two minutes of the fight. The whole process looked unstoppable. Maia's next opponent, Jorge Masvidal, showed the blueprint for how to stop (or at least slow down) Maia's desired sequences. Maia isn't your typical takedown artist; rather he waits for an opponent to throw a punch before shooting inside their range and chain wrestling them to the mat. Without the punch, there's no takedown. Masvidal game planned for this and chose to stay out of danger by kicking Maia rather than punching. It left Maia bewildered, and his only chances of a takedown were long lunging attempts in a way that he is not accustomed to.
Masvidal wasn't perfect, however, and with the smallest of opportunities, Maia had a chance to operate from what is now known as the 'backpack' position. With Maia on his back, Masvidal, unlike many before him, solely defended the hands of Maia which essentially protected him from a Maia rear-naked choke. There's no doubt that Woodley has studied how to protect himself from Maia's submissions by watching Masvidals' success. But, defending the submissions isn't good enough, you have to prevent Maia from getting to these positions.
Tyron Woodley is an excellent wrestler. He also trains with world-class wrestlers, such as Ben Askren. Askren believes that the cage acts as a 'third-leg' in the octagon and can assist takedown defence. I'm certain that we will see Woodley use the cage to defend the takedowns of Demian Maia and this technique will make it even harder for Demian Maia to employ his chain wrestling skills.
Prediction and Betting Strategy
Jorge Masvidal fell short against Demian Maia, but Tyron Woodley won't. Woodley will be extremely well-prepared for all aspects of Demian Maia's game, and when Maia becomes frustrated by the lack of progress, Woodley will lay hands on him and finish the fight.
Best Bets
Tyron Woodley vs. Demian Maia
Tyron Woodley to Win by KO/TKO
Saturday 29th July – 11:00 pm (ET) / 3:00am GMT
Odds: 1.88Bet €100 to win €18822/25Bet £100 to win £188-114Bet $100 to win $1880.88Bet HK$100 to win HK$188-1.14Bet Rp100 to win Rp1880.8800Bet RM100 to win RM188 – SportingBet
Demian Maia
MMA
Tyron Woodley
UFC
UFC 214