Ricardo Lamas vs Jason Knight
UFC 214 Prelims – UFC Featherweight Bout
Jason Knight steps up in place of the injured Chan Sung Jung, the Korean Zombie, to take on Ricardo Lamas at UFC 214. Knight has been tearing through the UFC featherweight division with wins over Chas Skelly, Alex Caceres, Daniel Hooker and Jim Alers. His full-throttle fighting style means that he has also become a UFC fan favourite, as well.
Knight will be thrown into the deep end at UFC 214, though, when he is matched against #3 featherweight contender, Ricardo Lamas. Lamas enters this fight after scoring a 'Performance of the Night' submission victory against Charles Oliveira at UFC Fight Night 98.
The Breakdown
Jason Knight has a super-slick technical submission game in which he uses 10th Planet techniques off his back to set up transitions and submission attempts. While standing, he walks forward and pours the pressure on his opponent and makes them uncomfortable. He can take the best shots his opponent has to offer and still keep storming forward.
He's in for a long night against Ricardo Lamas, though, who is an excellent striker with damaging low kicks and evasive ability. Lamas should be able to defend any of Knight's takedowns and keep this one to standing affair in which he should have the advantage.
Prediction and Betting Strategy
There's just something about the way Jason Knight fights. He fights with the heart of a champion. Lamas is definitely the more sensible pick in this fight, but I can see Jason Knight continuing to come forward and apply pressure. This could very well go all three rounds and Lamas should be the victor when it makes it to the judges scorecards. If it does, we'll have cashed in big time thanks to the generous odds at William Hill.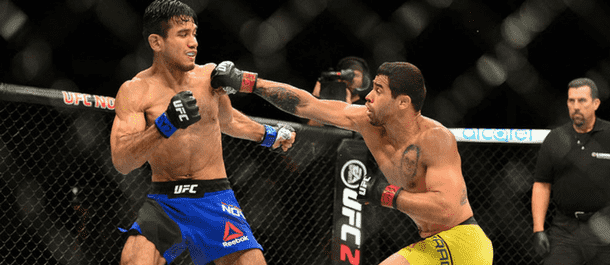 Aljamain Sterling vs Renan Barao
UFC 214 Prelims – UFC Catchweight Bout (140lbs)
Renan Barao was planning to head back to compete at bantamweight, a division in which he was once the UFC champion. But now, the California State Athletic Commission announced that they will not allow Barao to compete at bantamweight due to previous issues in trying to make the specified weight. Aljamain Sterling doesn't mind, however, because he is blessed with an opportunity to take on a superstar and rightfully climb the UFC's rankings.
Renan Barao is now in a tricky situation. He has lost twice to TJ Dillashaw at bantamweight and tried to move up to featherweight before losing to Jeremy Stephens in May 2016. Since then, he's scored a win over Phillipe Nover but that was to be expected.
Aljamain "Funkmaster" Sterling has scored himself a big matchup with Barao despite his record not being all that impressive. He's 1-2 in his last three bouts with two losses by way of split decision. After picking up a win against Augusto Mendes at UFC on FOX 24, Sterling now has the change to make it two-straight.
The Breakdown
Aljamain Sterling is a crafty submission grappling expert with all kinds of chokes and submissions on the mat. However, if he can't secure a takedown and begin working his opponent he often finds himself in great trouble.
Renan Barao is a veteran of the octagon and has incredible takedown defence. It's going to take something special for Sterling to get Barao to the mat and keep him there.
I can see Barao tagging Sterling over and over with a variety of combinations every second that this fight remains standing up.
Prediction and Betting Strategy
Renan Barao completely controls the fight and has his hand raised at the end of the fight, winner by unanimous decision. Luckily for us, there's huge value in this selection over at Paddy Power.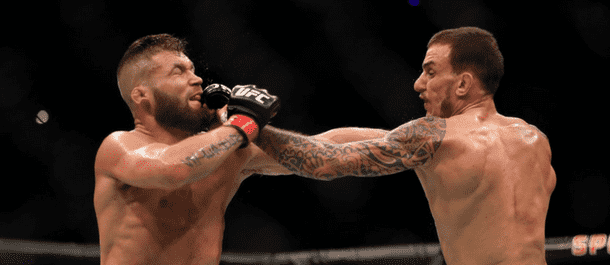 Renato Moicano vs Brian Ortega
UFC 214 Prelims – UFC Featherweight Bout
Brian Ortega is now 11-0 as a professional but it was extremely close to becoming 10-1 the last time he stepped foot inside the octagon. Ortega was clearly losing to veteran Clay Guida but managed to land what was coined as a Hail Mary knee that knocked out Guida with just 20 seconds remaining in the fight. Ortega took a long 13 months rest after the Guida fight and will be entering the octagon this week rejuvenated.
Ortega's opponent, Renato Moicano, is also undefeated. Moicano has strung together three wins in the UFC but none bigger than his latest victory in which he managed to defeat Jeremy Stephens via split decision. Moicano still hasn't quite sprung into the public spotlight, mainly because of two consecutive split decision victories, but a win against Brian Ortega will make sure people are tuning into the Brazilian going forward.
The Breakdown
This is one of those strange circumstances in which we have seen Moicano compete just recently, but it's been three times as long since we have seen Ortega inside the octagon. Ortega has potentially improved many aspects of his game and could come out looking like a completely new fighter.
What's more likely, though, is that Brian Ortega is still the same old Brian Ortega. A fighter with awesome grappling ability but really not all that much to offer outside of that. He doesn't have the ring generalship that is needed to be a top contender in the sport and I think Moicano outworks him for three rounds. The key here, though, is that Moicano has to avoid the late Brian Ortega flurry that only kicks in once Ortega realises it's too late.
Prediction and Betting Strategy
I've got Renato Moicano winning this by unanimous decision. Unfortunately, the bookmakers aren't boosting our odds to pick Moicano by decision, so it's bet to back Moicano as the outright winner at Coral.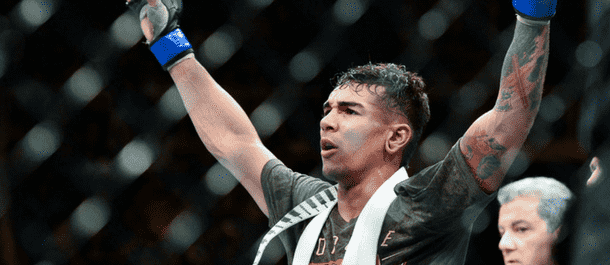 Andre Fili vs Calvin Kattar
UFC 214 Prelims – UFC Featherweight Bout
Andre "Touchy" Fili found himself plastered all over MMA media sites after his fight with Yair Rodriguez at UFC 197. But, it wasn't for the right reasons. Instead, "Touchy" Fili was the recipient of a Yair Rodriguez kick that turned the internet crazy before being considered as one of the best knockouts of 2016. Fili redeemed himself just six months later when he scored a unanimous decision victory against Hacran Dias.
Calvin Kattar steps in to replace Doo Ho Choi on just two weeks notice and will make his UFC debut at UFC 214 – not bad. Kattar earned himself the nickname "The Boston Finisher" by winning nine of his first eleven fights by way of stoppage. Recently, though, he hasn't finished anything. Kattar hasn't scored a stoppage victory since 2010. He also hasn't lost since then, either, and will this fight as one of those unknown and dangerous debutants.
The Breakdown
I've only seen bits and pieces of Calvin Kattar, but I'm confident in knowing that Andre Fili is a number of levels above Kattar right now. Add the fact that Kattar has had limited time to prepare for Fili's excellent striking and you're sure to realise that Fili is heavily favourited to win this contest.
Prediction and Betting Strategy
I can't see why Andre Fili can't finish Calvin Kattar by KO/TKO this weekend. The bookmakers aren't so confident, though. You can get some nice value on Andre Fili by KO/TKO at Paddy Power.
Best Bets
Ricardo Lamas vs Jason Knight
Ricardo Lamas to win by Decision
Saturday 29th July – 09:00 pm (ET) / 1:00am GMT
Odds: 3.25Bet €100 to win €3259/4Bet £100 to win £325+225Bet $100 to win $3252.25Bet HK$100 to win HK$3252.25Bet Rp100 to win Rp325-0.4444Bet RM100 to win RM325 – William Hill
Aljamain Sterling vs Renan Barao
Renan Barao to win by Decision
Saturday 29th July – 08:30 pm (ET) / 0:30am GMT
Odds: 2.80Bet €100 to win €2809/5Bet £100 to win £280+180Bet $100 to win $2801.80Bet HK$100 to win HK$2801.80Bet Rp100 to win Rp280-0.5556Bet RM100 to win RM280 – Paddy Power
Renato Moicano vs Brian Ortega
Renato Moicano to Win
Saturday 29th July – 08:00 pm (ET) / 12:00am GMT
Odds: 1.70Bet €100 to win €1707/10Bet £100 to win £170-143Bet $100 to win $1700.70Bet HK$100 to win HK$170-1.43Bet Rp100 to win Rp1700.7000Bet RM100 to win RM170 – Coral
Andre Fili vs Calvin Kattar
Andre Fili to win by KO/TKO
Saturday 29th July – 07:30 pm (ET) / 11:30pm GMT
Odds: 3.60Bet €100 to win €36013/5Bet £100 to win £360+260Bet $100 to win $3602.60Bet HK$100 to win HK$3602.60Bet Rp100 to win Rp360-0.3846Bet RM100 to win RM360 – Paddy Power