Cris Cyborg vs. Tonya Evinger
UFC 214 Main Card – UFC Women's Featherweight Championship Bout
With the UFC women's featherweight championship now up for grabs, Cris Cyborg will meet Invicta FC veteran Tonya Evinger in a clash between two extremely tough mixed martial artists.
Cris Cyborg
Record: 17-1
Height: 5'8″ (173cm)
Reach: 69.0″ (175cm)
Want to know the best odds you could find for Cris Cyborg in any of her past ten fights? 1.10Bet €100 to win €1101/10Bet £100 to win £110-1000Bet $100 to win $1100.10Bet HK$100 to win HK$110-10.00Bet Rp100 to win Rp1100.1000Bet RM100 to win RM110 … Cris Cyborg is a wrecking-ball who has long been regarded as the most feared female mixed martial artist in the world. Cyborg is insanely powerful and her punches are truly destructive. She doesn't sit back and wait, rather she brings the damage to you.
Tonya Evinger
Record: 19-6
Height: 5'7″ (171cm)
Reach: 70.0″ (178cm)
Tonya Evinger has just relinquished the Invicta FC bantamweight championship to arrive in the UFC and challenge Cris Cyborg in a fight for the vacant UFC women's featherweight championship. Evinger, who hasn't lost since 2011, is not shy of a challenge and typically turns the fight into a full-on slugfest. I'm expecting Evinger to bring the heat to Cyborg and make this a much more competitive fight than many are expecting.
The Breakdown
There's every chance that Tonya Evinger will be Cyborg's toughest test yet. Evinger is completely scrappy and can turn a fight into a brawl, taking away from the technically sound striking of Cris Cyborg. Her wrestling and forward-pressure could smother Cris Cyborg and force Cyborg to deviate from her desired game plan.
Cyborg is freakishly powerful, though. Her strikes seem to have the power of a speeding truck as they connect forcefully on an opponent's chin. If Evinger wants to make it a dirty fight, she's going to have to move through Cyborg's best shots to get there. Not many people can take the kind of power that Cyborg dishes out, but Evinger is certainly one of the toughest female athletes out there.
Prediction and Betting Strategy
It's hard to bet against Cris Cyborg. I won't be doing so this weekend. Evinger is super tough and incredibly durable, expect her to bring Cyborg one of the biggest challenges to date. You can find excellent value for a Cyborg stoppage in round 2 on Ladbrokes and Coral.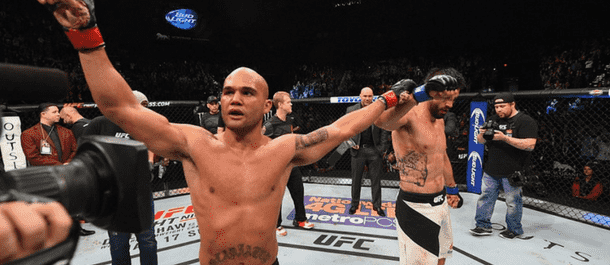 Robbie Lawler vs. Donald Cerrone
UFC 214 Main Card – Welterweight Bout
Fight fans rejoice! It's taken three times to get it right, but we finally get to see 'Ruthless' Robbie Lawler and Donald 'Cowboy' Cerrone trade shots at UFC 214!
Robbie Lawler
Record: 27-11-0
Height: 5'11" (181cm)
Reach: 74.0″ (188cm)
Robbie Lawler will have been out of action for nearly a year when he steps back inside the octagon at UFC 214. His last outing? A brutal knockout loss at the hands of Tyron Woodley which cost him the UFC Welterweight title. Before that, he had been tearing up the division with wins over Carlos Condit, Rory MacDonald, Johny Hendricks, Matt Brown and Jake Ellenberger consecutively.
Donald Cerrone
Record: 32-8-0
Height: 6'1″ (185cm)
Reach: 73.0″ (185cm)
Much like Robbie Lawler, Cerrone had been absolutely destroying all of his opponents until his very last fight. For Cerrone, his loss came against Jorge Masvidal in January this year – a fight in which he was arguably knocked out twice. Many were quick to claim that Cerrone should take more rest between fights, considering that it was his second fight in a matter of fifty days. For this fight, Cerrone actually gets a fight camp.
The Breakdown
Both Robbie Lawler and Donald Cerrone have some of the best striking skill in the UFC's welterweight division. Cerrone pushes forward behind accurate and lightning-fast Muay Thai striking. He perfectly combines damaging kicks to the head alongside punches with pinpoint precision. Robbie Lawler used to be a hugely aggressive brawler but has now transformed into an increasingly patient counter-striker.
Did Jorge Masvidal provide the blueprint for beating Cerrone, though? Masvidal caught Cerrone's kicks and then rushed at him with punches, closing the distance and smothering Cerrone. He didn't really have an answer for an opponent who came forward into his range and closed the distance, as Cerrone is usually the one walking his opponent back.
Prediction and Betting Strategy
Robbie Lawler will have learned from Jorge Masvidal how to defeat Donald Cerrone; smother him with pressure and the opportunities will open up. Lawler can take all the shots that Cerrone has to offer and will keep pressing forward until he secures a victory. Lawler by KO/TKO.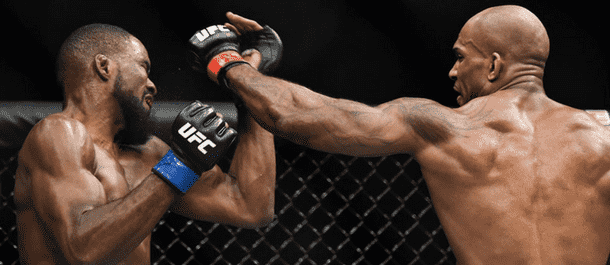 Jimi Manuwa vs. Volkan Oezdemir
UFC 214 Main Card – UFC Light Heavyweight Bout
Jimi Manuwa
Record: 17-2
Height: 6'1″ (186cm)
Reach: 79.5″ (202cm)
Jimi Manuwa is so close to a shot at the UFC light heavyweight championship. So close, in fact, that he is solely on this card because Dana White wants a backup plan in case anything goes wrong before the Daniel Cormier vs. Jon Jones matchup. Manuwa has worked his way into this position by scoring consecutive KO/TKO wins over Ovince St. Preux and Corey Anderson. Manuwa's lone two losses as a mixed martial artist come against the truly elite in Alexander Gustafsson and Anthony Johnson. A win here puts him in line for either a rematch with "Gus" or a shot at the winner of the main event.
Volkan Oezdemir
Record: 14-1
Height: 6'2″ (188cm)
Reach: 75.0″ (191cm)
Volkan Oezdemir is simply unbelievable. He stormed into the UFC on late notice and defeated Ovince St. Preux by split decision before absolutely wrecking Misha Cirkunov in 28 seconds at UFC Fight Night 109. Oezdemir has entered both of these fights as a massive underdog and the bookmakers have only now just started to respect him.
The Breakdown
This is all going to come down to whether Volkan Oezdemir is the real deal or not. He's going to have to defeat the talented striker in Jimi Manuwa in what is largely expected to be a striking match.
Jimi Manuwa is an excellent boxer and when he lands his crisp and heavy punches on his opponents, it often spells game over. He's dominated his last two opponents and will surely lay hands on Oezdemir this weekend.
Volkan Oezdemir can offer a little more versatility than just striking alone and he likes to use lateral movement while chopping away at an opponent. Misha Cirkunov rushed at him carelessly and Oezdemir made Cirkunov pay with a short and sharp punch that dropped him to the canvas.
Prediction and Betting Strategy
I don't want to keep doubting Volkan Oezdeimr but Jimi Manuwa has really started to put his game together lately. A knockout win over Oezdemir puts him right in line for a title shot. I'll be backing Manuwa to win this one as he enters the fight with a little more composure and strategic thinking than Oezdemir's previous opponents. Manuwa by KO/TKO.
Best Bets
Cris Cyborg vs. Tonya Evinger
Cris Cyborg to win in Round 2
Saturday 29th July – 10:30 pm (ET) / 2:30am GMT
Odds: 6.25Bet €100 to win €62521/4Bet £100 to win £625+525Bet $100 to win $6255.25Bet HK$100 to win HK$6255.25Bet Rp100 to win Rp625-0.1905Bet RM100 to win RM625 – Ladbrokes
Robbie Lawler vs. Donald Cerrone
Robbie Lawler to win by KO/TKO
Saturday 29th July – 10:00 pm (ET) / 2:00am GMT
Odds: 3.00Bet €100 to win €3002/1Bet £100 to win £300+200Bet $100 to win $3002.00Bet HK$100 to win HK$3002.00Bet Rp100 to win Rp300-0.5000Bet RM100 to win RM300 – BetVictor
Jimi Manuwa vs. Volkan Oezdemir
Jimi Manuwa to win by KO/TKO
Saturday 29th July – 09:30 pm (ET) / 1:30am GMT
Odds: 1.67Bet €100 to win €16767/100Bet £100 to win £167-149Bet $100 to win $1670.67Bet HK$100 to win HK$167-1.49Bet Rp100 to win Rp1670.6700Bet RM100 to win RM167 – BetVictor