Kailin Curran vs Alexandra Albu
UFC 214 Fight Pass Prelims – UFC Women's Strawweight Bout
Kailan Curran just hasn't put it together in the UFC. She's now 1-4 in the UFC and has been stopped twice via submission and once by Paige VanZant via punches in the third round at UFC Fight Night 57. She's young, at the age of 26, and has time to develop into something if she can hang on to her place in the organisation. To do so, she needs to win this fight against Alexandra Albu.
Alexandra Albu has one of the strangest resumes in the UFC. She joined the organisation after one win on the Russia Regional circuit and looked to be making her debut in 2013 before suffering an injury. She then came in and submitted Izabela Badurek in 2015 in a UFC card that featured Mirko Cro Cop. Now, she has her second fight in the UFC after joining over four years ago.
The Breakdown
Albu is a black-belt in Karate and has exceptional cardio. She'll bring the fight to Kailan Curran for the entirety of the fight, there's no doubting that. It's just whether she can win the exchanges or not. The layoffs aren't important here as they were strategic decisions by Albu who was trying to heal from injury and also complete her graduation.
Curran definitely has the skills to beat a fighter such as Alexandra Albu. But, I also thought she had the skills to beat Jamie Moyle, Felice Herrig and Alex Chambers too. In fact, Curran has entered all five of her UFC fights as the betting favourite and only won the one.
Prediction and Betting Strategy
I've got Albu out working Curran over the course of three rounds. Curran falls into this bucket of fighters that I can't trust because of their lack of fighting intelligence and ring generalship. You can find nice odds for Albu by decision at Bet365.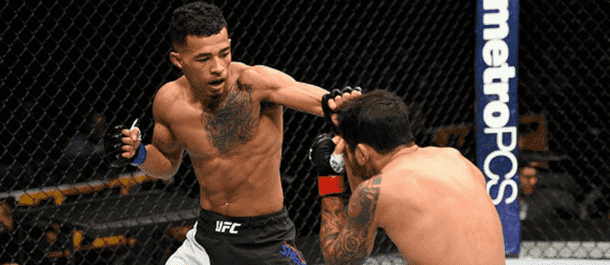 Eric Shelton vs Jarred Brooks
UFC 214 Fight Pass Prelims – UFC Flyweight Bout
Jarred Brooks was originally scheduled to face 'Uncle Creepy' Ian McCall at UFC 208 but the fight fell through. It was to be Brooks' debut fight in the UFC, but now he has had a full camp to get ready for Eric Shelton, a former competitor on The Ultimate Fighter 24. Brooks enters the UFC with an impressive 12-0 record that includes victories at Pancrase and WSOF. Brooks is a super motivated individual with extreme confidence. It's the kind of attitude that can take someone all the way to becoming a UFC champion.
Shelton featured on TUF 24 and after scored a massive upset victory when he (seed #15) topped #2 seed Yoni Sherbatov and progressed all the way to the semifinals before losing to Tim Elliot. Since then, both Shelton and Alexandre Pantoja have been awarded UFC contracts and met each other at UFC on FOX 23. Pantoja was victorious via split decision and now it's Shelton's time to get back on track.
The Breakdown
Eric Shelton has impressive boxing abilities and a nasty choke submission game. Brooks enters this one as one of the better wrestlers to make their UFC debut recently. He'll look to get Shelton down to the mat by rushing at him with all sorts of crazy strikes. Shelton's one of the more composed strikers to have come out of TUF 24 and will be able to handle the forward flurries from Brooks. If Brooks does get it to the mat or desperately shoots in for a takedown and gives up his neck, it could be all over.
Prediction and Betting Strategy
I've got Shelton winning this one by submission. I like backing those with a choke submission game against wrestlers and this is a perfect example. Especially so when we get massive odds like we have at Paddy Power for a Shelton submission victory.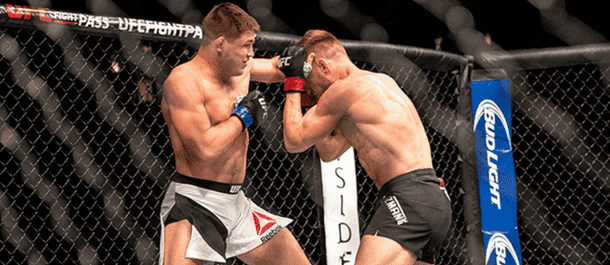 Joshua Burkman vs Drew Dober
UFC 214 Fight Pass Prelims – UFC Lightweight Bout
We're kind of stuck with this meaningless bout between Joshua Burkman and Drew Dober to kick off the Fight Pass Prelims of UFC 214. Of course, all of UFC 214 can't be amazing.
Joshua Burkman is 1-4 since returning to the UFC in 2015 and has struggled to make an impact. He's entered three of these fights as the betting favourite, yet has recorded just one win against KJ Noons who was 13-8 at the time – not amazing.
Drew Dober managed to string two wins together in 2016 but it all came to an end when he lost via submission to Olivier Aubin-Mercier at UFC 206. Dober now finds himself in this weird situation in which he hasn't really stood out during his time in the UFC and with the influx of fresh talent joining the organisation, he finds himself battling for his spot in the UFC.
The Breakdown
It's quite a simple breakdown, this one. Burkman is on the way out of the UFC and has been lacking in all departments of his game. Dober, while not overly impressive in any aspect of his game, has decent enough wrestling and striking.
Prediction and Betting Strategy
Drew Dober scores a decision victory, secures his place in the UFC and sends Burkman packing. You can find the best odds for a Dober decision victory over at Bet365.
Best Bets
Kailin Curran vs Alexandra Albu
Alexandra Albu to win by Decision
Saturday 29th July – 07:00 pm (ET) / 11:00pm GMT
Odds: 3.50Bet €100 to win €3505/2Bet £100 to win £350+250Bet $100 to win $3502.50Bet HK$100 to win HK$3502.50Bet Rp100 to win Rp350-0.4000Bet RM100 to win RM350 – Bet365
Eric Shelton vs Jarred Brooks
Eric Shelton by Submission
Saturday 29th July – 06:30 pm (ET) / 10:30pm GMT
Odds: 10.00Bet €100 to win €10009/1Bet £100 to win £1000+900Bet $100 to win $10009.00Bet HK$100 to win HK$10009.00Bet Rp100 to win Rp1000-0.1111Bet RM100 to win RM1000 – Paddy Power
Joshua Burkman vs Drew Dober
Drew Dober to Win by Decision
Saturday 29th July – 06:00 pm (ET) / 10:00pm GMT
Odds: 2.50Bet €100 to win €2503/2Bet £100 to win £250+150Bet $100 to win $2501.50Bet HK$100 to win HK$2501.50Bet Rp100 to win Rp250-0.6667Bet RM100 to win RM250 – Bet365