Travis Browne vs. Aleksei Oleinik
UFC 213 Main Card – Heavyweight Bout
Travis Browne is in desperate need for a win. He's now lost his last three fights and losing to "The Boa Constrictor" at UFC 213 could move him dangerously close to the UFC's chopping block. Browne's last three losses have been against quality heavyweight competition including Cain Velasquez, Fabricio Werdum and Derrick Lewis. This is arguably the easiest fight on paper that Browne has been scheduled for in a long time.
Despite that, Aleksei Oleinik deserves some consideration for being a submission machine. Oleinik's Ezekiel choke capability was well noted before he stepped inside the octagon with Viktor Pesta at UFC Fight Night 103, but to be honest I never thought he would be able to submit someone quite like he did. Oleinik attempted an Ezekiel choke from underneath Pesta's full mount and managed to finish one of the most unsuspecting submissions I have ever seen.
The Breakdown
Oleinik is a quick finisher. He'll desperately look to get Browne out of the cage in the first round. This may cause some issues in a matchup with Travis Browne, though, because Browne is an especially good counter striker with extreme accuracy and precision.
Oleinik's tendency to hunt for submission also means that he gives up position relatively easily. If the fight goes to the ground expect that Browne is fully aware of Oleinik's submission ability and instead keep postured up and throw bombs.
Prediction and Betting Strategy
I'll never be writing off the submission ability of Aleksei Oleinik again, but he has an extremely tough task in front of him at UFC 213. Browne should be able to land clean shots on the chin of Oleinik and cause him all kinds of trouble standing up.
Travis Browne by KO/TKO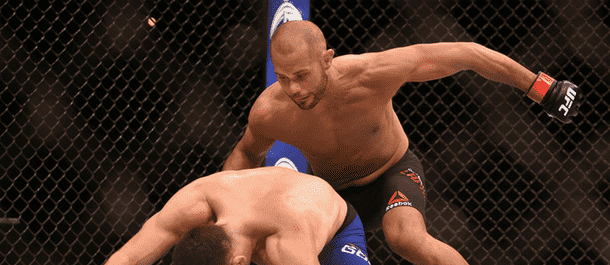 Chad Laprise vs. Brian Camozzi
UFC 213 Main Card – Welterweight Bout
Chad Laprise will replace Alan Jouban and step in on just a few weeks notice to take on Brian Camozzi at UFC 213.
This is the first time Laprise has entered the octagon since destroying Thibault Gouti in August 2016. Admittedly, Thibault Gouti has kind of sucked since arriving in the UFC and has unfortunately managed a 0-3 start in the organisation. Gouti made sure to dispatch of his opponent with ease, though, and finished Gouti in just 96 seconds. Laprise is a former winner of The Ultimate Fighter Nations: Canada vs. Australia and will be looking to put together another streak of wins.
Brian Camozzi, the younger brother of Chris Camozzi, suffered a second round loss to Randy Brown in his UFC debut back at UFC Fight Night 102. The loss snapped a five-win streak that Camozzi had accumulated through the RFA and SCL organisations.
The Breakdown
Chad Laprise sets a blistering pace. He fights behind technical striking and combines precision with power. Brian Camozzi fights with a fairly similar style, too. He advances forward behind long strikes and looks to set the pace.
It's clear that both of these fighters will be attempting to control the flow of the fight. Laprise, if forced backwards like I am expecting, is still very dangerous. We saw this against Thibault Gouti in which he dropped Gouti with a devastating combination while moving backwards.
Prediction and Betting Strategy
Although both of these guys are fast finishers, this one could very well turn into a striking standoff as they both sit back and wait to counter the shots of each other.
Laprise by Decision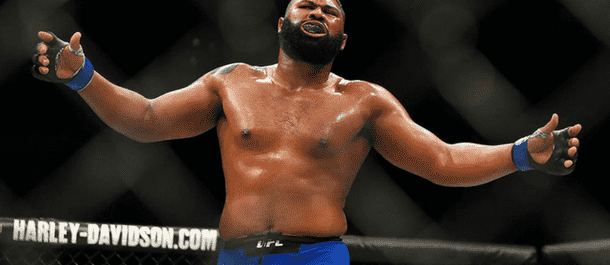 Daniel Omielanczuk vs. Curtis Blaydes
UFC 213 Main Card – Heavyweight Bout
In yet another heavyweight bout to feature on the card of UFC 213, Daniel Omielanczuk will be matched up against the destructive Curtis Blaydes.
Curtis 'Razor' Blaydes is a knockout artist and has finished six of his eight bouts with a knockout stoppage. His other stoppage? A submission due to strikes. It's almost the same, really. Despite picking up a KO/TKO victory against Adam Milstead in February, the result was later overturned to a 'no contest' after he and two other fighters tested positive for marijuana.
Daniel Omielanczuk's form is sliding after suffering a two-fight losing streak with losses to Stefan Struve and Timothy Johnson.
The Breakdown
I can't really see how Daniel Omielanczuk hangs with the limitless power that Curtis Blaydes brings to the octagon. Blaydes is dominant in the stand-up battle and his wrestling is freakishly good, too. He threw Milstead around the octagon with ease and made him look like a small child. Maybe I'm looking into this with a fairly one-dimensional approach, but I truly think Blaydes gives this level of heavyweight competition a hard time.
Prediction and Betting Strategy
I've got Blaydes winning by KO/TKO here at UFC 213.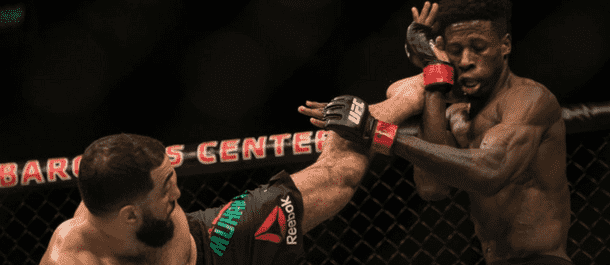 Jordan Mein vs. Belal Muhammad
UFC 213 Main Card – Welterweight Bout
Belal 'Remember the Name' Muhammad has bounced between wins and losses since arriving in the UFC in July 2016. This will be his fifth fight since debuting in the organisation and while he probably hasn't done enough for many to remember his name, he is coming off an impressive unanimous decision victory against the difficult Randy Brown back at UFC 208.
Jordan Mein is a weird old story in the world of MMA. After being touted as a big prospect, he then announced his retirement at the age of 25-years-old. It didn't last long, though, and he jumped back into the cage against Emil Meek at UFC 206 but seemed almost disinterested.
The Breakdown
Belal Muhammad isn't the most stylish fighter out there, that's for sure. But he knows how to chip away at an opponent. Against Randy Brown, Belal smashed the leg of Brown with constant leg kicks which slowed him down over the course of the fight. In fact, Muhammad landed 24 leg kicks in the first round alone. By the end of the fight, he was able to work his own game without any real concern.
It will be interesting to see how the mind of Jordan Mein holds up through this fight. He was unable to fight against Emil Meek's takedowns and top pressure. But what's worse, he seemed to just accept that he was unable to get off the mat and got stuck there. Through the first round, he controlled the stand-up and looked impressive but it all fell apart once Meek gained some momentum.
Prediction and Betting Strategy
If Belal can swing the fight to his advantage early and let Jordan Mein know that he is in for a tough night, I expect Mein's confidence to shatter and not want to be there. Belal can really test an opponent's will and will take you to the ground and work you there, too.
I'll be betting Belal Muhammad by decision.
Best Bets
Travis Browne vs. Aleksei Oleinik
Travis Browne by KO/TKO
Saturday 8th July – 9:30 pm (ET) / 1:30am GMT
Odds: 1.83Bet €100 to win €18383/100Bet £100 to win £183-120Bet $100 to win $1830.83Bet HK$100 to win HK$183-1.20Bet Rp100 to win Rp1830.8300Bet RM100 to win RM183 – Paddy Power
Chad Laprise vs. Brian Camozzi
Laprise by Decision
Saturday 8th July – 9:00 pm (ET) / 1:00am GMT
Odds: 1.83Bet €100 to win €18383/100Bet £100 to win £183-120Bet $100 to win $1830.83Bet HK$100 to win HK$183-1.20Bet Rp100 to win Rp1830.8300Bet RM100 to win RM183 – SkyBet
Daniel Omielanczuk vs. Curtis Blaydes
Curtis Blaydes by KO/TKO
Saturday 8th July – 8:30 pm (ET) / 0:30am GMT
Odds: 2.00Bet €100 to win €2001/1Bet £100 to win £200+100Bet $100 to win $2001.00Bet HK$100 to win HK$2001.00Bet Rp100 to win Rp2001.0000Bet RM100 to win RM200 – Betway
Jordan Mein vs. Belal Muhammad
Belal Muhammad by Decision
Saturday 8th July – 8:00 pm (ET) / 0:00am GMT
Odds: 3.60Bet €100 to win €36013/5Bet £100 to win £360+260Bet $100 to win $3602.60Bet HK$100 to win HK$3602.60Bet Rp100 to win Rp360-0.3846Bet RM100 to win RM360 – Bet365
MMA
Travis Browne
UFC
UFC 213