Raphael Assuncao vs. Marlon Moraes
Raphael Assuncao vs. Marlon Moraes makes for one of the best fights on the entire card, let alone as a preliminary bout!
Raphael Assuncao
Record: 24-5
Height: 5'6″ (168cm)
Reach: 67.5″ (171cm)
Just last year, Raphael Assuncao was riding a seven-fight win streak that included a win over T.J. Dillashaw back in 2013. When matched against T.J. Dillashaw again in UFC 200, a win would have put him on track for a shot at the bantamweight title. Assuncao fell short when it mattered the most and lost a unanimous decision to Dillashaw – unfortunate timing. The Brazilian bounced back into the win column with a close split decision against Aljamain Sterling in January.
Marlon Moraes
Record: 18-4-1
Height: 5'6″ (168cm)
Reach: 66.5″ (169cm)
Don't let Marlon Moraes being new to the UFC fool you; he's one of the best bantamweights in the world. Moraes joined the UFC after racking up an 11-0 record in World Series of Fighting and five straight title defences. Moraes, who is Brazilian, previously said on the MMA Hour that "it would be a dream" to debut at UFC 212 in front of his hometown fans in Rio de Janeiro.
The Breakdown
Marlon Moraes is defensively sound, and one of the main reasons for his success in World Series of Fighting has been effective distance management. As the fight progresses and he starts to learn more and more about an opponent, he'll then look to land the finishing blow. Moraes doesn't hold back either and throws everything with power.
Assuncao is a very sharp fighter with excellent counter abilities, and this will likely be the determining factor in this fight. Assuncao will probably be the one sitting back and waiting for Moraes to engage for the majority of the fight, meaning that Moraes will look more appealing to the judges because of forward pressure and he'll still land his shots with precision.
While many are excited about this fight, and myself included, there's every chance it remains at a relatively slow pace for the first two rounds until they open up in round 3.
Betting Strategy
Moraes by decision makes sense. The previously mentioned forward pressure should be enough to sway the judges, but I think this one will be very close.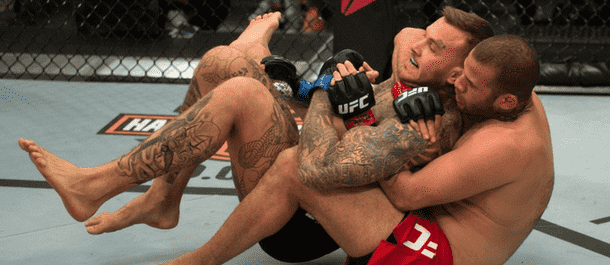 Antonio Carlos Junior vs. Eric Spicely
Two jiu-jitsu geniuses go against each other in Brazil, this one will be a beautiful display of grappling!
Antonio Carlos Junior
Record: 7-2
Height: 6'1″ (185cm)
Reach: 79.0″ (201cm)
Antonio Carlos Junior, a Brazilian jiu-jitsu world champion, has managed two consecutive wins after experiencing an upset loss against Daniel Kelly in March 2016. Carlos Junior now competes at middleweight in the UFC, despite winning the heavyweight division of The Ultimate Fighter: Brazil Season 3, and previously fighting at light heavyweight.
Eric Spicely
Record: 10-1
Height: 6'2″ (188cm)
Reach: 73.0″ (185cm)
After featuring on The Ultimate Fighter Season 23, Eric Spicely is now starting to carve his career in the UFC and is now enjoying a two-win streak after victories against Thiago Santos and Alessio Di Chirico. Spicely has looked impressive, especially in the bout against Santos in which he entered as a 5.50Bet €100 to win €5509/2Bet £100 to win £550+450Bet $100 to win $5504.50Bet HK$100 to win HK$5504.50Bet Rp100 to win Rp550-0.2222Bet RM100 to win RM550 underdog.
The Breakdown
Spicely's jiu-jitsu is quite impressive and has got him over the line in his UFC appearances, but it's no match for Carlos Junior, a world champion.
Notably, Spicely is a relatively small middleweight and doesn't have to cut too much to make weight. On the other hand, Carlos Junior is one of the biggest middleweights out there. The size difference here may mean that Spicely struggles on the mat more so than we were even expecting heading in. An alternative possibility is that the weight difference could suit Spicely more as he pushes the fight for the entire three rounds against Carlos Junior who gasses pretty fast.
Both Spicely and Carlos Junior lack in the stand-up game. I'm expecting Carlos Junior to be the one shooting for takedowns, but I feel as though Spicely can stuff them, keep Carlos Junior standing and tire him out.
Betting Strategy
The obvious answer is to take Carlos Junior to win at 1.45Bet €100 to win €1459/20Bet £100 to win £145-222Bet $100 to win $1450.45Bet HK$100 to win HK$145-2.22Bet Rp100 to win Rp1450.4500Bet RM100 to win RM145 as he should be able to beat Spicely on the mat.
But, what if he doesn't get the takedown? I'm going to go and seek a huge payout with Spicely by decicion.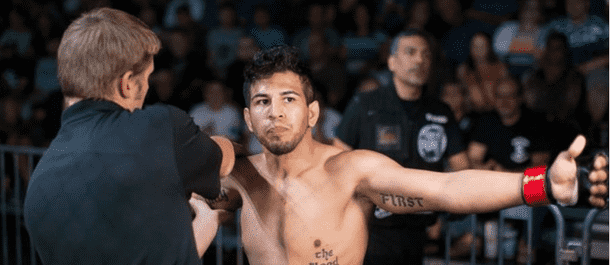 Johnny Eduardo vs. Matthew Lopez
The relatively inactive Johnny Eduardo fights in front of his fans in Brazil against Matthew Lopez, who enjoyed a successful debut in the UFC.
Johnny Eduardo
Record: 28-1
Height: 5'7″ (171cm)
Reach: 71.0″ (180cm)
Johnny Eduardo has fought just once per year over the last three years and now finds himself in a battle against Matthew Lopez, who is looking to rise the rankings quickly. Eduardo defeated Eddie Wineland in 2014, before losing to Aljamain Sterling in 2015. His stoppage of Manny Gamburyan was enough to Make Gamburyan retire after the fight, too.
Matthew Lopez
Record: 9-1
Height: 5'7″ (170cm)
Reach: 70.0″ (178cm)
Matthew Lopez locked up his first win in the UFC with an impressive victory over Mitch Gagnon in December 2016. Lopez was troubled at times, but his grappling and wrestling skills prevailed as he controlled Gagnon in the clinch and on the mat for the fight.
In an interview on The Parting Shot Podcast, Matthew Lopez discussed his gameplan for the Eduardo fight, saying that he'll look to take Eduardo down to the mat if he's not having success standing up – as expected.
http://mmajunkie.com/2016/12/ufc-206-results-matthew-lopez-rallies-through-rough-first-round-to-top-mitch-gagnon
The Breakdown
I'm a little worried about Lopez trying to stand up with Eduardo for too long, considering he was hurt by Mitch Gagnon in his last bout when trying to engage with him on the feet.
When that strategy fails, and it probably will, I have no doubt that Lopez can grind out a victory with his superior wrestling and grappling ability.
Betting Strategy
I've got Lopez winning and so do the bookmakers. The expected outcome is for Lopez to win via decision, and that makes perfect sense because of his grappling.
However, there are some very tasty odds if you're interested in jumping on board Lopez to win in the third round. You can find 12/1 at BetVictor!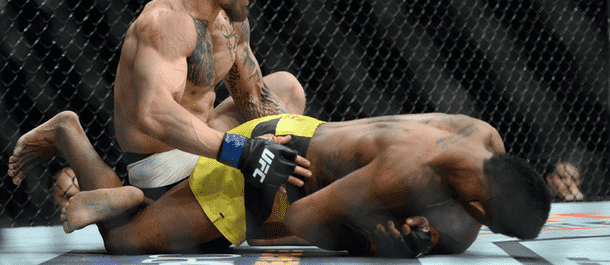 Iuri Alcantara vs. Brian Kelleher
The always exciting Iuri Alcantara is up against the relatively unknown Brian Kelleher who debuts at UFC 212 in Brazil.
Iuri Alcantara
Record: 35-7
Height: 5'8″ (172cm)
Reach: 71.0″ (180cm)
Iuri Alcantara returns to the cage not long after his comeback victory against Luke Sanders at UFC 209. Alcantara was beaten up badly in the first round, and there was plenty of reason for referee Marc Goddard to step in and stop the fight. Alcantara submitted Sanders with a kneebar, quite an uncommon submission in mixed martial arts (see above photo). The win put Alcantara on a two-fight win streak heading into this one against Kelleher, after a victory against Brad Pickett before the Sanders bout.
Brian Kelleher
Record: 16-7
Height: 5'6″ (167cm)
Reach: 64.0″ (163cm)
Brian Kelleher will make his UFC debut at UFC 212 in Brazil, a long way from home for the 30-year-old American. After struggling through the majority of his extensive career, Kelleher has now managed to put together a six-win streak, earning him an opportunity in the world's largest mixed martial arts organisation. Kelleher hasn't competed since March 2016 and makes for a strange matchup against Alcantara who has shown significant potential inside the octagon.
The Breakdown
Alcantara is this weird mix between 'flowy' and wild. He has some sweet movement and can cover distances quickly. He's also not afraid to throw some wild strikes in the centre of the cage, either.
Alcantara showed some huge vulnerability in the first round against Sanders, after being taken down and controlled with ease by his opponent for close to three minutes.
From what I've seen of Kelleher (mind you, it's just scrappy YouTube footage), he has some decent takedowns and wrestling ability. He's also fairly dangerous when it comes to submissions, particularly chokes.
Betting Strategy
Iuri Alcantara finds a way to win, he just does. His odds are short and while I'm totally expecting Kelleher to bring an intense fight to the table, I'll be backing the proven Alcantara here at 1.36Bet €100 to win €1369/25Bet £100 to win £136-278Bet $100 to win $1360.36Bet HK$100 to win HK$136-2.78Bet Rp100 to win Rp1360.3600Bet RM100 to win RM136 with William Hill.
Best Bets
Raphael Assuncao vs. Marlon Moraes
Marlon Moraes to Win via Decision
Sunday 4th June, 1:00 GMT
Odds: 2.88Bet €100 to win €28847/25Bet £100 to win £288+188Bet $100 to win $2881.88Bet HK$100 to win HK$2881.88Bet Rp100 to win Rp288-0.5319Bet RM100 to win RM288 – BetFred
Antonio Carlos Junior vs. Eric Spicely
Eric Spicely to Win via Decision
Sunday 4th June, 0:30 GMT
Odds: 5.50Bet €100 to win €5509/2Bet £100 to win £550+450Bet $100 to win $5504.50Bet HK$100 to win HK$5504.50Bet Rp100 to win Rp550-0.2222Bet RM100 to win RM550 – Skybet
Johnny Eduardo vs. Matthew Lopez
Matthew Lopez to win in Round 3
Sunday 4th June, 0:00 GMT
Odds: 13.00Bet €100 to win €130012/1Bet £100 to win £1300+1200Bet $100 to win $130012.00Bet HK$100 to win HK$130012.00Bet Rp100 to win Rp1300-0.0833Bet RM100 to win RM1300 – BetVictor
Iuri Alcantara vs. Brian Kelleher
Iuri Alcantara to Win
Saturday 3rd June, 23:30 GMT
Odds: 1.36Bet €100 to win €1369/25Bet £100 to win £136-278Bet $100 to win $1360.36Bet HK$100 to win HK$136-2.78Bet Rp100 to win Rp1360.3600Bet RM100 to win RM136 – William Hill