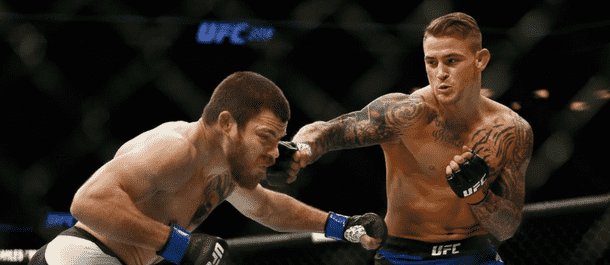 Eddie Alvarez vs. Dustin Poirier
Sadly, for many of us, the images of Eddie Alvarez that are engrained into our brains are the ones of him being demolished by Conor McGregor at UFC 205. It was nothing short of an embarrassment for Eddie Alvarez, who was seemingly too slow and too weak for 'The Notorious'. Before this though, let's not forget the historic moment in which he dismissed Rafael Dos Anjos with similar ease and won the UFC Fight Night 90 Performance of the Night.
Dustin Poirier believes that if he can defeat Eddie Alvarez at UFC 211, he is just one more win away from a shot at the UFC lightweight championship. Unfortunately for Poirier, his momentum slowed after suffering a brutal loss at the hands of Michael Johnson back in September. He returned to the winner's column after scoring a majority decision victory over Jim Miller in February. The win against Miller was a big one for Poirier, breaking the three fight win streak that Miller was on and stamping himself as a top contender in the division, again.
The Breakdown
Recency bias is a strong factor in this one, and it's hard to forget Eddie Alvarez getting whooped in his last outing. Dustin Poirier fights nice and long and can cause trouble to Eddie Alvarez from a distance. If he weren't so careless against Michael Johnson, he would already be on track for that title shot.
Prediction
A slow and relatively uneventful fight as both fighters enter this one with extreme caution, considering the trajectories of both of their careers. Poirier out-strikes Alvarez to a decision victory, but only just.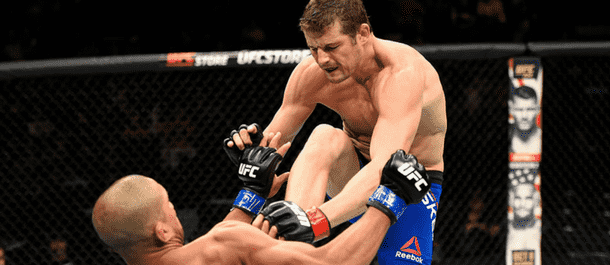 Chas Skelly vs. Jason Knight
Chas Skelly says there's room for only for one redneck in the 145-pound division and will be looking to stop Jason Knight in his tracks at UFC 211. I think I'll always associate Chas Skelly with his lightning-fast submission of Maximo Blanco at UFC Fight Night 94 – make sure you check that one out! Skelly is now on a two-fight win streak after losing to Darren Elkins at UFC 196, ending the 12-fight win streak ofChris Gruetzemacher in February.
Jason Knight is incredible to watch. Trash-talking, submissions, brawling on the feet – he has all the makings of an entertaining fighter. I made the mistake of backing against Jason Knight in his last bout against Alex Caceres, and it looked to be the right call as Caceres was winning the stand-up battle. But, Knight's submission grappling is highly-developed, and he used his edge on the mat to defeat Caceres via rear-naked choke in Round 2. Knight is now on a three-fight win streak inside the octagon.
The Breakdown
Both of these guys are submission artists, and I'm sure each of them would like to make the other tap out. I expect Skelly to control Knight from top position, but that isn't necessarily an advantage for Skelly because Knight often likes to work from his back and will throw up elbows and submission attempts from different angles.
Regarding the stand-up game, Skelly has an excellent 1-2 combination right down the middle, using his long frame to damage opponents from a distance. Knight doesn't have much in the way of footwork or head movement, either, so I can see Skelly landing his shots in the same way that Caceres was able to against Knight.
Prediction
Knight is freaking awesome, but he is at his best when taking it to his opponents. Instead, I think Skelly will be the one pushing the pace on Jason Knight this time and forcing Jason Knight to work from awkward positions. The best value for this fight is taking the under 2.5 rounds.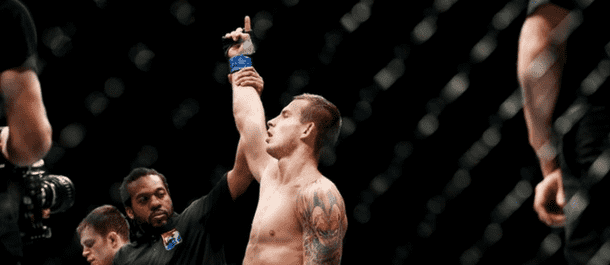 Krzysztof Jotko vs. Dave Branch
Dave Branch will re-enter the octagon at UFC 211 for the first time in six years. Branch went on to win the WSOF middleweight title and defend it three times before becoming a free agent and announcing his return to the UFC. He's on a 10-fight win streak and will battle Krzysztof Jotko in his first fight back in the promotion.
Jotko is riding a win-streak himself, reaching five wins in a row against tough competition in the UFC. His most recent two wins came against Thales Leites and Tamdan McCrory – the McCrory one being a brutal knockout in just less than a minute.
The Breakdown
The two fighters are quite well-matched across some different attributes, but I think that Jotko is the better 'mixed martial artist' of the two, possessing a tremendous level of talent that is only seen in this upcoming generation of fighters.
Jotko is a decent striker who uses his length effectively to hurt opponents from range. He also has great defensive wrestling ability, and this was shown in his recent bout against Thales Leites in which he was able to escape the clinch and reverse takedown attempts of Leites.
David Branch has looked comfortable in his last couple of fights, being much faster than his opponents and being able to stand-up well knowing that he can effectively rely on his ground game if he is taken down to the mat. His boxing is excellent, and his jab can pick apart opponents all night long.
Prediction
Jotko manages to win a decision victory against David Branch in a relatively even contest.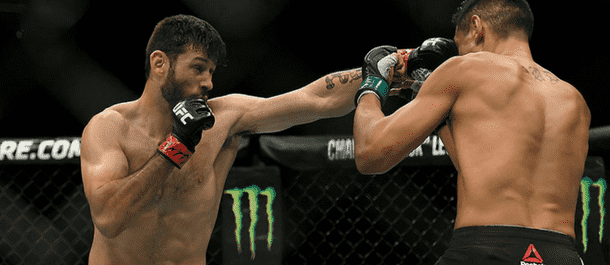 Polo Reyes vs. James Vick
Polo Reyes is best-known for his incredible fight against Dong Hyun Kim, which could be regarded as not only one of the best fights of 2016, but one of the greatest fights of all time. It was full of ridiculous momentum swings, and Polo Reyes came away victorious via stoppage in Round 3. Since then, Reyes has added to his win streak by defeating Jason Novelli in November making it three wins in a row for the 32-year-old from Mexico.
After defeating Abel Trujillo at UFC Fight Night 104, James Vick asked for an opportunity to fight in Dallas in May. Vick got what he asked for, and now can put on a show in front of his home fans again in Texas. Vick locked up some awesome submissions against Trujillo, who was somehow able to escape them at times, before eventually giving into a sweet D'arce choke in Round 3.
The Breakdown
Vick has been working on better using his range inside the octagon, considering he often has a size and reach advantage over his opponents. It was on display against Trujillo, as he was able to keep him away with the use of his long kicks and punches. Vick is especially tricky on the mat and can either scramble back to his feet with ease or work submissions.
Polo Reyes has excellent footwork and is seemingly able to 'switch-on' when required, too – as seen in his fight against Jason Novelli when he stepped up in the second round by launching leg kicks and starting to throw bombs.
Prediction
I could see this one playing out like Reyes vs. Novelli, in which Reyes won by decision due to being more active than Novelli who sat back and waited. There's also every chance the dangerous Vick could find a submission. I didn't expect Reyes to be paying so much as I think this will be a closer contest than many are predicting and will be betting on Reyes.
Tips Summary
Recommended Plays
Eddie Alvarez vs. Dustin Poirier
Dustin Poirier to Win by Decision
Sunday 23rd April, 01:00 GMT
Odds: 2.10Bet €100 to win €21011/10Bet £100 to win £210+110Bet $100 to win $2101.10Bet HK$100 to win HK$2101.10Bet Rp100 to win Rp210-0.9091Bet RM100 to win RM210 – William Hill
Chas Skelly vs. Jason Knight
Chas Skelly to Win
Sunday 23rd April, 00:30 GMT
Odds: 1.83Bet €100 to win €18383/100Bet £100 to win £183-120Bet $100 to win $1830.83Bet HK$100 to win HK$183-1.20Bet Rp100 to win Rp1830.8300Bet RM100 to win RM183 – Betway
Chas Skelly vs. Jason Knight
Total Rounds – Under 2.5
Sunday 23rd April, 00:30 GMT
Odds: 2.50Bet €100 to win €2503/2Bet £100 to win £250+150Bet $100 to win $2501.50Bet HK$100 to win HK$2501.50Bet Rp100 to win Rp250-0.6667Bet RM100 to win RM250 – PaddyPower
Krzysztof Jotko vs. Dave Branch
Krzysztof Jotko to Win
Sunday 23rd April, 00:00 GMT
Odds: 1.62Bet €100 to win €16231/50Bet £100 to win £162-161Bet $100 to win $1620.62Bet HK$100 to win HK$162-1.61Bet Rp100 to win Rp1620.6200Bet RM100 to win RM162 – PaddyPower
Polo Reyes vs. James Vick
Polo Reyes to Win
Saturday 22nd April, 23:30 GMT
Odds: 3.40Bet €100 to win €34012/5Bet £100 to win £340+240Bet $100 to win $3402.40Bet HK$100 to win HK$3402.40Bet Rp100 to win Rp340-0.4167Bet RM100 to win RM340 – PaddyPower